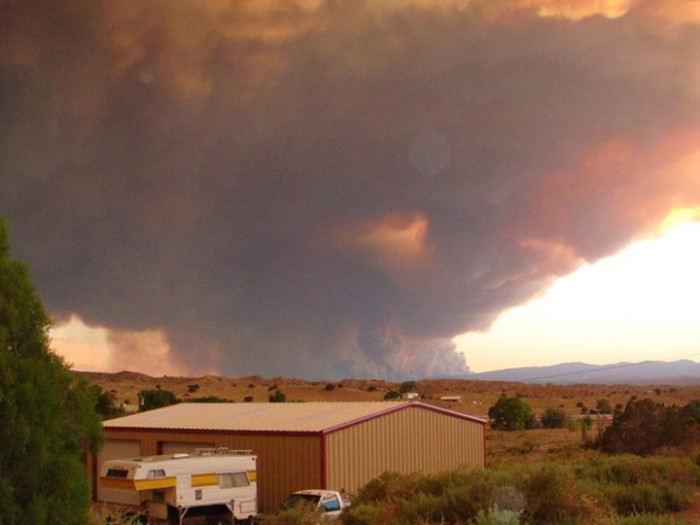 New Mexico's largest wildfire, now called "Las Conchas fire," was ignited on Sunday, June 26th, by a an old, dry tree that fell across a power line on private property a dozen miles southwest of Los Alamos and approximately 35 miles from Southwestern College. The fire started at 1pm. I first saw the smoke plume billowing on the horizon at 5pm. Within the next 24 hours the blaze devastated an unbelievable 48,000 acres.
Los Alamos National Laboratory, where my husband works, announced its closure on Sunday night, and by Monday afternoon the entire population of Los Alamos, including many of our friends, were forced to pile kids, valuables, and pets into vehicles and evacuate. The first Red Cross shelter was opened in Espanola, and filled almost immediately. A second shelter was then opened in Pojoaque. Neither shelter allowed evacuees to bring their pets.
As my husband distracted himself from worries by tending to our two young children, I sat glued to the computer scanning live blogs for fire updates, and checking Facebook for posts from Los Alamos friends. That's when I saw Deborah Schroder's Facebook post wondering if any mental health support was being provided in the shelters and offering to help organize a group of therapists from Santa Fe there was a need.
Thanks to Deborah's call to action, the power of near-instantaneous communication possible with social networking, and a trip to the shelters, I was able to coordinate the combined efforts of Southwestern College, the New Mexico Art Therapy Association, and the New Mexico Chapter of the American Red Cross to bring art therapy to the kids and families displaced by the fire.
The shelter manager in Espanola added art making to the schedule and requested we begin immediately. With no time to pick up the art supplies donated by Southwestern College and SWC alumna Deborah Heikes, I rushed home, pilfered my 3-year-old's crayons, washable paints, and Play-doh, and headed back to Espanola.
I was moved by the cozy familiarity, care, and mutual concern the residents and Red Cross volunteers showed for one another at the shelter, and dismayed by the blaring TV, tuned invariably to the news. "Devastating fire in Las Conchas. . . homes threatened. . . release of hazardous materials feared." Adults sat in a semicircle around the TV, leaning forward with worry on their faces. Kids played in small groups at the back of the shelter, trying, I imagine, to flee the many images of flames and things burning.
As Deborah suspected, mental health support was indeed needed and the art making was welcomed and appreciated by the kids and their families. Not surprisingly, houses and pets were predominant themes. Art is a powerful vehicle for self-expression, resilience, and healing, and my session at the shelter was a welcome reminder of this.
I returned home to an in-box filled with messages from art therapy interns offering their time. I was simultaneously amazed by the response and overwhelmed by the task of coordinating a schedule for all these art therapists to work at the shelter from 5-7pm for the next several days. To my delight Stacy Battle, a second year art therapy student currently in internship, stepped forward to coordinate the logistics of scheduling and manage the art supplies, as well as volunteer at the shelter herself.
For the next few days Stacy Battle, Harriet Elner, Anna Mills, Sara Martin, Gina Letizia, Kim Douglas, and Ericka Becker worked together to bring therapeutic art making and mental health support to the kids and families at the shelter. There were other students, mental health providers in the community, and art therapists with NMATA who came forward prepared to volunteer, but were unable to get a slot in the schedule simply due to the rapid pace at which the initiative moved through electronic communication in those first few hours.
Smoke damage, bears, snakes, and low air quality dominated Los Alamos, but residents were allowed to return a week after the mandatory evacuation. The Red Cross shelters were closed on Sunday, July 3rd, and resources re-allocated northward, to Santa Clara pueblo where the fire continues to expand and floods due to forest damage are feared as monsoon season approaches.
As of July 16th, 2011, Las Conchas has burned 150,568 acres of land across Santa Fe National Forest, Los Alamos, and Rio Arriba counties, Santa Clara reservation, Bandelier National Monument, Valles Caldera National Preserve, and state and private property. The fire is 63% contained, has destroyed 63 homes and 44 outbuildings, and injured 10 people. The smell of smoke has lessened in Santa Fe, but smoke plumes are still visible.
About the Moderator