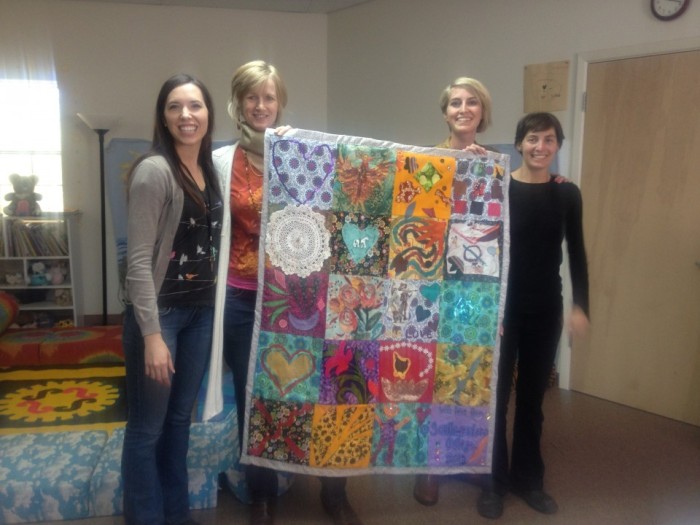 Art Circles Helping Those in Need:  by Brii Sebastian
In the winter of 2013, I teamed up with Hannah Kleese and Trinity Treat to work on a lineage project called Women's Art & Textile Circles for our Consciousness 1 class. The project came to life when the three of us sat down at my dining room table and, in the tradition of women's quilt making, we bonded. We then dragged our fabrics, our threads, our baskets and wares, as we led the whole class into a quilt making experience. Ann Filemyr was a most supportive and co-creative teacher, while she partook wholeheartedly. We told everyone that we had gone to Gerard's House in Santa Fe, New Mexico and that we were inspired to make a quilt for the grieving children and their families at the center. In Native American quilt making tradition, we were inspired to do a giveaway.
As we worked towards finishing our quilt and then giving it away, I found a place of renewal and freedom inside. I didn't realize that I had inadvertently plugged into the whole meaning of what Consciousness classes at Southwestern were about. I then suggested to Deborah Schroeder that Southwestern could start an "Art Serving Community" group. She told me to write up my thoughts in the SWC blog and see if anyone was interested. The idea would be to make art towards benefiting others in need. When the pressure of classes and finals builds, it's amazing how altruism can serve a personal restorative purpose; life seems to hold more meaning when it includes others.
When my teammates and I called Gerard's House to offer them our quilt, we were not surprised to hook up with a former SWC student: Janina Oliphant (known as Janina Kokorowski during her former school days). From the beginning, Janina was completely on board with what we were doing and she became a very big supporter of our project, as she spurred us forward toward completing our quilt after hours, and of finally handing it over to Gerard's House in the Fall.
At this time, we would like to invite anyone interested in either volunteering to teach art projects to the staff of Gerard's House, or anyone interested in making art at Southwestern for the purpose of dedicating it to a community project, to please either reach out to Janina Oliphant at Gerard's House: 505-424-1800 – or contact Deborah Schroeder in the Art Therapy Department at Southwestern College.
Brii Sebastian
About the Moderator