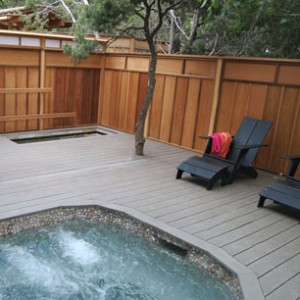 So, the dilemma is that you are a Southwestern College graduate student, and want to go to some hot tubs, and you're in Santa Fe.
Actually, that need not be a dilemma at all. There may be other answers to this one, but I will give you my two answers: Ojo Caliente, or Ten Thousand Waves.
OK, here is the deal on this one. Ten Thousand Waves (some people simply refer to it as  "The Waves") is up the mountain, on the way toward the ski basin, on Artist Road. From downtown Santa Fe, I would say it is maybe 20 minutes. TTW has community hot tubs, private hot tubs, all of the usual spa services like massages and so on. Over time, it seems like a lot of Southwestern College students have worked there, most often as massage therapists.
Somehow, literally "going up the mountain" becomes metaphorical, and it feels like you are going up, up, up,  to a special place up high, then you pull into Ten Thousand Waves, and keep going up and up the hill to the top, where you command a huge view of the mountains and you feel like you have gone to a very special place. The spa itself, to me, is VERY soothing. I can feel it even before I quite get in there, but certainly once I cross the threshold and see the koi fish, the Buddhas, and smell that Ten Thousand Waves smell, I am transported to a different consciousness.
I love it. I always say—"It makes me feel like a Kennedy for 25 bucks (community tub), for as long as you want." Can't beat them apples.
And coming DOWN the mountain again feels archetypal to me, like I am, well, coming down from the mountain. If you are lucky enough to plan that for dusk, then you get the extra benefit of sunset colors in the west. Hmmm…….Roll down the mountain to Del Charro, the subject of a different blog, no doubt…
Ojo.
Ojo is great. The town is actually called Ojo Caliente (Warm Eye, or Hot Springs), and has a colorful history. http://ojospa.com/about.php?action=viewcontent&content_id=1

Whereas Ten Thousand Waves is all "man made", Ojo is really a natural hot springs spa (did you know "spa" is the acronym for the Latin phrase, "Salus Per Aquas", which means "health through water"?) There are a number of "tubs" to choose from, each with a different dominant mineral (soda, arsenic, iron), and each with its own "personality." In the season, you can also do a mud bath, and bake in the sun, afterwards washing it off and then re-entering your choice of tubs, or even the large swimming pool.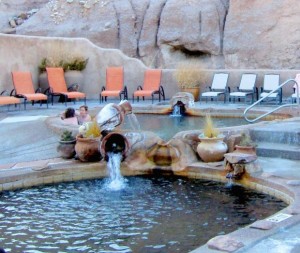 Here are the prices at Ojo:
Entry fees include use of all mineral pools, steam, sauna & seaonsal Mud Pool*
Monday-Thursday: $18pp
Friday, Saturday, Sunday & Holiday Periods: $28pp
 Sunset Rate – After 6 p.m.
Monday-Thursday: $14pp
Friday, Saturday, Sunday & Holiday Periods: $24pp
You gotta be kiddin' me. Nice.
Ojo is out on the moon, sort of, about an hour out of Santa Fe, and is well worth the drive. Technically, in Taos County, I believe.  You find people who  are decidedly Ojo people, and those who are Ten Thousand Waves people. I am both. They are both great, and will be part of your life when you move to Santa Fe to attend Southwestern College.
You lucky dog.
About the Moderator