Ten Things You Didn't Know About Quimby Memorial Library by Larry Harkcom
The library's holdings are searchable from anywhere.
Thinking of making a trip to SWC to search the library for sources, browse the poetry and literature section, or see what exactly the library has to offer on behavior theory?  Well, before you venture into the slipstream of Santa Fe traffic, first visit Quimby's website, which provides remote access to its searchable catalog of over 12,000 books, DVDs, audiobooks, and tech items.  So you can see what's on the shelves and check items' availability without getting out of your PJs.  Additionally an index of Quimby's journal holdings is available for download, in a searchable, docx. format.  Just go to swc.edu, find Quimby's homepage in either the "About" or "Student Life" dropdown menu, then click "Tools and Resources" in the contents box and follow the links.  If, in your searching you find a resource perfect for your needs, you can call or email the library and staff will reserve it for you. No special trips for searching or browsing, no needless driving; you're happy, the environment's happy, and your PJs are (hopefully) happy.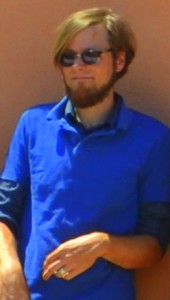 Quimby is Globally Connected.
Quimby's collection is not limited to the physical space on its shelves and between its walls.  With interlibrary loan through a service called Worldshare, Quimby's patrons have access to the holdings of greater than 9,000 libraries in 49 countries.  Working within that scope, virtually no title is beyond your reach.  Not only can patrons access analog materials sent via mail from participating libraries, but they can also access digitized resources such as scholarly articles, essays from anthologies, and entries from encyclopedias and similar reference volumes, via the completely digital ArticleExchange service.
And speaking of digital, Quimby is a digital Library.
…not purely digital, as the library's holdings include hundreds of paper volumes (many of them rare, old, and, in our opinion, terrific-smelling), but Quimby does have the resources and enabling technologies of a first-class digital library.  In addition to the library's own in-house digitization efforts (which sees the scanning and proliferation of required texts, to facilitate free, easy, and equal access to students and the rescuing of relevant video resources from the ship adrift of VHS), Quimby offers access to 60 plus research databases, through its subscription to EBSCOhost, where thousands of ebooks, academic articles, and other resources are available (many of them in full text).  And there's totally more: Quimby's website collects a multitude of access-anywhere resources, including guidance in APA formatting and links to presentation software, among other free resources, for which library staff has scoured the internet and brought to your fingertips.  An effective digital library gives patrons the option of utilizing a significant percentage of its resources from anywhere at any time.  With remote catalog and journal index access, database offerings, and its loaded webpages, Quimby does exactly that.
 Need a computer?  Quimby's your hookup.
…And if you find yourself without means to participate in the digital revolution, Quimby can help you out there too.  Among the "enabling technologies" that the library provides students are computers themselves.  Quimby maintains a growing collection of MAC and Windows laptops, which are outfitted with up-to-date operating systems and essential working tools like Microsoft Office and which are totally available for check out.  Need a thumbdrive to save and safely transport your work or research?  How about an iPad loaded up with the latest art, picture editing, and art therapy apps?  Quimby makes these resources available to students as well.
Into weird stuff?  So is Quimby.
Quimby Memorial Library was once officially called the Quimby Metaphysical Library, and while its name has changed its collection still reflects the metaphysical quest to understand the fundamental nature of being; to wrestle with questions like "what is there?" and "what is it like?".  In that spirit no subject that might enlighten is shunned… no matter how Twilight Zone-y.  Want to read up on the Rosicrucian Cosmo-Conception?  Go for it.  How about Astropsychiatry?  Here's a call number.  Want to check out a deck of Tarot cards?  Totally reasonable.  Even the library's founding collection incorporates a wealth of fringe material, including a collection of one-of-a-kind pamphlets and small single volumes self-published by individuals who claim to have had contact with the spirit world, voices from the lost city of Atlantis, and extraterrestrial life.  And speaking of E.T.s, one of the more interesting journals in the library's journal archives is the monthly publication of the Amalgamated Flying Saucer Clubs of America.  The periodicals, originally published in the late 1950s, collect analysis from early UFOlogists, stories by enthusiasts, and testimonials from self-professed eye-witnesses.  There's enough weird material at Quimby to fuel your daydreams for years.
Having trouble with APA?  Quimby's got your back.
Do you find APA formatting to be a bossy, unforgiving beast?  If so you've got a sister in arms, and her name is Quimby Memorial Library.  Quimby has the tools, resources, and insider knowledge that can give you the edge in confronting, surmounting, and conquering the beast once and for all.  Foremost, the library is fully stocked with copies of the Publication Manual of the American Psychological Association (6th edition! What's up!?), the official field guide for getting through the catacombs of APA formatting.  PLUS the APA battle-tested library staff is well versed in the manual and prepared to help you navigate.  Still terrified?  The library also offers in-house access to the software PERRLA, which actually formats your paper and bibliography for you, in accordance with APA 6th edition guidelines.  The software is a great learning tool, if you're new to APA and can't envision what a properly formatted paper is supposed to look like, or if you'd like to check the work you've already completed for errors.  But wait; there's totally more: If you prefer to compose at home, keep Quimby's "APA Style" webpage open in a window.  The page is loaded with tips, links, and even an instructional video on APA formatting, source citation, and bibliography creation.  Boom.  You're welcome.
Quimby was named after an all-around awesome dude.
Phineas Parkhearst Quimby was a philosopher, magnetic healer, mesmerist, clockmaker, and inventor.  In his youth he suffered from tuberculosis and came to reject accepted treatments of the time, whose debilitating and demoralizing side effects he believed overshadowed their powers to alleviate.  Instead of following doctors' orders, he experimented with his own tactics for feeling better, tactics which applied a mind over body philosophy.  In time, the young Phineas not only felt better but fully recovered from the disease.  In adulthood Quimby mastered watchmaking and even came to hold several patents for mechanical devices.  But get this: he abandoned that trade to tour England for years, studying the art of mesmerism with European masters.  Whether it was through mesmerism, magnetism, or spiritual teachings, Quimby continued throughout his life to explore and apply with advancing sophistication the philosophies that saved him as a child.  Like its namesake, Quimby library embraces brave ideas.  It's a place where those ideas are protected, collected, and proliferated to brave thinkers, hungry for something different.
Like a Skynyrd cover band, Quimby takes requests.
Quimby's director and staff are dedicated to the continuous expansion and development of the library's collection.  For that reason requests from students and faculty for new acquisitions is not only welcome but is considered a valuable resource for keeping the collection focused and current.  Should searches for material on any particular topic return limited or no results, don't hesitate to inform Quimby's staff.  In most cases they will order and process titles to ensure that your desired subject, individual, genre, etc. is better represented in the collection.
There's a massage chair.
I mean, come on.
When you're no longer an SWC student, you'll still have a home at Quimby.
Most academic librarians relish the opportunity to delete a graduating student from their systems.  And should said graduate return, seeking information, resources, or friendly sanctuary from working life, those librarians will wring their hands, tweak their pencil thin mustaches, and between fits of sinister snickering inform the graduate that she must pay a community fee for continued library access.  Who are these Snidely Whiplashes of the information services world?  The librarians at Quimby don't know, and they don't want to know.  Quimby's director prefers a policy of continued free access for alumni.  You've done some great work and accomplished something real, and now you're off to start a new chapter in your life.  Isn't it good to know that Quimby continues to have your back?  Your information needs, your requests for assistance, your right to access resources, you yourself will always be welcome at Quimby.
About the Moderator