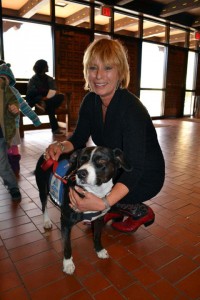 I remember when Nora arrived at SWC. She came from the east coast, and had recently left a job with a popular magazine. It was a big deal for her to pick up stakes and go in a completely different direction.
Shortly after Nora arrived, Maggie entered her life. Maggie is a medium size black and white dog that Nora found at the animal shelter in Las Vegas,NM.  She was a fingernail away from being "put down" as they say.  Nora rescued her and as it turned out Maggie rescued Nora right back! But I am getting ahead of myself. In the class "Psychology of Altruism" the students have a self care project and Nora chose "adopting a dog" for her project. Of course, Maggie had her own ideas.  She had been abused and was terrified of all people as well as other dogs. Nora had never had a dog in her life and thought adopting a dog would be a good idea. Given these circumstances, I am sure more than a few people wondered about how successful this new partnership would be.
They both needed training to make it work, but through trial and error, and a whole lot of patience and trust, Maggie became an "educated pup" and Nora transformed as well. Now, Nora will readily say "we healed each other."
Last year, Nora came to us at the school and asked if Maggie could attend some of the classes and participate as a therapy dog. Maggie was definitely up for the challenge and we were interested to see how it all would unfold. Remember, just months ago this was one terrified pooch and new dog owner!
Maggie did become certified as a therapy dog and attended a number of classes including being present as Nora's assistant during her practicum. Or perhaps it was Nora who assisted Maggie….not sure.  The piece de resistance was graduation day. As Nora climbed the stairs and walked the stage to receive her Masters Degree award, she was accompanied by Maggie. The 300 people present all cheered and clapped for both. Congratulations to Nora and Maggie for making it through a challenging program and coming out the other end better for it.  Bravo! Bow Wow!
About the Moderator