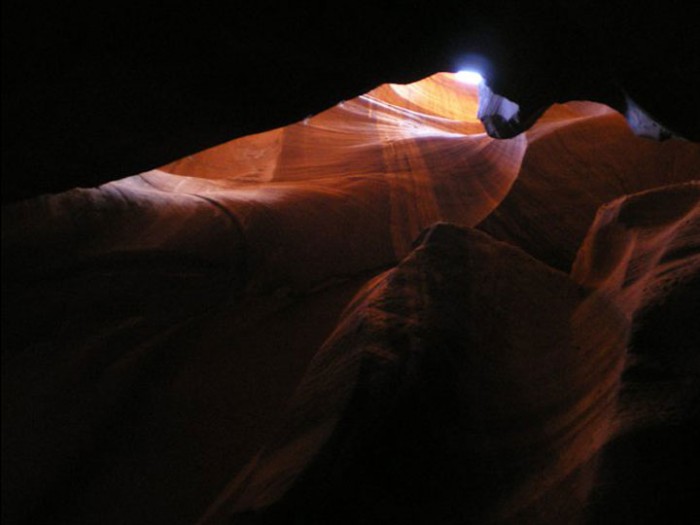 I have taken the Wilderness Fast here at SWC. I believe the lineage of this type of WF comes from the School of Lost Borders based in Colorado. Carol Parker, the WF leader and head of the Transformational Eco-Psychology program, was trained there and she has quite a bit of training with shamans in the Americas. When Carol asked me if I was going to do WF way back when…I dug in my heels. Nope. I'll be frank – I was a wee bit scared. For one thing – I have run into cougars when hiking (3 different times!) and thought that I may have some kind of cougar magnet on my person that drew them to me. Being alone for 4 days (and nights!) in the wilderness with just a sleeping bag was not on my "Bucket List."
Time passed, and one year I just knew that the wilderness fast was going to happen for me. I went with the group to a private canyon in Canyon de Chelly, Arizona. This was Navaho (Dine) land and the canyon was beautiful. A Dine grandmother had had a dream to "let all peoples" onto her land and canyon. It was her granddaughter – Ronnie – who brought this dream to reality….and how SWC students ended up coming to the land for wilderness fast. We were all excited and a bit anxious when we arrived…and straight off we were querying Ronnie about the canyon creatures. Were there bears? snakes? mountain lions!??? Ronnie reassured us, "Bears and cougars are not really in the canyon this time of year and there are snakes but I have never seen a rattler in all my 40+ years of living here." What a relief!
In that first hour we went in search for our special place – the site where we would be alone for 4 days. I went off with a SWC alum and we were enjoying the new environs and climbing over rocks when I heard a sound…kind of like a baby rattle…perhaps a bit louder. I looked down and there it was – a snake. My companion leaped and hollered. She was waving her arms, her knees were jerking up to her chin and she was shaking all over. I forgot all about the snake. The snake lost interest in me as well because when I looked down he was focused on my companion. He seemed to be just as taken aback as me over her gyrations and yelling.
Ronnie said there were no rattlers! We talked a bit about this and debated whether a rattle on the tail of a snake was a determining factor in identifying a rattler. We really were not sure…so we took some photos. Later, that evening when we showed Ronnie the photos she smiled and said "looks like you found a rattle snake!" Oooh, Really?!!
Wilderness Fast is always filled with surprises. You get up close and personal with nature…there are scary moments…but it is a very special experience to be in communion with mother earth day after day. The WF experience "cooks" in a person for a year, or so they say…and for me I can honestly say that my WF experience was so profound that it "cooked" in me for about 3 years. There were surprises like the snake…and powerful dreams, and wide awake mystical experiences that defy description. I was also bored, hot, itchy and a bit scared when it started to thunder and lightning. You take the bad with the good. Would I recommend it? Most definitely!
About the Moderator