This weekend a group of Art Therapy students, soon to be interns, gathered for the Capstone Process. Debbie and I facilitated this weekend, focused on transition, group dynamics, an art offering and goodbyes. These students are moving from having multiple classes and seeing clients at the Southwestern Counseling Center, to entering into the full-time world of being Art Therapy Interns. Five of the fifteen are moving out of New Mexico. This is a big transition for this group.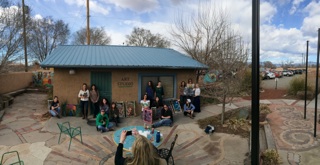 The students were given choices of cabinet doors to create on in groups of three. These pieces will be installed at the Southwestern Counseling Center within this month.
At the end of internship for Art Therapy students, we have 2 Capstone evenings, where interns explore and present their experience in their internships. Some discuss their personal process, while others give us tours of their internship sites.  These students will complete their internships in August 2015.
This weekend we see this group of students become interns. And Monday 3/16 and Tuesday 3/17, we will have the spring's Capstone Evenings and Art Show, where we see interns move towards graduation and the professional world.
Please join us! 3/16 & 3/17 from 6:30 – 8:30 in the Art Therapy building at Southwestern College. The finished pieces from this weekend will also be on display.
About the Moderator