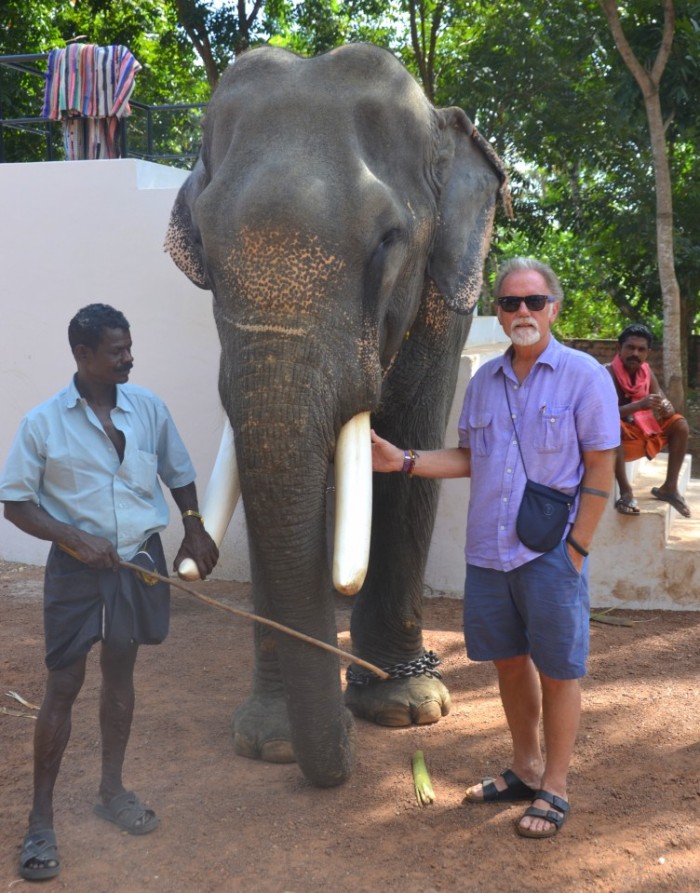 OK, I assume you already know why you want to blog—if not, that will be a different post, though by now I would hope most of us thinking even a little entrepreneurially would know how blogging can help build our business, our brand, our private practice, and coaching or consulting business.
So here we go:
What Do I Blog About?
What do you want to be known for? Write about that. That's a "Content-Based" answer. Your specialty, your passion, what turns you on, what service or product you are offering. Write down some ideas, but stick kind of close to home, close to what you are offering to the world…
Example 1: You want to work with clients who have experienced sexual trauma, and you are into interpersonal neurobiology. Blog Topics: "How Interpersonal Neurobiology Can Help You Overcome Sexual Trauma"; "How to work with sexual trauma clients using Interpersonal Neurobiology"; "What is Interpersonal Neurobiology, and how does it heal sexual trauma?" ; "Six Tips you need to know about using Interpersonal Neurobiology in working with sexual trauma"; "How I got into the field of working with sexual trauma"; "Is Sexual Trauma something we ever "get over"?"; "Therapeutic Advancements in working with sexual trauma"; on and on and on….You want both potential clients and other professionals alike to see that you are a Thought Leader in the areas of Sexual Trauma and Interpersonal Neurobiology. You want them to feel that you, as a clinician,  would be a GREAT referral,  because clearly you know a LOT about the topic, as evidenced by your million blog posts…
Example 2: You want to work with men over 60 as a life coach. Blog Topics: "Five Ways To Feel Like You are 35 Again"; "Ten joys of being over 60"; "OK, You're 60–What are your plans for the next 30 years"; "Current research on quality of life factors in men over 60"; "I'm 60, but I FEEL like I'm 40"; "How Traveling Keeps You Feeling Young"; "Over 60? Time to hire a coach and a personal trainer." And on and on and on. You want men over  60 to see that you are informed,  sensitive, optimistic, energized, still sexy, active, with great hopes and plans for life after 60. YOU are the person that will INSPIRE them, now that you, too, are in your sixties. You really seem to know a LOT about this topic, and you are really energized about it. You want prospective clients and referral sources to really GET this from reading your blog posts, week after week.
People like "How to….." and "Six Ways/Reasons/Advantages…" kinds of blogs. They either promise to be practical and helpful, or they look very "digestible"–"Three ways to lower your stress." And so on…
You can get peripheral with your blogging, but try to keep it relevant, or related. It ought to be strategic. Example: As a personal coach, I want to be known not ONLY as Psychology Guy, with a president title, and a spiritually-informed point of view. I want prospective clients to know that I travel the world, drink life from a golden cup, have high energy, and bask in the joy of everyday life. I use photographs from my travels (largely on Facebook and my web site), and daily Instagram updates, to convey that. To be totally transparent, what I am shooting for is "Wow, this guy has accomplished some stuff, but he is not a stuff-shirt academic in a suit—he lives one hell of a life, from the looks of it. There's him riding an elephant, and walking the beaches of Goa, and celebrating New Year's Eve at Tivoli Fountain in Rome…"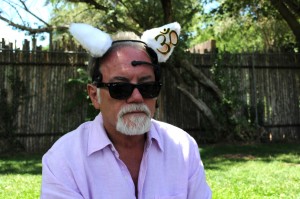 Yep—that's exactly what I want to convey. I am walking my talk. I have been there. I am a worthy guide. Obviously, if I were a Trauma Guy, or Grief & Loss Guy, or Addictions guy, I would not shoot in that direction. But I'm not. I am here to celebrate what's right with the world, to help others recognize that they can create a lot of adventure and joy in their lives, and I want to model that as well as I can. It is like a personal trainer being in great shape. It inspires confidence, and offers real-life evidence. Your story will, of course, be YOUR story. What will it look like, in images? What is the tone of your story…?
How Should I Write? In What Style?
It has to be your authentic voice and vibe. Brand who you really are, or it will blow up on you later. I like writing in the "First Person", as I am now. It feels intimate, like a conversation, like we know each other. (Hey, can you please pass the wine please, my friend?)
You may want to present more formally (for perhaps you are more formal a person, or your specialty area calls for it, somehow). That's OK. If it is genuinely you, that will be felt and known. I am a somewhat iconoclastic, humor-oriented guy, and I cannot present like I am Carl Rogers. I love Carl Rogers, but I'm not him.
How Often Should I Write?
Good question. If you are kind of serious about this, you have to commit. Let's start here: "Once a month is not enough, and three times a day is too much."
We are easily forgotten in the "Chuck-E-Cheese on Speed" stimulus level of the internet and Social Media. So if you show up with a sweet blog post every two weeks, you will be easy to forget. People will not "come to expect" something from you—your writing will seem infrequent, and sporadic.
If I were in private practice as my major source of income, I would probably write 2-4 times a week. That's just me.
Oh, and remember, if you write "Evergreens", that is, posts that are not time-limited, or confined to an event this week, but are "timeless", then you can start re-posting those, and getting more mileage out of past work as time goes on. Your body of blog work will grow, and you can pick and choose from your Evergreens. That is a nice place to be…
How Long Do I Write?
Huffington says 700 words. I write longer, and have good friends who love that, and other good friends who say "Man, I cannot read your stuff—it's like freakin' War and Peace every time you write…" It's my style. I get that I pay a price for it. I recently read that a lot of people like longer pieces that really work with an idea in a substantive way. I flatter myself that that is what I do, though the possibility exists that I am either long-winded or a lousy editor…
I sometimes challenge myself to write short pieces, say 200 words, just to do it. Just for the discipline. That can be fun too.
What About Photos/Images/Videos?
Yes, yes, and more yes. Research is clear that readership increases when you use photos, images, art, or videos. I like quirky photos, and I take millions of them, so I have an archive of images to choose from. There are lots of free graphics and images online—you can Google them. And find your favorite sources.
People love schlocky but heartfelt pictures of your dog. Seriously. And I am not an artist, but if I were, I would pepper my blogs with art I have made. It says a lot about you, as do your own photos.
But It's So Hard to Write!
Just stop. Whether you want to talk Law of Attraction, or Cognitive Behavioral Therapy, we all know that if you keep running that narrative in your head, and worse, if you keep saying out loud to witnesses, it will just keep feeling more and more true. You create that reality, my friend. You are setting up obstacles in your own path. This is not mystical. It is simple stuff. You keep saying it, it keeps getting truer for you. How about "Writing takes a little more effort for me than for some people, but I am pretty good at it, and like everything else, with a little practice I know I will get better, and it will come easier…I'm not there yet, but I can see it coming…"  Come on, you know this stuff. You tell your clients this every day…
Also, blogging is kind of casual. You reflect, you proof read, you edit, but you're not writing Macbeth. If you start getting too perfectionistic, you will mess up the works. Seriously. This is not the place to get obsessive or obsessively self-critical. This is blue blazer and nice jeans, not tuxedo.
If you can't NOT be perfectionistic and obsessive, you might not be ready to blog, and you may want to do some therapy work around that, if you are thinking of putting yourself out there as somebody who can help the Other Guy with his self-created obstacles. Think about it, anyway.
Oh—and remember, online/web based publishing means you can go back and correct your typos, articulate something better, and so on. I make errors all the time, and I just hope I find them before 250 readers do, but that is not how it always works out. Get used to it, but yes, nothing is carved in stone on your blog…
When Should I Start Blogging?
Last year would be best. Next best would be today. Friends and Mentors Karl Gerber and Kalyn Bastion-Gerber told me early on: "It's best to start your web site and your blog two years before you plan to launch your practice or business, whenever possible. It will be more seasoned, have decent readership, and it won't look like you started yesterday."
How Will People Find Out About My Blog?
Tell 'em. Announce it and post your pieces on Facebook, Twitter, Linked In, Google Plus and any other social media. Find related Linked In and Facebook discussion groups, and post it there.
Use hashtags, for sure. If you do not know what hashtags are, Google "What are Hashtags?" as soon as you finish reading this blog.
What are the best places to Blog?
Ojo Caliente, Ten thousand Waves, The Spanish Steps, The Ramblas, Bombay, Columbus Avenue in San Francisco, the East or West Village, the French Quarter, and any beach or decent coffee shop.
Get Blogging!
Good Luck!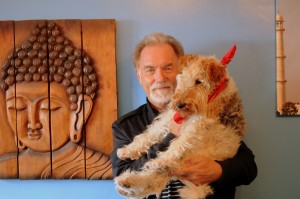 Jim Nolan…and a schlocky, but heartfelt photo with his beloved Barney….
About the Moderator