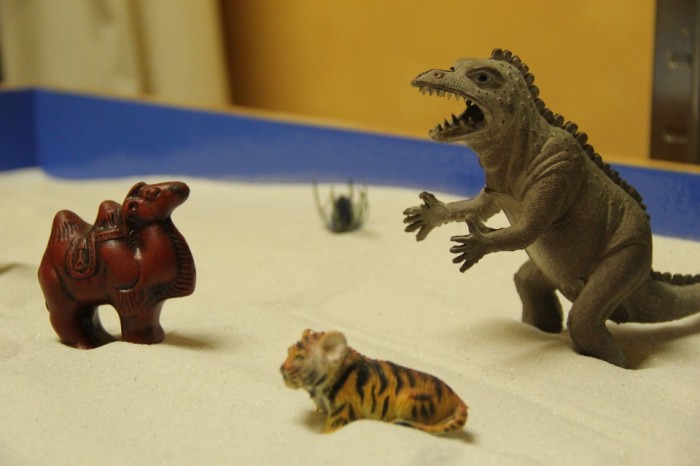 Do you think that is going to be a problem?
The Poetics of Psychology: Is it OK to Diagnose and Treat Things That Don't Exist? Sometimes metaphors are woven so tightly into the fabric of our everyday practice and being (like right there—"Practice and Being as a woven cloth") that we cannot even "see" (metaphor) them. Just such an issue relates to, and resides in ("language as house"), the language that has become so commonplace in our daily "clinical" discussions. Let me throw out ("words as baseballs?") some words for discussion: Dysregulated, Defenses, Triggered, Repressed, Id, Shadow, Ego, Ego-Strength, Safe Container, Hold the Space.
These are all metaphors, but we have forgotten that they are metaphors. Metaphors are linguistic liberties we take to make a point more powerfully, more creatively, more convincingly. (I am a former graduate student of English/Irish literature, and a student of the formidable body of writing (metaphor) on metaphor.) When Romeo tells us "Juliet is the sun", we get a powerful image of both Juliet's beauty and the magnitude of Romeo's love for her. Fact is, Juliet is not the sun, but we love the quote and forgive (and thank) Shakespeare for not offering the weaker simile "Juliet is like the sun."
When we use metaphor, much is gained, and much is lost. We are pointed intentionally toward certain aspects of the phenomenon that align with the metaphor, and away from aspects that are not. "Juliet is a train-wreck" evokes a different set of responses in the sensitive reader, though it may be just as "true." Then there is the issue emblazoned (metaphor) on my brain by my advisor at The Ohio State University, Dr. Harold Pepinsky. He offered a piece of advice that has only become more powerful ("Advice as muscle"?) over twenty five years: "Nolan, beware the reification of hypothetical constructs." Hypothetical Constructs are tools (metaphor) for the facilitation of conversations about the staggeringly complex and relentlessly dynamic phenomena that are human beings, including our inner world (metaphor), and our relationship with the outer world (another one).
However, we forgot that they are tools, linguistic conveniences for attempting to point in the direction of the ineffable ("Ideas as signposts"). We reify them and all of these "things" get trotted around as if they were inarguable "facts", based in "evidence". Factor analysis is a dubious  process of inferring the existence of a "thing" by "measuring" other attributes or metaphors presumed to be related to the as-yet un-substantiated "thing".  Sorry, that is just a tad circular (metaphor) for me. Then once the "Thing" is established (Learned Helplessness, Locus of Control, what have you) we can measure it in people and refer to it as a thing that exists in the world. And compare people based on how much of "it" they have. Wow.
It doesn't take much more than a stroll down DSM Lane (OK, you caught that one) to see how many diagnoses have come and gone ("Hypothetical Constructs as traveling entities")over the years,  and DSM-V will add to the chaos, and will perhaps be even more dramatic than past iterations. So whoever gets to name things has great power, but that power pales in the shadow of the power of selling the predominant metaphors and hypothetical constructs in a given field (in this case, Psychology).
The Medical Model may be the most popular and powerful set of metaphors and constructs in the field of Counseling. Co-opting language from the medical field, Counseling (and other disciplines, of course) unwittingly created its own monster system of "Diagnosis", "Treatment Planning", even the concept of "Treatment." (If your idea is that you have "patients" who come in with "mental illness" and you "treat" them, you scare me, unless you are prescribing medicine, and even then…) What is scarier still is that we have sold this conceptualization, this reification of hypothetical constructs, this collection of metaphors, to the insurance industry. Now that industry dictates to us what hypothetical constructs and metaphors it will pay for, and if we cannot find those phenomena in our clients, we will not get paid. If we work in an agency we might well get fired, since they cannot bill unless we can find a billable diagnosis. I guess we need a divining rod that locates the correct (billable) metaphors in our clients.
Yikes. Far from being glib, cute, or contrarian, I want to name that (metaphor-we are not actually "naming" anything) we have a huge ethical responsibility to become conscious about our own language behavior. I "get" that we cannot reverse a system overnight. I get, too, that many readers will be so defended (military metaphor—"Ego as fortress") against those ideas that they will decide I am just being ornery and esoteric. I also get that my invitation to examine our language and the realities that language can create is too threatening ("Idea as military invasion of psychic fortress") because it connects to how we pay rent and feed the dog. Nobody is ever comfortable with that.
Then again, if "Ethics" were a comfortable and obvious topic, we would not have to offer Ethics courses and CEC units about it.  That would be the cat's pajamas… James Michael Nolan
About the Moderator