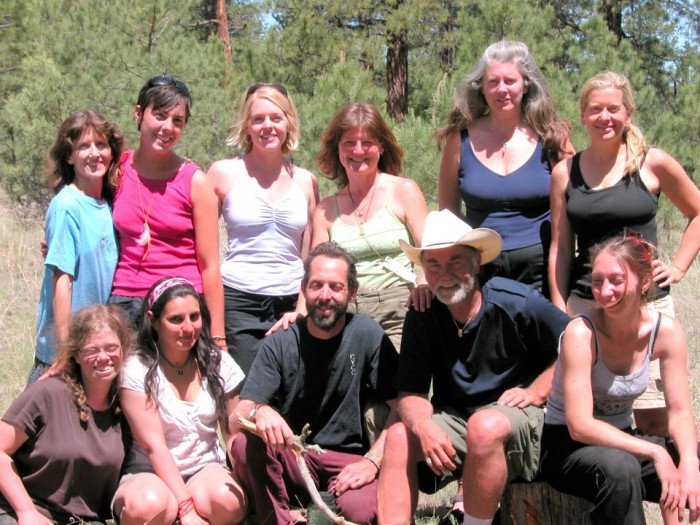 Dear Tribe,
This is Saturday, the 7th day of this Wilderness Fast journey and the 4th and final day of the Solo/Fast part (I go back to base camp tomorrow morning). Mostly I am hanging out in about a 20 yard radius (the Lakota stay in a ten foot circle for 4 days, no water, 1 blanket—I would have died….) I am on a mountain, or a mountain ridge, technically, and I can see layers of canyons going on for some distance. It is the Cibola National Forest in southern New Mexico. I will send photos—that has been a great joy, photographing sunsets, horny toads, fires, myself… I certainly have been experiencing sleep deprivation (it's not that easy to sleep on the ground, in the cold, no tent, going to bed at weird times (like probably 9 or 9:30) and thinking at least SOME about the coyotes howling up-canyon, the owl over my sleeping bag (it is the weirdest two syllable howl) and the one wildcat the locals have seen in ten years. Also, I am food deprived (as I write this it has been about 82 hours, by my estimation, since I had a power bar after dinner Tuesday. It will have been 107 hours by the time I get miso soup tomorrow in camp, or downtown, as I have been calling it). You can tell how gripping the experience is by how I am powerlessly counting the hours….I am not hungry, curiously, but I think of food all the time anyway, and energy drops the longer the fast goes on. One does not go for long, up-ridge hikes after three days on water. You do not have it in you. I have gone maybe three hundred yards up the ridge, and standing there winded, weary and cognitively blurred, I decide to turn back rather than risk the panic of getting lost in some canyon I cannot read correctly. I am deprived too, in effect, of My Life. Eckart Tolle calls that your "life situation" and he would call just "being" up here more like your life. I can see if from both perspectives….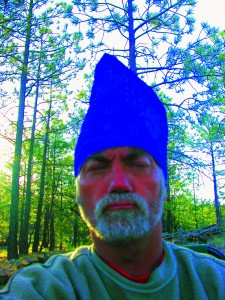 You go a little cuckoo doing this, which is partly the point. In the Carlos Castenada (The Teachings of Don Juan) and many other traditions, peyote or other hallucinogens are the short cut to this state—this Wilderness Fast journey is the long cut. Nothing short about it. I have never used hallucinogens, and don't have any interest—my imagination is wild enough, thanks. You DO get into a significantly altered state doing this mountain thing, and without the distractions of your life situation, you have no choice but to "be" here, with nature, think a billion thoughts, and sing Aretha Franklin songs (I was particularly enamored of "You make me feel like a natural woman" for some reason, though Respect got its propers too–then there was a day of Johnny Cash songs as well—Ring of Fire, Folsom Prison Blues and Sunday Morning Coming Down were three favorites). Then you see what it feels like to stand naked on the highest rock outcropping on the ridge and pee off of it, just for the hell of it, just because you can, you whittle on Ponderosa Pine and Alligator Juniper, build a medicine wheel and talk to yourself about the four directions every day, start fires for no reason, do pushups against boulders, pray, talk out loud to the wildlife, do ab-crunches, sunbathe, write letters, drift off in trance-y hypnagogic states with little theatre pieces in your head generated at an incredible rate with no known connections or counterparts in the "ordinary world", talk to Dad, talk to Mom, make to-do lists, daydream about every restaurant you have ever eaten in ever—EVER, find cactus flowers, gloat about the weight you are losing, look at yourself in the mirror as your beard grows and you look wilder and more feral, and wonder if you will be visited by visions or spirits.
Marty was pretty close when he opined that I would have a hell of an experience but probably come out pretty much who I am. The biggest NEW thing, and part of my stated intention (you work in Tribe Council before the solo, honing your intention for the solo, then stand up after about a half hour of this, and state it out loud until you get it just right—then when you do, they howl and clap and rattle and drum and write it down word for word for you to keep and remember)—is that I have been communing and comfortable with nature, with the wilderness. We forget (OK, I forget) that we ARE part of nature, and live and drive and work in boxes and our feet never touch the ground except through our shoes, and we get scared of the dark and of bears, rattlers, wildcats, coyotes, elk, antelopes, scorpions, lightning, thunder, sounds in the bushes, hoot owls, screech owls, rain, heat, cold, and a million other things. We have forgotten how to be part of that world.
My primary portal to the natural world is through Barney, and what could be more benign or joyful? On the other hand, it was clear to me too that being attacked by dogs (nature) twice as a kid was more traumatizing and gave me a worse opinion of the natural world than I had ever really imagined—that feeling did not stick only to stray dogs—it generalized to the natural world not being trustworthy or safe. That all came back to me pretty clearly. So anyway, I have gained or re-gained some of that. As a kid I knew this all better, riding bikes through "The Hills" behind Kata's store, swinging on ropes over creeks, getting dirty, getting that line of dirt right there by your elbow crack (I actually have that today!), throwing stones at any possible target anywhere. With 4 days alone, you get that stuff back. I go to sleep alone, in the mountains, a billion stars LOUD in the sky and drift off, not worrying about anything except comfort, which is hard to come by. Re-reading this, it does not sound big. It IS big. You lie on the ground and smell it—I had forgotten, if I ever knew, that the earth has an aroma—You feel the barks of trees, get scratched and draw blood fifteen times, dig in the earth, realize that Raven does wake up calls every single morning, you walk long canyons and find an elk jaw with all the teeth still in it, you see animal scat all over the place, and know you are being observed. You think it is bear, and you do not really know….You get intimate with the world. I'll leave it at that.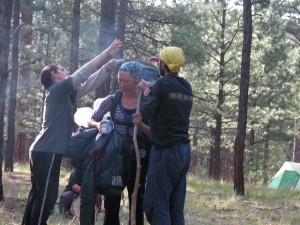 The other thing I got the biggest hit on was this: I really love my "life situation"—with a few changes needed of course. The holy, mystical, esoteric, ascetic traditions that look to deprivations, fasts, denials, giving up things, near-death experiences and the like are not my path, and though I work and live among people in Santa Fe who I would describe as Mystics, Holy Elders, Spiritual Teachers and Wise Women, I see their human sides too, and am not terribly convinced that all of the above, or the frequent cleanses, or knowing how Splenda, McDonalds, Diet Coke, petrochemical starter logs, synthetic-fiber clothing and a million other things all kill you and the planet—REALLY make you better or make you feel better, or enhance Awareness or Consciousness. I get how they are not totally irrelevant. I respect that level of awareness and its value, and I think it can get out of hand and become a spiritual correctness thing, a distraction from living your life. There are kids getting blown up in Iraq, whole generations of a whole continent growing up with AIDS, and then there is the great evil of Splenda. I mean, really…
Robert Waterman, the Founder of Southwestern College, affectionately poked fun at some traditions (in this context, I think it was the worst of a certain, arrogant analytic tradition, though he was classy enough to not name it…): "They create a whole world and then populate it with forces they can fight against"—something like that. You can make shit up, then reify it and build your life around reified notions or constructs. That game is available. Wouldn't recommend it, but lots of people do seem to like it. They like hating Splenda, Starbucks, TV, meat, Walmart and convincing themselves that phenomena such as those are the real enemy….Yikes…….
I will have to watch My Dinner With Andre again, slow as it is. I remember thinking Andre was the hip spiritual seeker who you sort of THINK you want to be, but I found myself realizing that I am metaphorically the fat, balding guy who goes to dinner with Andre. And in many respects, PREFER that. I live in the world. It is a good place to live, for me. I have been blessed in a million ways that others on the planet have not, so I can't speak for everybody. A number of people on this Wilderness Fast never want to leave the wilderness. They are incredibly attached to Mother Earth, to the call of nature. I do want to leave. As soon as possible. I love it here and I want to go back to the world.
SO it is a long way around to learn in a very DIFFERENT and deep and heartfelt way that I like life. I like eating and drinking a beer, and I love Venti Lattes from the Evil Empire (Starbucks) with Splenda, thanks. I started eating meat again a couple months ago after 23 years of not, and I like Chicken Paprikash and Barbecued Ribs. Yeah, they have fat in 'em. I like 'em. And I can and do still honor the animal spirits who gave their lives so that we can enjoy those things. It is the way of this world. There is a McDonalds in Socorro, about an hour from here, once you negotiate the incredibly rutted and terrible roads out of the Forest)—I have a tremendous desire for two McDonalds fish sandwiches with ketchup and a huge chocolate shake. The Devil's Dinner. I am stopping for it when we leave on Tuesday (in 3 days). This stop seems both literally and metaphorically to represent the world.
There is an old saying: "What does the unenlightened man do? Chops wood, carries water. What does the enlightened man do? Chops wood, carries water."
It is not "what we are doing" as much as the Consciousness or Awareness or Intentionality with which we do it. As Ram Das says, if you are sitting in full lotus position, eyes closed, but breathing irregularly and worrying about your Visa bill or a meeting you'd rather avoid, then you are NOT meditating. If you are jogging a track at the Chavez Center , with a bunch of other people, and in the Zone, just being in your body, in that trance-y state like the one when 50 miles of highway go by and you do not remember any of it, then you are meditating.
Thich Nhat Hahn talks about the experience of "non-toothache"—right now you are probably not celebrating nor in appreciation of the state of non-toothache. But if, tomorrow, you should develop one hell of a toothache, the state or experience of non-toothache would be infinitely desired and valued and viewed as a great gift. But you already HAVE that gift—RIGHT NOW—and you are not in appreciation. What else do we have for which we experience no felt sense of gratitude on a daily basis? The list must be infinite…
In some respects, this Wilderness Fast presents the gifts of solitude and nature and reflection and the experience of self-induced "toothache." "Non-toothache"– being back in the world with Barney and Starbucks and a cold bottle of Spaten Optimator and fantasy baseball and email and music will be a mighty welcomed state. And it will come with a layer of Consciousness I did not have before. The pleasure will be magnified by a power of three. At least. Pleasure can be good. We forget that. I forget that.
And of course, there is the level that "Wilderness Fast" do not openly acknowledge as much. The John Wayne level. "I am bad-ass. I slept in the freakin' mountains for four nights with the bear and elk and coyotes and the rattlers, with no food, only water, and I lived to tell the tale"… It is a secret fraternity of those who have done a Wilderness Fast (and it is way clear to all of us that this is NOT the same as "camping"— like don't even start telling me about your Boy Scout trip or the time you and your buddies.…). There is no secret hand-shake, though there may as well be. There is a look and a barely perceptible nod. We're doing it. It is not theoretical anymore, like "I bet if I had to, I could…." And behind the John Wayne level, there is a real level that is empowering beyond what you would imagine. Really—we DID do it……it is huge…
The last stage of Wilderness Fast (after "Severance" and "Threshold or Liminal Space") is "Incorporation." The ultimate point is not "I have done it." In the Mayan, Cheyenne, Lakota and other indigenous traditions (Vikings, Celts) the point is to "In-corpo-rate"—bring it back into your body and back to your people, your family, your workplace, your Tribe. You went to find out something, answers maybe, or to find a vision, a learning, something you lost. Then you bring it back and share it, publish it. That is in large part the point to this letter. It does not have to be dramatic, or the Dead Sea Scrolls. It is what it is. Bring it back and give it to your Tribe. You are my Tribe. Here it is, for what it is worth. It is what the mountains and spirit gave me. Now it is yours too.
Aho, dude.
I will write another piece once I am back in camp, in order to capture what I cannot get ahold of here, where I am half crazy…..
James Michael Anthony Nolan June 16, 2007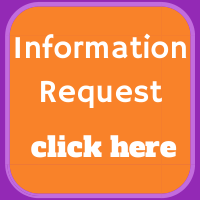 About the Moderator