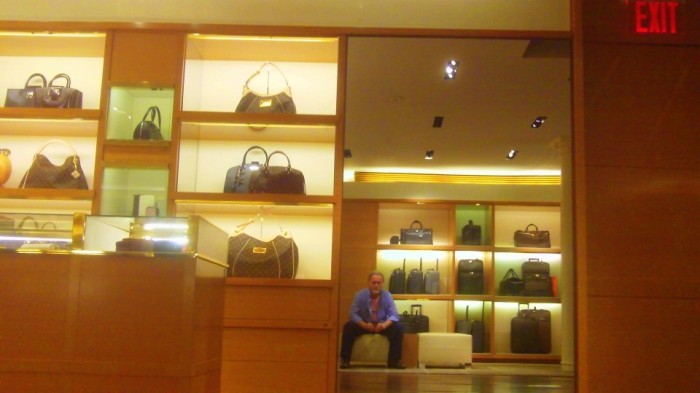 Images, You Tube, Call to Action, Instagram, Vine, Vimeo, Scoop It,
Stumble Upon, Trip Advisor, Yelp and Keywords
Using Images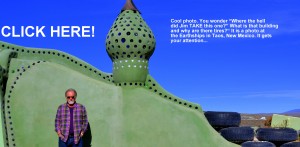 You will decide for yourself what your web page will look like, but you should make this general note to yourself: Pinterest, the newer Facebook Timelines,the new Google Plus,  and a lot of the popular literature on social media marketing emphasize the increasing importance of images, photos, videos, memes, infographs and the like. People like to see images, not just get paragraph after paragraph of text to plow through. So even if you are not a photographer, nowadays a smart phone makes it easy to generate photos and videos. On Pinterest, you can borrow images from any website (except Facebook, for some reason)—that is actually part of the whole POINT of Pinterest. Anyway—pictures, pictures, pictures.
There are also "apps" that are easy to learn which also help you in the photo and video department. Such programs as Instagram, Vine, and many others offer photo editing, filters and such tools so that you can use the images on your website, on Facebook, Twitter, Linked In, wherever. More about some of those later.
You Tube
You Tube is the second biggest search engine on the planet earth, and it is owned by Google—the BIGGEST search engine on the planet earth. It is really incredibly powerful, and can be effective, fun, and inexpensive. You really need to think about how to get yourself onto You Tube in a fun and creative way…
Most cameras and even phones are capable of creating video these days, and your laptop probably has a camera as well, so the old "Yeah, but I don't really have a video camera……" is not going to work anymore. You're out of excuses!
So what do you video about?
Your office, your philosophy, the stuff you blog about. Some prospective clients just want to hear you, see what you sound like, how you feel, whether you are tense, intense, laid back, casual, formal, good-humored, good-looking, in good shape, whatever. This is your opportunity. For me, it's hard not to have some content somewhat "scripted", but on the other hand, when I do that, it's hard not to sound like it is scripted. So experiment. See what feels comfortable. Do a number of takes until you like one of them.
If you're not sure exactly how to upload video to You Tube, Google it. "How do I upload a video from my iPhone to You Tube?" (And remember—EVERYTHING is Google-able.)
When you upload the video, give it a good title and description, using effective "keywords" (more about keywords elsewhere.) Put your website URL early in the description as a hyperlink so people can click straight through to your website or landing page. There are excellent books on You Tube to help you make decisions on how best to use it.
Call To Action (CTA)
Every book, every article, every blog (OK, a lot of them) bang this drum over and over and over.
Have one or more Calls to Action in very piece you publish, and especially on Landing Pages.
This is fairly simple in principle.You are competing with every other website, TV station, magazine, and my dog for my attention. OK, you FINALLY got it. I notice you. I am a little interested. Maybe. You're funny, or provocative, or outrageous, or brilliant, or you have great tattoos—I am listening (or reading, or watching.)
Two Obvious Questions:
–Where do you want me to go?
–What do you want me to do when I get there?
Many people want you to go to their website, to the page they want you to go to FIRST. This is the "landing page." You "land" there when you click over.
It may be your home page, it may be something else. Of course you need to be strategic about this. You have to know where you want me to go and why. And you may only have 10, or 30, or 90 seconds to get this done.
Some people prefer to send you to their Facebook page, or Pinterest page, or Goodsy, or Etsy or Ebay page to buy something. But a landing page is the most common.
On that landing page, there should be one or more Calls To Action (CTA). "Download my eBook", "Call me for a free assessment", "Buy my CD", "Listen to my newest song/lecture/thoughts on trauma in older adults." "Send me your email address for free updates on Art Therapy Jobs."
You want me to engage you and your work or services more deeply.
At Southwestern College, the Call to Action is "Fill out an information request", or "Subscribe to our blog." Nothing too dramatic. Some sites have a contest, or offer a free something or other. Those are very popular…Or offer a discount, or a free coupon, or, or, or…
It all makes sense. It is a loop. You have services to promote, you want others to know about them/you. You blog, you Tweet, you talk about your work on Facebook, maybe radio, or an email (iContact or Constant Contact?) When you do, you say "Please go to this page (click) and complete the form there." Mission almost accomplished. (When they actually call you and make the appointment with you, the full mission is accomplished. Good work!)
It's not that complicated, though depending on your personality, your fascination with technology, and  the "product" you are promoting, you could make it more complicated. It's up to you.
Instagram is an iProduct. You download the app, take photos, then try out a dozen or so filters they offer for "editing" the look of the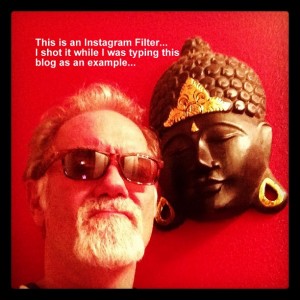 picture. You send it to Instagram, to your Facebook site, to an email, to wherever. Instagram has a huge community of people who follow each other. I do Instagram more every day. I love it. For me it's fun, goofy, though I have not used it DIRECTLY or INTENTIONALLY as a serious professional tool. But as my track record suggests, I might be TOTALLY off and should consider it so.
It shows people where I am, what I am doing, who I am with–I can build a significant "persona" with Instagram. "Man, this guy is ALWAYS in some cool place, doing something really interesting, yada yada yada." Think about it. You might have a million ways to promote yourself and get yourself known using Instagram.
Vine. Vine is fun, silly, easy. You download the app, you take the video by touching the screen. When you release your touch, the filming stops. You can do this 2, 3, 4 times for a total of six seconds. Yep, six seconds, then it replays. People are finding very creative and funny ways to use Vine. Of course it is limited, but you can make it interesting and create some buzz, get some attention. Check it out. It is a blast, and once you get the hang of it, you start to see how you can build some buzz, and again, create your persona or your presence online with this tool.
Vimeo
Higher quality, more professional video site than You Tube. You can post longer videos too. Serious videographers use it, but most normal people live with You Tube, which has a lot more viewers overall. I don't use Vimeo myself. Maybe I should, but I'm not likely to, at least any time soon. You have to decide what you are NOT going to do as well as what you ARE going to do. You can't do them all, at least not by yourself.
Scoop It.
Scoop It allows you to do a search for articles on given subjects (Art Therapy, for example) and choose articles you find relevant and interesting to put on a sort of digital newspaper page. You can send it to clients, potential clients, post it wherever you think people will see it. You can bring value to others by collecting stuff that is relevant to various populations (Art Therapy, Agoraphobia, Women's Issues, Social Justice) and sharing your thoughtfully chosen resources with others. Cool idea. You create value for others, and they come to appreciate you for it, but only if you follow through and do it regularly and reliably.
Stumbleupon
People trust their friends' and colleagues' reviews of restaurants, books, blogs and everything else more than they trust advertising. Stumbleupon allows you to endorse articles, blogs, posts, or web pages by sharing the URL, Keywords, and a brief note about why you think the page is important or worth checking out. If you have a knack for recommending good stuff, people follow you. It's like asking a reliable friend "Hey, can you recommend a good book on trauma?" and they consistently recommend winners. You come to trust them. Your taste and theirs are similar. It gets you a few points as a kind of second hand thought leader and influencer. You bring good stuff to the table, and that is how Scoop It works.
TripAdvisor and Yelp
These are not really at all related to your practice, at least not directly. But if you like to travel, eat out, stay in hotels, go to bars, you can rate them at these sites, share your experiences and reasons for your recommendation or disgruntlement. I read these a lot when going to a new city. I also have about fifty plus reviews posted on TripAdvisor. It can make your multi-dimensionality more obvious to the world, and it is kind of a pay-it-forward phenomenon. "Wow, she's not only a therapist, but she travels to Europe a lot and reviews restaurants in Rome and Istanbul. Cool person." That doesn't hurt your public image. (And if you need a good driver in Rajasthan, I got a guy.) Here is my Trip Advisor account… http://www.tripadvisor.com/members-reviews/Docwahoo Predictably, I foster my public persona (which is pretty authentic, I have to say) as an irreverent, funny, warm-hearted guy who is looking out for your best interest. These are fun to read, not the usual Trip Advisor drivel. I get noticed. That is my aim.  And here is "Yelps from the President."
 Keywords.
Here's a very simple version. When people Google for a product, or services, or interest, they have to enter words or a question. Let me make up an over-simplified example. I am CEO of Southwestern College. If I write an article about SWC and entitle it "Programs in Mental Health", and you Google Master's Degrees, Counseling, Art Therapy, Holistic, Integrative, Alternative, Spiritual, New Mexico, Santa Fe, Accredited, Consciousness or Sustainable—well, I missed ALL of those in my title and you won't find us in your search. On the other hand, consider this title and intro sentence. "Holistic Master's Degrees in Counseling and Art Therapy": "Southwestern College, a fully accredited alternative and integrative graduate school in lovely Santa Fe, offers spiritually sourced and consciousness based programs leading to meaningful and sustainable careers."
I nailed about a dozen ways you might be searching in very short order. Those are the key words—the ones I anticipate people will use to find schools like ours.
I used to (OK, still do, once in a while) like "clever" or creative titles. Not exactly realizing the price I am paying.
"Cool School Rocks Ancient Masters"
"Forging Your Future in Georgia O'Keeffe Country"
I might get someone's attention, but I really have given very little information, and use no key words. If you are looking for an Art Therapy school, you are not Googling "Where did Georgia O'Keeffe Live?" And if you wanted to know about Georgia O'Keeffe, you will get to my blog and realize I wasted your time, since it has nothing to do with Georgia O'Keeffe, really. Neither of us needs that.
You can get obsessive about key words, and there are books that will help you get obsessive about them. "MA in Counseling, MA in Counseling Psychology, Master's in Counseling, Master's in Counseling Psychology, Counseling Psychology Graduate Programs, Best Psychology Programs, Best Psych Programs" and on and on and on. You can try to cover every possible Google-able combo, but you could drive yourself nuts in the effort. I would not recommend it, but then, I'm not you…Maybe you are dying to drive yourself nuts. Well, this would be one way to do it…
…That is a lot of stuff, my friend…I hope you made it this far, and that you are not daunted…It is all fun, and it is SUPPOSED to be fun….take it in….think what is best for you, and what sparks your creative fires…Have a blast…And build your practice….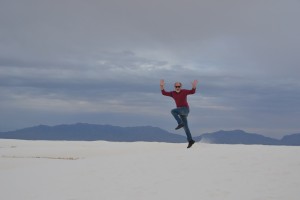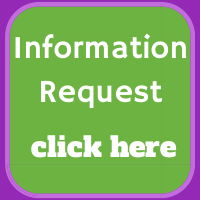 About the Moderator