from Jim Nolan's 16 Things You Really Need To Know About Going To Graduate School In The Helping Professions
(That Graduate Schools Do Not Tell You)
To simplify matters a bit, let's put it this way:  There are Counseling and Psychology  programs that focus on Experiential and Transformational Learning (not many), and there are Old School programs (many). Some people prefer Experiential, some prefer Old School. You have to decide what you are looking for in your graduate school experience.
And as I mentioned—many Old School programs claim to be experiential if you ask them (even though it's probably not in their literature or on their web site), but they're not. So you have to know how to shop this one…
Old School involves more lecturing, more of them, less of you, writing traditional papers, most likely all in APA style, third person, because they really do not want to hear what you have to say, since you are only a graduate student—"write about other people's thoughts, not your own." The philosophy is more along the lines of "We know a lot of stuff, you don't, and if we tell you what we know, then you can demonstrate that you know it on a test or in a third person paper, and when you do that for two (or six) years, you will get a degree. Possibly then we will be interested in hearing about your thinking on the subject." Personally, I do not find that very inviting, nor very honoring of my own inner experiencing.
Of course I am exaggerating a bit, and all schools have some good people. But that is how grad school was when I went through it, more or less. They talked, we took notes. All schools will have practicum and internship experiences, but the classes themselves are very traditional in Old School programs.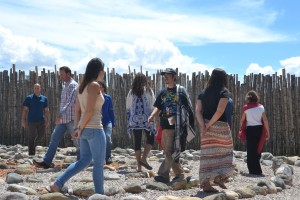 At Southwestern College, for example, you might, in any given day, get a brief lecturette, work in dyads, take a medicine walk, role play, do a  meditation, draw a mandala, experience a shamanic ceremony, listen to student presentations, or make art. In such a school, the educational philosophy is more in the spirit of "Educare", or "drawing out that which is within." The idea is not that the professor knows stuff and you don't. That may or may not be true, but it is not the point. The skilled professor in an experiential and transformational program will create a safe space and facilitate activities that will allow your own "Inner Knower" to be awakened and drawn forth. Psychology is (or should be) about helping clients access their own Inner Truth, and Inner Knower. That process is learned by going through it yourself. I can share what is true for me, but that is not what's important. What we really want to find out, at a deep level, is what is true for YOU.
Psychology, and being a therapist, is not primarily about facts, evidence and science, though some in the field will try to sell that point of view. It is about intuition, connecting, emotional intelligence, self-knowledge, skill in being able to reflect deeply on one's experience in life so that one can facilitate that process in others. That being said, some people still prefer Old School, and are not that interested in their own self-exploration. Those who are interested in their own personal growth are more likely to look for holistic, integrative, experiential programs, where you learn by doing, by getting your hands and psyche dirty, by trusting processes that are not always easy, or comfortable.
So think about that one, and do your homework. This piece of your decision may be the most life-changing of all.
If you are interested in alternative, holistic kinds of programs, here are some names. Of course there is Southwestern College in beautiful Santa Fe, New Mexico. I might be slightly biased in my view that it is the best place in the world to get a master's degree in Counseling or Art Therapy/Counseling, because I happen to be the president. OK, I am being a little funny here, but this whole book is about being authentic, transparent and honest, so I will give you the names, too, of our sister schools (some would call them competitors): Naropa. CIIS, Pacifica, Saybrook, JFK (in the Bay area). We are all different in significant ways, but all similar in that we are not Old School, by any means. What I hear from people who have gone to Southwestern and one of the others for a doctoral program is that we are more of the heart, and the others are more in the head…You have to decide what is right for you…
Warmly,
Jim Nolan
About the Moderator