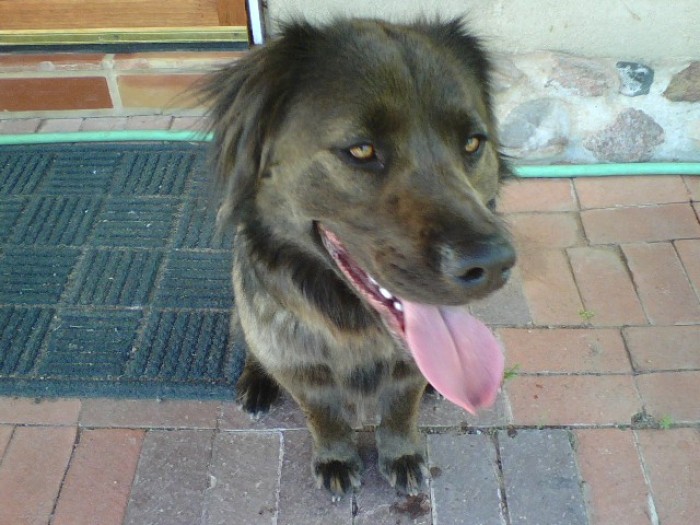 Hey Jim!
Loving the pets and their people blog! What an awesome idea!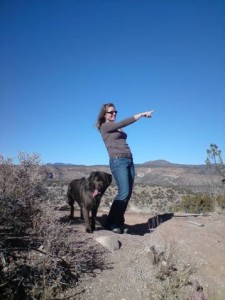 This is me with my dog Kenobi (named for a certain Star Wars Jedi played by Alec Guinness).
 Kenobi came to me from a shelter, where I was actually searching for a cat due to a mouse problem we had while living out on Hwy 14 near Lone Butte. Natalie, out at Heart and Soul Animal Sanctuary in Pecos, insisted we visit the "puppy pen" before going to the "cat house." Once inside the gated area housing about twenty puppies of various sizes and shapes, we were immediately surrounded by jumping, licking, barking pups. As I looked down at the mayhem, there was one ball of fuzz just sitting at my feet, looking up at me with inquiring eyes without a sound. I picked him up and he melted into my shoulder like he'd been waiting for me for years. We continued to the cat house, and before we went in I had to set him down outside. I told myself we'd had a nice little connection, but really, I needed to focus on cats. The mice were getting out of hand out on Hwy 14. We spent about thirty minutes picking out a cat, and once we'd made our selection, stepped back outside to find that little fuzzball sitting there patiently, right where I'd left him, with that same inquiring look on his face. I was in my second year at Southwestern and I took it as a sign. We took Kenobi home with us, along with a little black cat we later named Isis. They were both eight weeks old.
 Kenobi and Isis became good friends, a model for interspecies love. About a year later, when my husband and I were separating, I decided I could not bear to separate the two animals, and since I was moving into a smaller place, I thought it would be better for both of them to stay with my ex out on Hwy 14.
 The week I moved out Kenobi figured out how to hop the six foot wire fence than enclosed our yard and ran away three times in three days. My husband called and said he thought Kenobi was looking for me. Since we couldn't have him running around all over the Lone Butte area, and since I was pretty sure he was trying to send me a message, I came and got him and we've been together ever since. He came with me to Carol's practicum classes in my last year at Southwestern, he came with me to Casa Milagro when I did my internship, and stayed with me through 46 hours of labor when I had my daughter Eve last year.
 I'm hoping he'll stay with me for a good number of years to come.
 :)
 Kate
About the Moderator