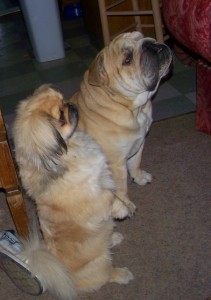 A Healer, A Friend, and a Jester This is Roy. Or Casanoba… Or Royal Baby. Really it depends on our combined moods and how playful and prancy he wants to be. After losing our dog Tobi (who we had for 9 years) to cancer, my husband and kids found Roy for me. I was not sure about getting another dog, but as soon as I saw his puffball flat faced puppiness I had to fall for him. From the moment I held him in my arms we were devoted. Roy comforted me through the loss of Tobi and continues to be a source of joy and rejuvination for me. Roy brightens my morning by waking me up scratching on my side of the bed. He jokes around with my family by pretending to bring us his toys, then about a foot from us… his eyes twinkle and he bolts just out of our reach. He makes sure we give him as much attention as he needs by sitting up on his hind end scratching the air with his front paws until someone inevitably loves on him; really who could resist that? His excitement at seeing me walk through the door (prancing, spinning in circles, jumping) instantly puts a smile on both our faces. When Roy smiles at me it is with with such genuine love, friendship and gratitude. I know he and I will be the best of friends for as long as forever…
And here is Lance… Lancelot Knight of Broadway legally belongs to my husband. But reality shows Lance belongs to EVERYONE! He loves people, other dogs, and cats (well maybe he just loves to chase cats and scare the be-gee-gees out of them). Lance is a 70 lb English Bulldog who often mistakes himself for a 10 lb lap dog. He will hop right up into your lap and snuggle down for as long as your legs can keep blood circulating. Lance has a way of making everyones mood shift in an instant. Somehow he learnd that if he contorts his body and wiggles until his nubby tail almost touches his cheek it assures him lots of lovin and tons of smiles. Lance is scared of grocery sacks, anything shiney, plastic lids, but mostly of his reflection in a mirror terrifies him. Lance loves to sleep, terrorize cardboard boxes and bully our other dog Roy. When the two play Lance can often be seen holding Roy down with one front paw. It is hilarious!! He has the unique kanine ability to bring light into the darkest times. He has often been a soft snuggly tear streaked pillow and gracefully held our sorrows. He's been a source of great happiness for all of us. My family has had the pleasure of belonging to him for 7 years.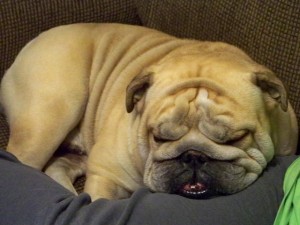 Olivia Green is a first year student at Southwestern College….
About the Moderator