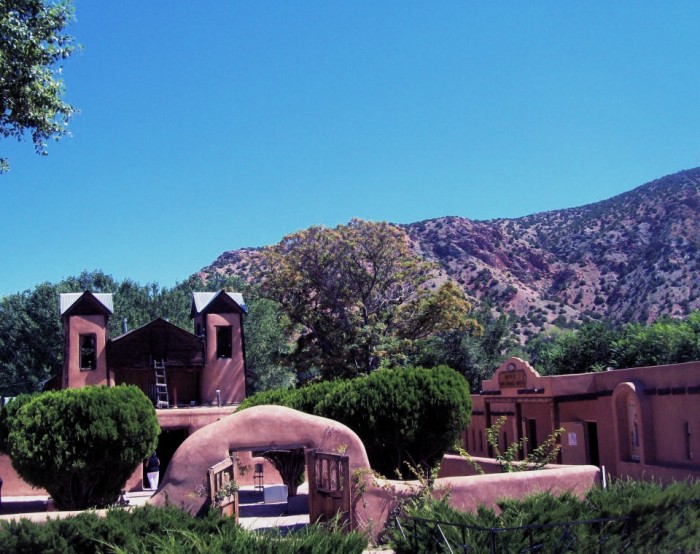 by first-year Art Therapy/Counseling Southwestern College student Caitlin Harper
Catholics get a bad rap. With our history of persecutions, child abuse, and hidden Vatican secrets, I totally understand why. I've fought against a lot of the ramifications of my own Catholic upbringing for quite some time. But lately, I cannot help but feeling inspired by the Catholic culture and religion I was raised in.
Ever since I arrived in Santa Fe, New Mexico, it is as though the saints have decided that they are going to linger all around and support me. Everywhere I go, I seem to find a sign that a saint has been nearby…
Today, as I was hurrying to get to school, I found a Virgin of Guadalupe vial of Holy dirt from Chimayo in my backpack. I started to cry, because as a former Catholic, I still believe in miracles. Miracles don't have to be the appearance of the Virgin Mary in a puddle, or your neighbor's spontaneous stigmata, but they can simply exist as the appearance of love somewhere unexpected. It doesn't matter if a person put that vial in my backpack or not, it still got there by a little magic force I like to call love.
If you are not familiar with El Santuario de Chimayo, then you are just plain missing out. It is one of my favorite places in the whole world, and leaves me speechless and filled with tear-stained hope every time I go. It doesn't matter if you're Catholic, or Wicca, or Hare Krishna, the chapel there is filled with such an immense presence of human hope and love, that it will simply appeal to your humanity.
There are many reasons why I love El Santuario de Chimayo, but my number one reason for loving it SO much, is the tiny room filled with Holy dirt.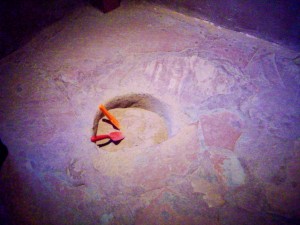 Just think about that for a second… Holy dirt… those are two words that just don't seem to fit together. When I think of the word Holy, I think of heaven, angels, and higher notions of beauty. When I think of the word dirt, I think of something I need to sweep away with a broom. But that dirt always reminds me that real Holiness can be found anywhere. It can especially be found in the dirtiest, darkest, and most unexpected places.
I like the idea of Holy dirt, because it helps me to remember to bring all of my higher notions of existence and consciousness back down to the simple idea that we are all humans, and that sometimes our most beautiful moments manifest as our struggles, our errors, and our resilience to persist in the face of it all. If I so choose, I can transform my dirty suffering into empathic understanding and fuel for nurturing others struggling with their own suffering. And that, my friends, is where I believe Holiness lies- in the transformation of something isolating into something compassionate that may potentially aid in healing the Whole of humanity.
So my recommendation is to go to El Santuario de Chimayo. Breathe in the beauty there, pick up some Holy dirt, and then eat something delicious cooked in Chimayo chile.
And because sometimes a poem says more, here is one I wrote about the Holy dirt of New Mexico:
Autumn rises yellow from the earth here
where dirt is Holy
and the land rises skeletal, remaining as it was and will be. 
The saints dwell here
because here they can be as they are
dirt pulling Grace down into viscera
dirty is the place where 
God dwells paradoxically in them
Blessed are the meek,
 for they shall inherit the earth.
Autumn rises yellow from the earth here
About the Moderator