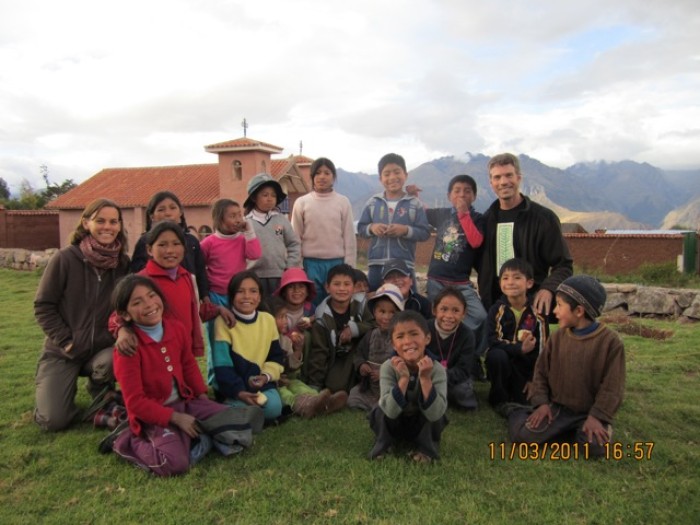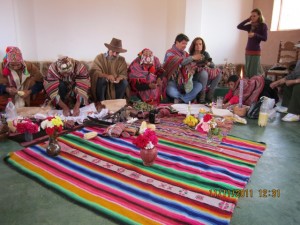 Maras is an amazing place as it is starting to rain frequently elsewhere in the valley, yet it remains sunny here on most afternoons. The cloud views from our residence at ARI can only be described as stunning. Our work with the children continues, and even when it does become wet and chilly, we are fortunate to have the little church here where we stay dry and warm. Small in comparison to other churches in the area, it is in reality quite a sizable space for arts and crafts. There is plenty of room for children to run and play, which happens quite quickly as they finish their projects.
On weekdays, around 2pm, we start to hear children tapping on the gate as they are finishing up at the local school. To ensure our groups are manageable in size, we have divided the children into 4 groups, so that they are assigned a day between Monday and Thursday. On Fridays, when we work with the art teacher, we have an open door policy, and have had more than fifty children eager to learn what Yuri is presenting. Yuri, our art specialist, has guided us on drawing techniques, painting and mixing colors, origami, as well as making dragons and butterflies from paper mache.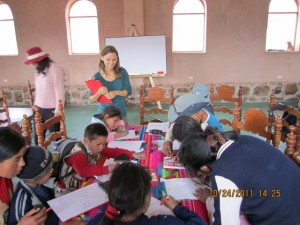 In our smaller groups, Cordell and I have reinforced Yuri's lessons by providing more opportunities to draw and paint. We have recently added beading to the repertoire of skills, and have found it difficult to divert from this activity because the children are so enthusiastic about making rings, bracelets and necklaces. It gets eerily quiet in the room as they concentrate on colors and patterns that appeal to them. Perhaps in the future we will make earrings as well.
Jewelry making is rewarding because everyone goes home with a finished product. As children are leaving, they will often ask when they can come back. We remind them about our work with Yuri on Fridays, and what day they come back in the following week. We are blessed to have so many interested children here in Maras. The benefit of keeping our groups under 20 is that it ensures that they will recieve encouragement and support as they continue to explore their creative potential.
Sara Williams- ARI intern in co-operation with Southwestern College in Santa Fe, NM.
About the Moderator