Looking across the yard toward La Capilla de Los Angelitos,
sun bright to my right, slight breeze, mid 50's–
almost too cool for a tee shirt, but not quite–
the heart is warm…
This morning we watched the film "Crossing Bridges"
in which Ted Wiard and a bushel of boys
built that Chapel with their hands and hearts;
and I can almost see those boys, now ten years ago,
embracing the wildly unfamiliar experience  of
"meaningful work."
Parts of their souls,
parts of their abuelitos and dads
buried in the adobe,
under the floor boards,
in los nichos, in the energy field…
Ted has seen a holy ton of death,
delivered every which way
death can be delivered.
He has had unspeakably close loved ones
dragged violently from this life,
leaving him alone,
his soul bedraggled,
to carve meaning out of
the diamond-hard rock of loss.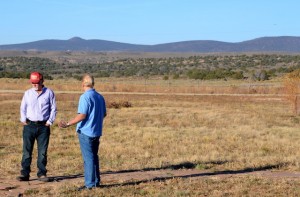 Ted gave us the Chapel tour this morning;
we are both basking in the golden shadow
of a life dedicated to the transformation
of wounded narratives,
to the coaxing of music from the deafening silence
which follows all last breaths.
Ted's the smilingest son-of-a-gun I know.
Many complain among embarrassments of blessings
which others would find glorious.
Ted sun-smiles through a world
where all loss is made his loss,
where this very morning,
he is fielding the aftermath of
three hangings and two infant deaths.
It's an amazing day out here at Golden Willow.
The sun/breeze match is still on;
the big Indian-hair black
and ski slope white birds tour this valley,
offering temptingly dichotomous questions:
"Is there only black and white?
Is there truly no soul-sky between "life"
and its ever-maligned counterpart?"
In La Capilla de Los Angelitos,
we are united again with the knowing
that while Life rides in a bag of bones,
it never becomes it,
as you do not become the airplane,
no matter how long the flight…
About the Moderator