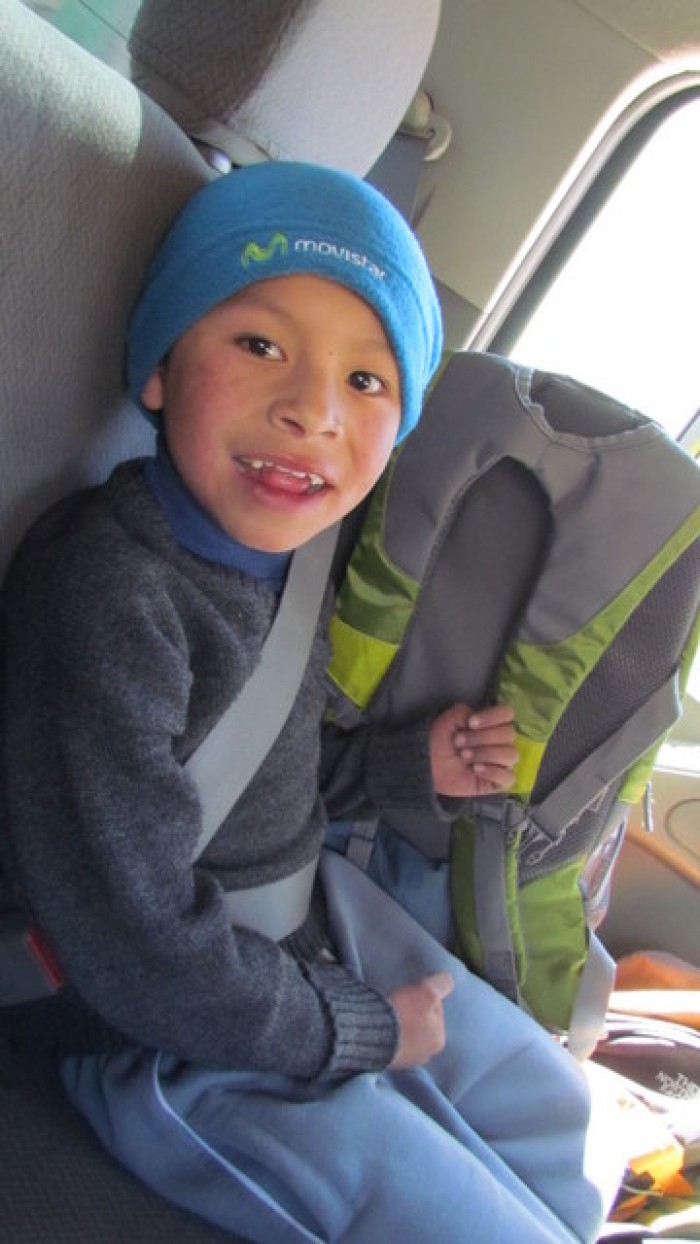 from Craig Tomas McAdams,
Southwestern College
Counseling Intern…   This story does not have a have a happy ending.   "Steve" from the previous blogs is in fact, Tomas. Tomas Guevara Paucar. The happiest, most delightful child I have ever met. A couple of months ago, I noticed him among the children because of his contagious smile and his difficulty with walking and learning. I worked with his family in the fields, ate dinner with them and agreed to see Tomas along with his older cousin everyday, teaching him in order to supplement his studies at school with which he was struggling. His family was warm and welcoming and good to me and I loved spending time teaching Tomas. After discovering that only a year ago Tomas had no diffulties with walking or even with running, I decided to ask the Andean Research Institute to put up the funds to take Tomas to a clinic for assessment and treatment. A.R.I. said yes and we were off on our journey.   Everyone has that moment when they laugh uncontrollably, possibly even crying as they do so, your eyes well up, your face may turn cherry red, and you may even gasp for air as your surrender to joy, bliss. This is exactly how every smile, laugh and tickle ends up with Tomas. Fortunately, I get to witness this everyday and as the journey with our friend Martin and Juan (Tomas' cousin) began, I could see the amplification of this state of happiness for Tomas. There would be many "first's" for Tomas on this trip. We got in the car and I soon found out that this would be his first trip out of town, actually not needing anyone to tell me this as I read the excitement on his face. As we drove off into the sunrise, Tomas pointed at and named everything he saw on our journey, with, of course, a huge smile on his face. "Venado! Caballo! Verde! Rojo! Casas! Agua! Rio! Lago! Montano! " Tomas exclaimed. The roads were curvy and fast, and even I felt a little queezy as we stopped a few times to let Tomas adjust to the newness of moving 60 kilometers per hour.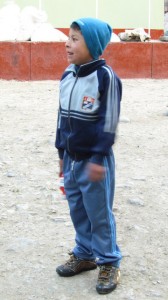 Eventually, we stopped at our first destination in Curahuasi, Agua Caliente, Hot Springs! The mountains, river and trees were beautiful and the hot springs were abundant and large. Another first, as this was Tomas' first time swimming! He was willing, so I began to teach him how to swim and during the first attempt he swallowed a little water. I soon realized that his body was not going to cooperate with his willingness, so I came up with a new idea, "Piggy-back swimming". As I swam across the pool with Tomas clinging to my shoulders and neck with his feet on my hips and giggling the whole way, I suddenly thought, "God, I would love to be a father." Moreover, this reminded me of a memory from about a month ago. At that time I was eating Cuy (Guinea Pig), a sacred and traditional dish, at the home of Tomas. I was chatting away and enjoying the meal with Tomas' family, when his father, Tomas Senior, turned to me and asked me if I could be a good father for Tomas, basically asking about adoption. Initially, I was caught off of my guard and taken aback by the question, I laughed nervously and said, "No, I don't think so." Luckily, through a conversation with my very culturally competent friend, Patricia Spurio, I started to understand and see this situation in a different way. I understood the amount of love and humility it took Tomas to have, for his son, to be able to ask for a situation that would provide resources and opportunities appropriate for Tomas Junior, which would never be available in Maras. After digesting this, I apologized to Tomas Senior for adoption not being possible and commented on how beautiful and loving his family is.   Then, we stayed the night at the hot springs, deciding to go to the clinic early in the morning. We were at the hospital the next day from 7:00 a.m. to 4:00 p.m., a long day for anyone, especially a nine year old boy who went to the doctor for the first time. During our first trip back to the doctor, Tomas was a bit nervous. I held his hand as we walked to meet the doctor, and she greeted him excitedly and asked him to write his name. I put my hands on his shoulders, supporting him as he wrote out "TOMAS". I was so proud, remembering that just two months ago Tomas could not write the letter "A". Tomas was checked over by three pediatricians and the consensus between Martin, Juan and I was that the message was that we needed to take Tomas to either Arequipa or Lima where there were more machines that could confirm one of two things, that Tomas had issues with his thyroid or he had some type of Muscular Dystrophy. When the doctors were finished, they asked us to sit in the waiting room while they prepared more tests.   Upon returning to the doctors, yet another first occured for Tomas, getting some blood taken. Juan held Tomas' hand and I maintained eye contact with him, spoke softly and encouragingly while occasionally squeezing his foot. Tomas did great and kept still during the seemingly hour long process as veins were not readily available. We then returned to the waiting room, this time waiting for our turn to do an "Ëcografia" on Tomas' heart. Time ticked by as we waited and waited, discussing a trip to Arequipa for further tests for Tomas. As I bounced Tomas on my knee and kept him company with singing, it suddenly occured to me how much I loved and cared about this kid; it was like he was my son. We had bonded through our rapport and I finally grokked how much happiness and trust we shared. I was happy and optimistic, knowing that Martin, Juan and I would continue to seek treatment and solutions for Tomas after this hospital visit.   After a quick trip into the lab for the "Ecografia", we yet again returned to the waiting room being told we would get results today. We waited for hours and eventually Tomas fell asleep on my arm. We finally heard "Tomas" called out from the doctor and headed back to a private room. Two pediatricians sat us down and the room grew quiet and heavy. Tears began to well up in my eyes as I listened to them tell us that Tomas' blood work and tests demonstrated that he had Duchenne Muscular Dystrophy, DMS, a rapid degeneration of muscular tissue, that fibriotic tissue had already developed in his calves, he most likely would not be able to walk at all by age 12, that no cure exists for this condition, and that we needed to make sure he had plenty of fluids, calcium and protection from infection as he is vulnerable. The doctors told us that had developed infection in the lungs, but that as of now his heart was in perfect condition. They gave us prescriptions, referrals, etc. and walked us down the hall as we followed in a stunned, zombie-like state. I was holding Tomas' hand when suddenly Tomas was going to the restroom with Juan, Martin was heading to the pharmacy to get the medications and the doctor handed me this paper:     I stood there, staring at, staring through this sheet of paper as one layer of this news landed in my chest, in my heart. I was startled when the doctor shook my hand and asked me how long I was staying in Curahuasi. I mumbled some response and walked into the waiting, sat down and put my head on my knees and cried quietly, softly. Juan, Martin and Tomas returned and we walked out of the hospital. On the way to the car, I held Tomas' hand again and looked down at him. With joy, Tomas was watching a child his age careening down a zip-line in the playground. I stopped, so Tomas could watch the child and so I could watch Tomas as there was something so optimistic in his eyes, in his smile. We continued on and at about the same time the grief hit Juan, Martin and me as we began crying once again.   In the car, Tomas held my hand again and seemed as happy as ever as I bounced around between denial, anger, hope and depression. He named everything he saw, sang, smiled, laughed and eventually fell asleep on me again. After awhile we stopped in a small town for dinner. We sat down at a table and I said, "Un momento, mis amigos." I walked out of the restaurant and weeped uncontrollably as I walked down the street. I saw a small store and entered. I looked for comfort foods to take home with me and found some chocolate wafers, papas calientes and a large bottle of soda. I turned and saw a toy section with small toy cars. I bought a yellow VW Bug and a green racing car for Tomas. I returned to the restaurant where my favorite dish, Pollo Brasar, Papas Fritas and beets, was waiting for me. It was a strange feeling to be eating delicious food with my friends while occasionally the tears came back for us involuntarily, eating and crying. Meanwhile, Tomas was eating quickly after such a long day, smiling, enjoying life with every bite. This was comforting and I reminisced about how happy he almost always is and how happy he makes everyone he comes into contact with on a daily basis. We played together with his cars on the table and he was having a blast, laughing so intensely. A young girl around Tomas' age, at the table next to us, watched Tomas and watched the cars intently the entire time.   Then, Tomas noticed the young girl, and at my nudging introduced himself, to which she replied, "I am Sophia." As we were leaving the restuarant, Tomas stopped me and gave Sophia one of his cars that she so desired, and she smiled big at him and then he turned to me with the biggest grin I have ever seen. :-) Next, naturally, I walked him to the store and bought him five more cars. We journeyed home and discussed how we needed to talk with Tomas' family tonight. At about 2 miles from his house, Tomas suddenly became very excited and asked if we were returning to his home. Eventually, as I touched Tomas' head nurturingly for his comfort, but mostly for mine, his head flopped over onto my hand as he fell asleep.   I looked up at the stars and saw the southern crux, praying to Pachamama, the Apu's, the Bird Tribe, Jesus, Joshua Ben-Hur, Mohammed, Buddha, Krishna, Ganesha, Lady of Guadal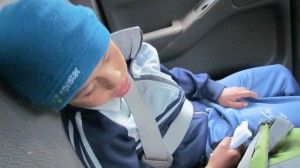 upe, Virgin Mary and Humankind for Tomas, his family and for Ayni and inclusivity to spread thoughout the world creating reciprocity between humans, animals, plants, Pachamama and each other. We arrived to Tomas' house and went inside to break the news to his parents and his grandmother. We sat down, shared the news, gave our hearts and cried with Tomas' family. I gave the family hugs and then gave Tomas a hug and a kiss on top of the head as one level of acceptance set in me. I understood that with compassion, love and treatment, someone like Tomas will make every day count, experiencing joy and bliss while instilling happiness in those he encounters.   This story has no happy ending, but maybe it could.         To donate to the Andean Research Institute to assist them with buying Tomas medications, a wheelchair, etc., you can do so below:  
http://andeaninstitute.org/
    To donate to finding a cure for Duchenne Muscular Dystrophy, you can do so below:  
http://www.cureduchenne.org/
  -Craig Tomas     Craig T. McAdams is a Counseling graduate student at Southwestern College. He is completing part of his Counseling Internship in Maras, Peru, where his heart soars and is broken just about every day…He is dedicated to a life of service…We at
Southwestern College in Santa Fe
honor him for his work…    
About the Moderator