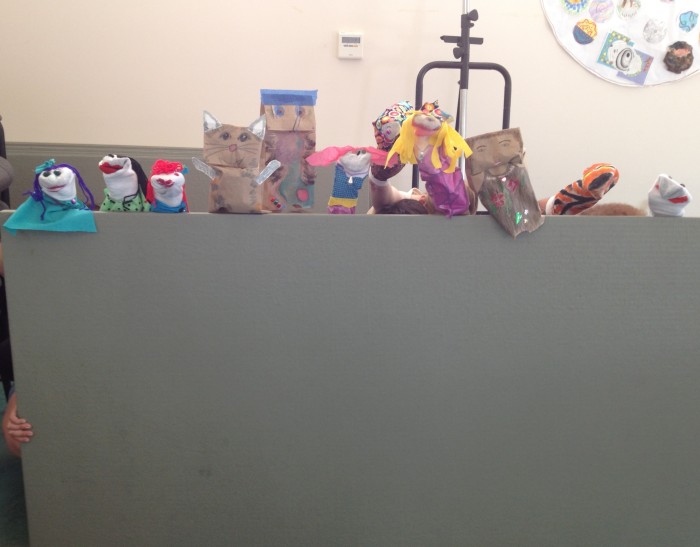 by Debbie
One of the joys of teaching is the absolute "no control" factor. I know, I can control the books we use, the kinds of experiential work we do, the art supplies we have, and so on. What is completely out of my control is the mix of interests, chemistry and energy present in a class. This past weekend course "Making Art With Kids" had kind of a magical quality that sparkled through the weekend. The magic came through participants' willingness to let those inner children out to play!
When invited to create puppets, the puppet-makers infused their creations with spirit and personality. When invited to think about helping children quiet and self-soothe by creating magic carpets, magic carpets were painted and stitched and glued. When asked to go find some dirt to make some mud to paint a picture with, mud and sticks and images appeared willingly. 
There's a funny place for me in teaching and in doing art therapy when I'm aware of asking students or clients to do something kind of weird or different, something that I believe will be good, but that might sound a little quirky to actually do. Folks have to trust me to open that paint, choose that color, stir up that mud. We had TRUST this weekend, and magic happened, and some great conversations took place between princesses and tigers and an owl, some fashionably-dressed cuties, a wise old woman and a cat named Lupita.
About the Moderator