From Debbie Schroder: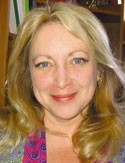 In the book The Resilient Practitioner, authors Skovholt and Trotter-Mathison, tell a story about a man who had a job making bricks by hand, one at a time. Decades later the old man walked through his city, showing his grandson all the bricks that he had made. The authors wisely ask us, "Where are your bricks?"
This question arises in the acknowledgement of ambiguity in the helping professions. We often don't know what the result of our work is.
This spring, art therapy students were asked to fill out a survey as part of our accreditation process with the American Art Therapy Association. We received the results of the survey and we have some important feedback. While we have some areas to work on to improve (and we are), we also have some evidence of good work, our "bricks" if you may. Students clearly were pleased with the experiential nature of our courses, the holistic approach to client work, the in-class art making, and the emphasis on self-care and consciousness.
We are sharing some graphs here, regarding the survey results. Please feel welcome to contact any Academic Council members if you have thoughts or questions regarding the survey.
From Jim Nolan
I just wanted to add my two cents—YES, THANK YOU for completing those surveys—more helpful than you know!  And we were VERY pleased with the feedback. As Debbie said, there were lots of positive comments, lots of stuff people are really, really appreciating about the program. As always, there were suggestions about possible changes, and opinions that some stuff we do does not work for the person responding. We hear you. That's what the whole process is about—finding out what works, what needs to be tweaked, and what the students feel about the program and the school.
Again, thank you from the bottom of our hearts…
Warmly,
Jim
About the Moderator