My Favorite Santa Fe Breakfast Spots in Spring and Summer
Favorite breakfast spots in Santa Fe changes (for me) by season. But in spring and summer, we have some nice ones.
These are NOT in any order.
Tesuque Village Market: I love Tesuque. It is a little town (and there is Tesuque Pueblo just down the street, where my plumber, Frank Crow, dances the Deer Dance, or Corn Dance, and invites us every year after fixing our swamp cooler. You can't say sentences like that outside of New Mexico.) Tesuque is about 5 miles north of northern Santa Fe. Lots of trees, because there is water there, a little creek running through (maybe the Chama River? Not sure). To outsiders, that probably sounds funny, but this is the desert, and there is not much water here, anywhere, so when there is, you KNOW it, because you see trees and green. The Market has an outdoor patio, it is made of wood, and it is an old country store. Excellent coffee, breakfasts, chile. A great sit in the nice weather. Actually, a nice sit in the winter too, as it cashes in on "cozy." The Tesuque Village Market is featured in the photo with this blog post.
Guadalupe Café is on Old Santa Fe Trail, near downtown, by the Dragon Bar, Rio Chama, and just down the street from one of the 153 houses in American that claims to be the oldest house in America. You sit outside on the patio, VERY nice atmosphere. My German wife, who could live on bread alone forever, LOVES their bread and jam, plus all the regular breakfast specials have been great. You usually have to wait a little bit. Do NOT sit inside if you can help it. Wait for the outside seats. It's worth it…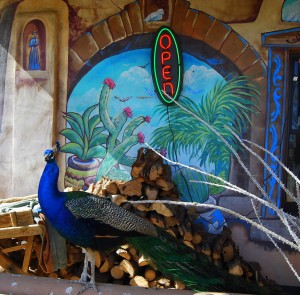 The San Marcos Feed Store on Rte. 14: It really IS a feed store, and kind of a hardware store, and they have this VERY SWEET house in which they serve good breakfast in a great atmosphere. Around the grounds are peacocks and roosters and birds of all kinds, and it is just an experience to be had. Plus the magic of Rte. 14, which is The Great Bizarre-o Road in these parts. Cerrillos, Madrid and all the rest. Holy cow. Probably The Great Bizarre-o Road in America, to tell you the truth.
Of course there is La Plazuela in La Fonda, probably the prettiest breakfast spot, The Plaza Café on the Plaza, which has history and a great feel, and others, no doubt.
Michael's Kitchen is my favorite in Taos, although it seems to be a bit of Taos snobbery to claim you don't like it, kind of the way long time Santa Feans like to try to grab the Hip High Ground by claiming they do not go to the Plaza in Santa Fe anymore, because it is too touristy, and because you used to be able to get a haircut and a jug of milk there, and now you can only buy high end art. Whatever, dude.  It is great.
There is a lot of good food in New Mexico, though admittedly it is weighted (in more ways than one) toward New Mexican, which, believe it or not, you can use a break from after 8 years here. But we have other good places to eat, and I will write about them in future posts….
Jim Nolan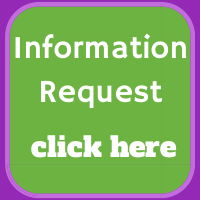 About the Moderator