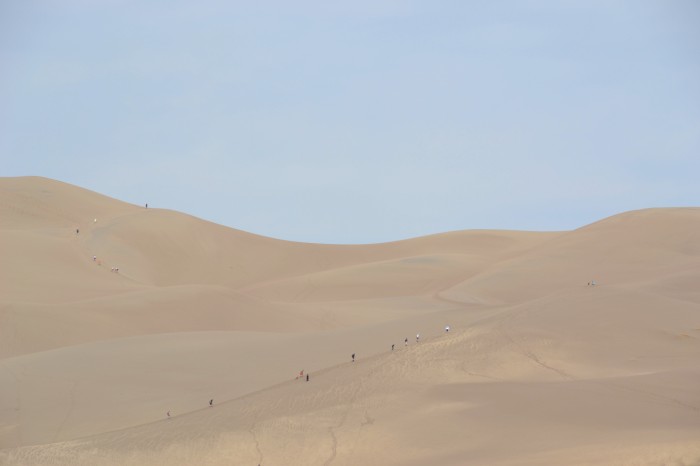 Southwestern College Intern's Reflections…
Some of you wonder what we mean by "transforming consciousness through education", and what that looks like in the world. Well, I would offer you this deeply reflective piece of writing by Intern, Eric Golden, to give you a sense of how our students internalize the teachings, and how it impacts them as they work in what CAN be a hardened mental health industry… Eric is an altogether extraordinary man…
Thoughts on Symbolism: An Excerpt from My Internship Paper.
Doing an internship in the community of Espanola has been a great teacher for me.  Never before have I ever had an illustration of how powerfully the individual's soul is speaking to us.  "Symptoms," especially behavioral symptoms, seem to be the primal fierceness of the soul screaming to be expressed.  "I matter, hear me, see me.  I am strong, respect me. I am beautiful and worthy of love.  My gifts and talents matter and are valuable."  Symptoms are the symbols and messages that the psyche is floating up into consciousness requesting recognition or guidance into consciousness and form.  The tree whose roots break through the sidewalk is not being hateful or intending to destroy the sidewalk, it is merely growing and emerging as the powerful and majestic tree and being that it is.  Its behavioral request is simply to "let me grow and be."  Does the gang member's affiliation actually scream out for qualities like safety, belonging, reclamation of power, tribe and family?  Does the heroin needle actually desperately symbolize a request for rest by an exhausted nervous system, inner peace, respite from the pain, desire for an altered state of consciousness from a "lost" spiritual seeker or a slow unsure surrender?  Does excessive and unhealthy sexual behavior actually ache for intimacy, connection, love and an expression of human fertility and creativity?  Is violent behavior actually the cry of an unrecognized and unrespected warrior?  Is the graffiti artist and tagger just an artist longing for a canvas?  There may actually be a soulful request in all of these "problem" behaviors.  As a new therapist I am learning the importance of sitting as a listener and mirror to the messages and requests of our human souls.
For example I have been working with a 15 year old Native American young man for whom anger, violence and fighting is how he has been moved to survive and react to situations in the world.  Violent behavior has caused him to be expelled from school and causing him many problems on his pueblo.  We discussed how he is responsible for his own behavior and choices.  Once he was able to acknowledge and talk about how power and force have been his first reactions to difficult situations we were able to start exploring what healthy qualities in him might be emerging in maladaptive and unhealthy ways.  We began to discuss the beautiful and tough warrior culture of his tribe and the strength of his people.  We are just now at this point in our work together.  He is in the process of exploring his own warrior culture and he is allowing me to be a companion and witness to his discovery.  This feels like the work to me with this young man.  Not only have we been developing his skills and tools for tracking, calming and slowing himself when needed, but we are also making connections with his inner and outer resources of self and community.  I feel that this young man is a good example of a young warrior screaming to be expressed and recognized both in himself and amongst his community.  My prayer is that he is transforming what seems like a curse in his world into the recognition of a blessing in his life.
Another example of symptom as symbol came recently as I was given the opportunity to work with an adult client with hoarding issues.  She was amazing, interesting and eccentric but was owned by the clutter of paperwork and objects in her home.  With great strength and courage she would consolidate or discard old phone numbers of people she hadn't ever had relationship with or didn't even know.  She would have great difficulty and I could almost feel her panic.  I interpreted this symptom, correctly or incorrectly, as not an attachment to an object but as a symbol of human connection.  Throwing a telephone number away represented the severing of possibility to an unknown relationship or connection.  A decade old schedule to a series of continued learning programs may have represented the possibility and hope of dreams and activities being realized.  This perspective of paying attention to what an object or behavior might have symbolized really helped me to be with this woman in her courageous healing and struggle.  My prayer is that at the bottom of the clutter she will find hope, possibility and freedom.  I hope she realizes, at whatever level possible, that these gifts, although hidden, were there all along. 
Deepest Blessings
    Eric
About the Moderator