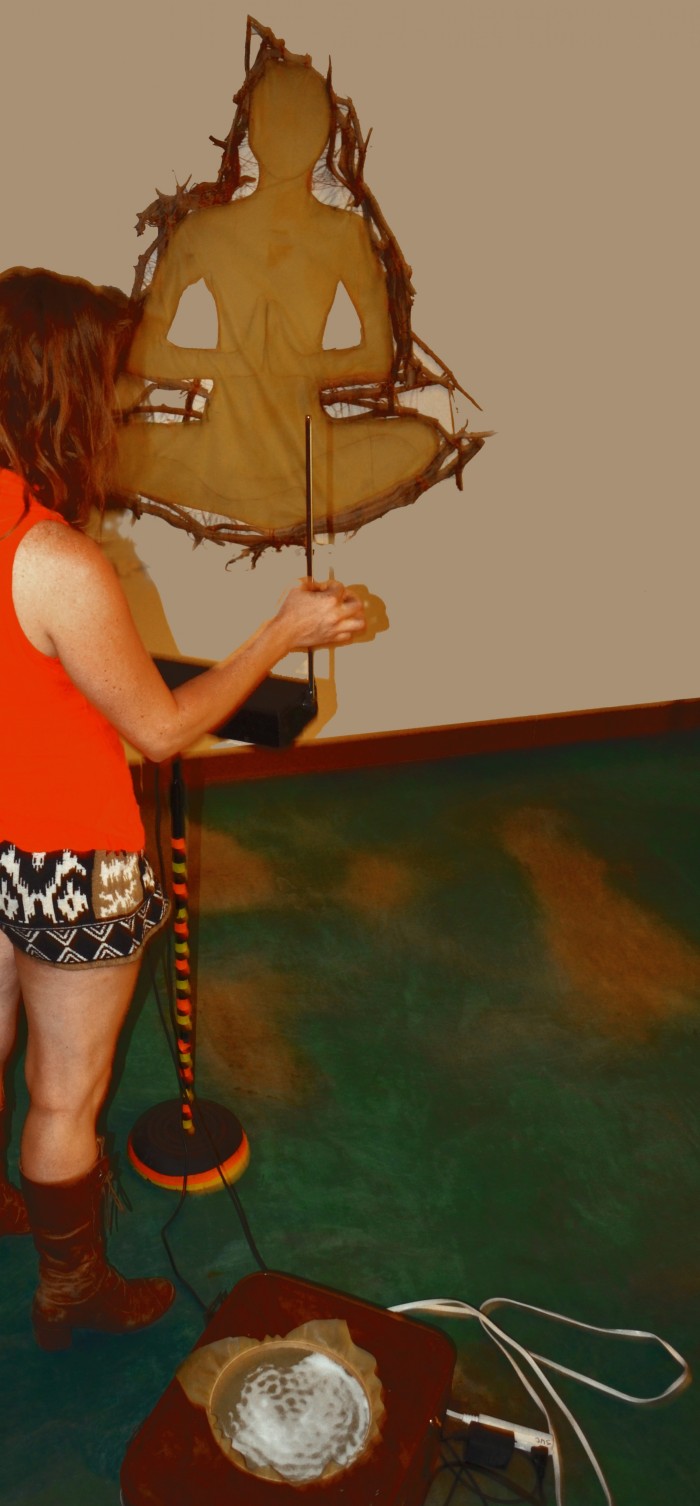 Cymatic Therapy: Self and Other
by Kat Dison
multi-media
This interactive performance explored the dynamic space within the self and the dynamic space between the self and other, and acknowledged the other that we encounter. In my final presentation for multicultural art therapy with diverse populations, I applied my skills as a musician and sculptor to explore an alternative method of communication that can be useful when working in an art therapy setting, possibly involving a language barrier or cultural differences.
I understand using music and art within a therapeutic relationship to address physical, emotional, cognitive, and social needs of individuals, and recognize that a theramin is perfect instrument to source for communication. The theramin is an electronic musical instrument that can be played by anyone by simply waving one's hands over a pitch and volume antennas, producing sound from an amplifier. Not only does the theramin require little knowledge to play, but it also acts as an icebreaker with the ridiculous sounds that it can produce.
For my final project, I decided to combine the physical movement of playing the theramin to create interactive art. To accomplish this, the amplifier that was plugged into the theremin was encased in a box with latex sheeting that I covered in salt. When the theramin was played, the sound from the amplifier visibly vibrated the salt into patterns, creating a mandala. During this process, the sound mandala was projected from the latex sheet onto a wall-mounted figure, giving the appearance of the figure shifting its shape as the theremin sang its melody.
From the experiential, we learn a new way to communicate; from playing the theremin, we identify the self; and through exploring the sound mandala, we reflect on communication with the other (i.e. – the figure). Through this process, we see and hear
that relationship and investigate what patterns were taking form within the communication process. By crossing signals of sound and art, we are able to further investigate correlations between communication and the effect that it has on life.
www.katdison.com
About the Moderator