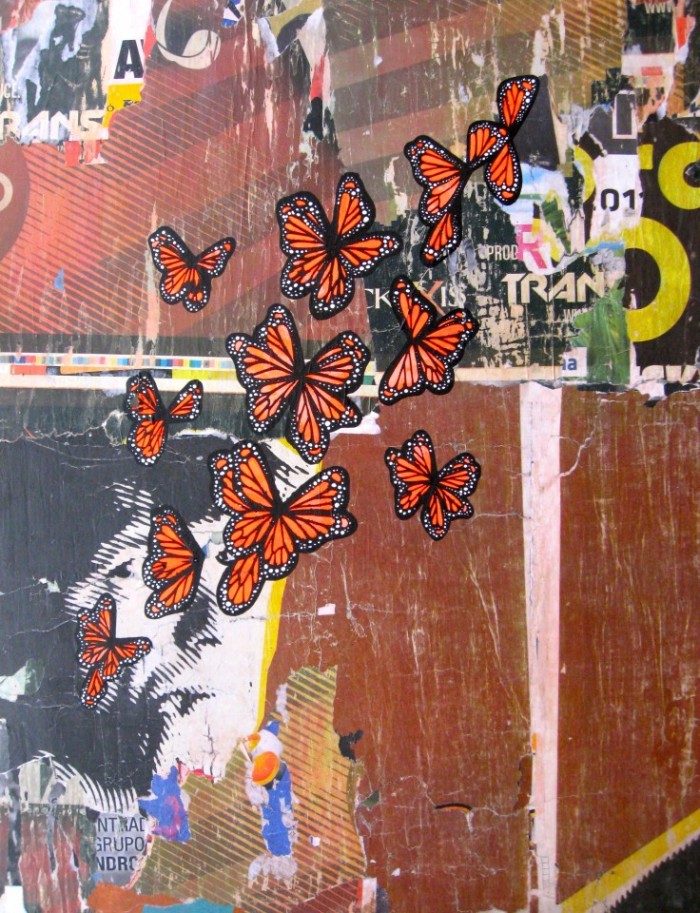 by Katherine Beck
When it rains in Santiago all the posters pasted onto urban walls get wet. There are often many layers of posters glued on top of each other, and the water makes them so heavy they eventually peel off and become trash. This is where I come in, because I *heart* trash. That is to say, I am inspired by the potential trash has for transformation. I keep an eye on things that have been discarded, awaiting their rebirth. Though I see myself as just another anonymous outsider passing through the capital, I know my own story is glued and weathered onto the very walls I walk past. Making art out of trash is a form of exalting what has been left behind. It is one of the ways I invite transformation into my life.
This series was completed in 2012 at my home in El Cajon de Maipo, Chile.  Each image was printed onto ten different canvases.  Every canvas is covered in a unique composition of posters and acrylic.  I made prints of each image on paper as well.  I spent most of my days outside, working in the pole barn. From there I could enjoy the mountains and the river, while pasting paper onto canvas and letting it dry in the sun. The visual landscapes in my imagination are decidedly urban, but I prefer to be in nature.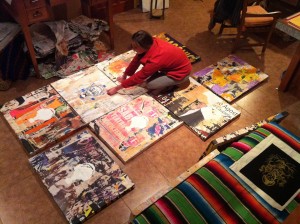 I am absolutely in love with screen printing as a medium. Working in series has allowed to me evolve my relationship with my muse, the street. I can gather castoff posters that the street has shed and use them to print on. I can also paste my own images back onto the street quickly, safely, and without damaging the wall. We have a conversation going on and I invite you to listen.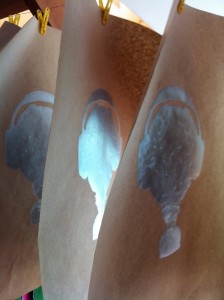 Katherine is looking for recycled materials to create more work, "I want to let people know I collect candy wrappers, colorful packaging, color strips (the CMYK color tests you see hidden on packaging), and of course, colored metallic foil. I am planning on setting up a little recycling station somewhere in the art therapy building where people can leave me wrappers in mason jars."
Katherine has her work displayed in Southwestern's Art Therapy building.
She will be hosting an opening on January 25th. 
About the Moderator