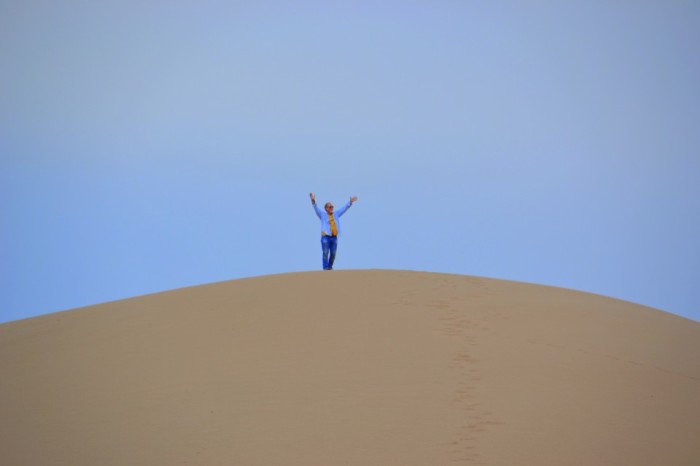 The Value of a Master's Degree
I received my BA in English in 1975, and the skills and appreciation of literature I learned back then, and the full meaning of that experience are still unfolding, still "paying off" some 38 years later. I never made a dime from my undergraduate and one year of graduate studies in English, but the decision to study literature and learn to write may have been the single most important decision I ever made regarding my education. And who could have known, back in 1975, that I would become a prolific "blogger", writing for the Huffington Post, Social Media Today, and Southwestern College? (And by the way, I still read one or two Shakespeare tragedies a year…They're still magic…)
After six years of graduate school, in 1988, I graduated with a PhD in Counseling Psychology, and started a job at $40K. My brother finished a three year law degree that same year and started at twice that amount. But he hated practicing law, and has not done so since that very first year, and I am still in the helping professions. The value and meaning of the decision to get my graduate degree in Psych are still unfolding, and my education continues to open doors for me, professionally and personally. Twenty five years later.
In the media these days, there is much talk about the value of higher education, often from a very negative viewpoint. The problem is, they tend to define "value" or "quality" by looking at the ratio of the cost of your education to your salary the first year out of school. That is an awful way to calculate value and quality.
One, it does not take into account AT ALL the richness of college and graduate school experiences, the networking and friendships, and other non-financial benefits, like personal growth, life satisfaction, meaningfulness of career, role modeling for your kids, spiritual growth, and on and on. Those are left out of the equation.
Second, somebody really ought to look at a comprehensive, longitudinal study of the value of one's education over the span of our entire lifetimes, NOT ONLY the year after graduation, and NOT ONLY in terms of so-called ROI (return on investment.)
Imagine someone paying $22K for a new Subaru Forrester, driving it off the lot, and saying "Dang, it is now worth $19K as a used car. That was a really stupid purchase." Common sense would say "No, actually, you are going to have that thing for fifteen years, 217,000 miles, and tell me what the value of that purchase decision is THEN. That will be the true indicator of the wisdom of buying the car. You don't buy a house, look at the value the next year (especially in some of these down markets in recent years) and say "How stupid was that. The house is worth a thousand LESS than when I bought it!!" No, the value of the house purchase will not be known until you sell it, which could be in twelve years, at which time the value is up, you have gotten twelve years of tax breaks, and you have enjoyed the experience of living in your beautiful home for twelve years. THAT is when you will know the value. NOT the year after you buy it.
You get my point. The self-appointed education pundits would say that I got a lousy deal on my undergrad English degree, and that my brother got a MUCH better ROI  on his law degree than I did on my PhD. They would be dead wrong. (And, by the way, it NEVER hurts to have a law degree, so John has done just fine too, just not in the field of law. His law degree was by no means a waste.)
We are living in times when people are trying to make political points by taking certain positions, by looking at selective data in selective ways to make their point of view look good and to get votes, or gain influence. I really hate that.
I am going to be sixty this year. Absolute decades after earning my degrees, I STILL do not know in what other ways they are going to pay off for me, or bring me joy, or open a door, or get me a blogging gig. But I guarantee you, the ways that are being used today to calculate the "value" and "quality" of an education are short-sighted and just stupid. I get that you want to be able to afford your education, that you want to be able to get a good job, and that you do not want to be paying off your education for thirty years. All of those go without saying.
But if you Google "Higher Education is not worth it", you will find all kinds of know-it-alls who will go on and on about this topic. And if you Google "People with more education earn more" you will find a million articles to support that point of view. I am arguing that it is a much more complex, rich and profound conversation than looking at value-laden ROI metrics that do not tell the whole story.
Anybody knows that. But the people who are trying to take outlier positions in order to create fear and get readers for their blogs either do NOT know that, or pretend they do not, so that you will read their stuff.  I hate that too. It is just flat out manipulative and dishonest.
I don't know what any of you were doing before you decided to go to graduate school, or what you ARE doing, while you are CONSIDERING graduate school, but ask yourself if that is what you want to do the rest of your life. If the answer is "Yes", then have at it. Skip grad school and have a blast. But if you are doing stuff that feels dead end, or meaningless, or soul-less, and you can't stand the thought of doing that over and over and over for your entire lifetime, then you should look into graduate school, and you should have your OWN way of deciding if it is worth it. It is your life. Or you may decide to go wait tables in Paris, and smoke cigarettes and drink coffee in your off-hours, while reading the Existentialists, and that might be your soul's destiny path—I would support that too. I just do not support anybody staying where their heart and soul and spirit are dead. Can't do it. I don't care HOW "safe" it seems…
Before my siblings and I did a lot of schooling, Nolans did not have much of a track record in higher education. I am still the only PhD in the history of the Nolans that I know of. Here is a poem—it is about making bold, and courageous, and sometimes scary decisions. You already know this poem, but read it again, slowly, and really reflect on it, even if you are not usually a poetry person, and then  listen to your heart. And you will end up making a decision that makes sense for you, I am just sure of it…
The Road Not Taken
By Robert Frost 1874–1963
Two roads diverged in a yellow wood,
And sorry I could not travel both
And be one traveler, long I stood
And looked down one as far as I could
To where it bent in the undergrowth;
Then took the other, as just as fair,
And having perhaps the better claim,
Because it was grassy and wanted wear;
Though as for that the passing there
Had worn them really about the same,
And both that morning equally lay
In leaves no step had trodden black.
Oh, I kept the first for another day!
Yet knowing how way leads on to way,
I doubted if I should ever come back.
I shall be telling this with a sigh
Somewhere ages and ages hence:
Two roads diverged in a wood, and I—
I took the one less traveled by,
And that has made all the difference.
Jim Nolan has made a life of taking roads less traveled by. It's been pretty cool.
About the Moderator