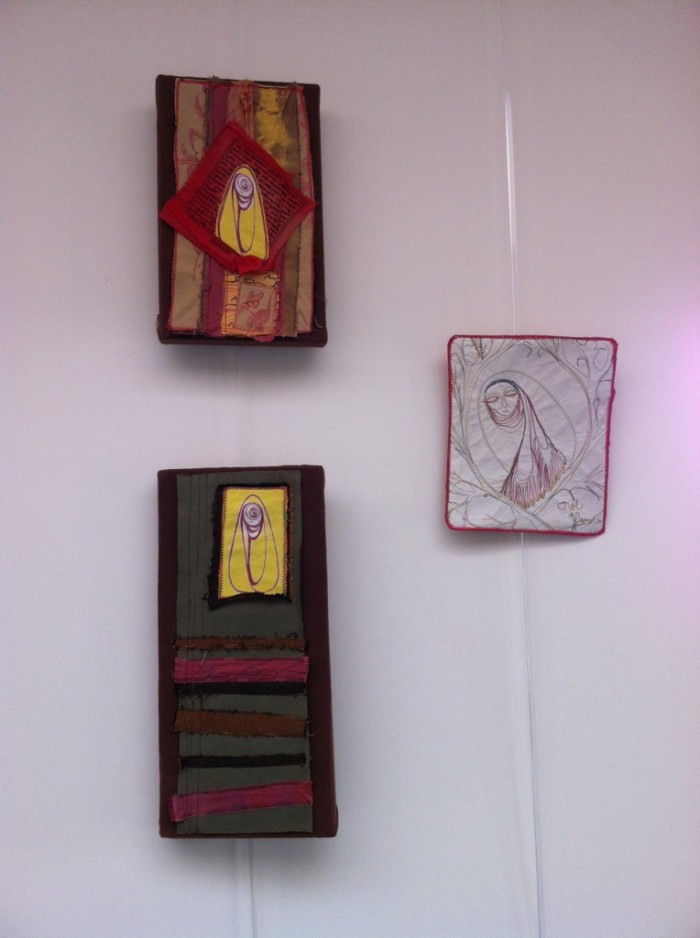 by Katie Weber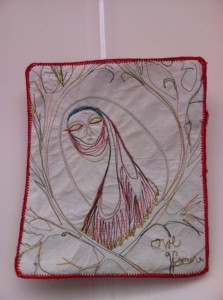 The selection of work I chose for this show spans over the last ten years of my life. It reflects my journey into my self. Along this path I have discovered different aspects of my being, but mostly this creative wondering has led me to a deeper understanding of my self in divinity. Each work has developed out of an intuitive process that generally begins with a meditative drawing where the image comes forth as a basic line drawing that in the case of my layered works is then brought to my sewing machine were they slowly develop into being.
The batik silk painting marks the first leg of this inward journey. At the time it was unclear to me what the image was communicating. Now I have learned to hold a dialogue with each creation that enables me to glean further insight into why I was inspired to create the image, thus allowing me to have a deeper understanding of my own divine nature.
There is also a more playful side of the divine in my work, were I play with persona and Archetypes in costumes. I invite you all to my opening where you can get a peek at my costumes and perhaps even take a moment to try on a few and explore personas of your own.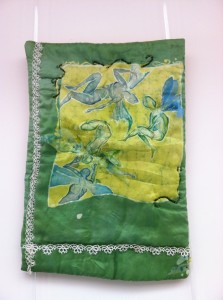 If you are interested in acquiring a piece please contact me at starchild.glow@gmail.com
Katie's Art Show
is up in the Art Therapy Building
until September.
Opening for her work is Aug 3rd 6-8. 
The Dance, 2006
Hand dyed and manipulated silk and velvet, Beads Machine embroidery
Insight, 2006
Hand dyed cotton, Found materials, Machine embroidery Goddess
Within, 2007
Hand dyed and manipulated silk and velvet, Machine embroidery
Litha, 2001
Hand dyed silk, Batik, Antique hand made lace, Beads, Hand embroidery
She who watches, 2001
Hand dyed silk, Batik
Prophet 1, 2006
Hand dyed cotton, Found material 
Prophet 2, 2006
Hand dyed cotton, Found material,
Owl Woman, 2012
Cotton, Hand dyed silk thread, Machine embroidery
Woman of the wood, 2012
Hand dyed and painted silk, Machine embroidery
About the Moderator