Reflections on College History
By Katherine Ninos, Executive Vice President, and Director of The New Earth Institute of Southwestern College
In the past several Heartlinks, we have traced the lineages and influences of Quimby/Southwestern College back through Phineas Parkhurst Quimby and New Thought, Ralph Waldo Emerson, Rudolf Steiner, Hindu scriptures, John Dewey, Emma Curtis Hopkins, Madame Blavatsky, Carl Jung and beyond. (For access to those Heartlinks, see the Southwestern College website at www.swc.edu). In this Heartlink, we move closer to the era during which the college was dedicated and founded. Three of the key people from that time are introduced here: Neva Dell Hunter, Ellavivian Power and Robert Waterman. Others who were instrumental in developing the original curriculum and who were there when the college opened its doors in 1979 are mentioned.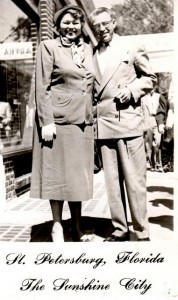 Neva Dell Hunter was a metaphysical teacher and practitioner who offered karmic readings, aura balancing, and who founded the Quimby Light Center in Alamogordo, New Mexico in the early 1960's. The Quimby Center eventually led to the founding of Quimby/Southwestern College. In the 1940's, Hunter offered readings and teachings in Detroit, Michigan, later going on the road offering workshops, lectures and healings all over the country. She along with others, amassed a significant library of metaphysical, philosophical and spiritually-based texts over the course of several years. This collection became the Quimby Metaphysical Library, housed today as the Quimby Memorial Library at Southwestern College. In the early 1960's, once settled in Alamogordo, she offered weekly teachings/gatherings on Sundays, individual readings and balancings during the week, and a series of summer conferences.
     Neva Dell Hunter was a "trance channel" who received information, teachings and karmic readings from a consciousness that spoke through her that identified himself as Dr. Ralph Gordon. Dr. Gordon stated that he had been Quimby in a past life. Please note that modern day trance channelers include Esther Hicks, who works with Abraham, Jane Roberts, who worked with Seth, J.Z Knight, who channeled Ramtha, and many others who have worked in this manner. To some, this may sound mystical or simply incredible, yet many religious and spiritual people throughout history have had direct access to great teachers, saints and luminaries. Indeed, each of us knows the "light bulb moment", the flash of intuition, the epiphany, in which an unknown, unidentified source of inspiration or knowing connects the dots, offers a solution or an understanding, which our personality was not able to capture at the mundane level. We would argue that all of these experiences are related in nature, in that the veils between earth plane experiences and spiritual, divine, or other realms or levels are removed or made more permeable, and information or inspiration passes between worlds. Indeed, in traditional prayer, we are often in effect asking for information, insights, answers or help to pass between the higher realms and our earth level experience.
Neva Dell Hunter worked with what she identified as the School of the Divines, of which the Quimby Light Center was the earth-plane expression. She also worked with a team of 144 evolved persons across all disciplines and fields of endeavor in her effort to create a light action that would transform consciousness in the world.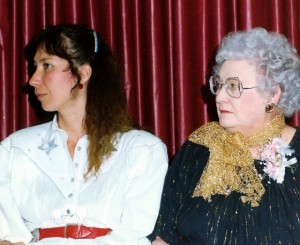 Ellavivian Power had been a Unity teacher in Kansas City and was well versed in New Thought and metaphysical teachings. She began researching and studying the aura (the energy fields surrounding the physical body) in 1945 as a new approach to healing (energy medicine). Ellavivian had her own way of communicating with the Divine and had been "given" what she called a "Fifty Year Plan" for transforming the world. She was "told" that she was meant to give this plan to a teacher and she would know who this was upon meeting. She met Neva Dell Hunter in 1958 and received a karmic reading from Dr. Gordon. This changed the course of her life. She knew that Neva Dell was the teacher that she was to give the fifty year plan to. She moved to Alamogordo with her family and together with Neva Dell developed the healing practice of aura balancing. In her book, The Auric Mirror the foreword is written by Neva Dell and in it she states that all students at the Quimby Center were challenged to consider their extrasensory faculties and to increase the auric flow, thereby having a divine contact to aid in understanding the needs of humanity.
It was into this world that Robert Waterman was invited when a friend of his, Muriel Engel, introduced him to Neva Dell Hunter and John Roger
(founder of the Movement of Spiritual Inner Awareness) in Santa Barbara in the mid 1960's. Robert was a young man in a pivotal place in life, open to the calling of Spirit. He received an aura balancing from Neva Dell Hunter and Joseph Steftich, and found it very healing and transformative. He was so impressed with the efficacy of the balancing that he returned to school, successfully finished his undergraduate work at UCSB, and then moved to Alamogordo to study aura balancing and other teachings with Neva Dell Hunter, Ellavivian Power and others. Robert traveled with Neva Dell around the country as she delivered lectures, teachings and karmic readings. By the early 1970's, there was a clear interest at the Quimby Center in creating a school, and it had also become clear that Robert was the one chosen to launch such an initiative.
Through a transmission from Dr. Gordon in 1977, Neva Dell outlined the key elements of the new school and Robert was more formally given the blessing and charge to found it. By this time Robert had completed his ED.D. at New Mexico State University. His dissertation was on Values and Philosophical Characteristics of Transpersonal Teachers. His challenge was to establish a school whose curriculum would in some way address the key elements given in the transmission, to incorporate truths from lineages and influences that have been mentioned in former Heartlink articles and to deliver this curriculum through a model of transformational, experiential education. He developed the original curriculum with a team of other gifted and inspired teachers to including Marya Foley and Ron Hulnick who had also been drawn to Alamogordo to study with Neva Dell Hunter and Ellavivian Power while achieving their doctoral degrees. In 1979, the College offered its first courses to a class of twelve students.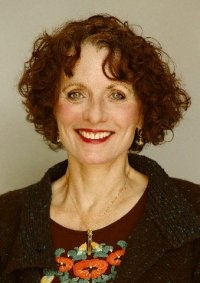 At that time, I (Katherine Ninos) came to Alamogordo as one of the original twelve. Inspired by Rudolf Steiner, Dr. Marya Foley developed and taught a course entitled The Evolution of Consciousness and the Nature of Change, which was the seed for other consciousness-based courses that I later developed. Dr. Ron Hulnick, along with his wife, Dr. Mary Hulnick, developed and taught counseling courses infused with spiritual psychology.
The Hulnicks left Quimby College after its inaugural year, moving to California,
where they became president and chief academic officer of the University of Santa Monica, which was founded by John Roger in 1976. Dr. Marya Foley remained with the College for three years. She relocated to California in 1982 and is now teaching at the University of Santa Monica. Neva Dell Hunter died in 1978, never witnessing the actualization of this dream.
Robert Waterman and Katherine Ninos moved the College to Santa Fe in 1981 with the blessing of Ellavivian Power, Muriel Engel and many others who had been long time members of the Quimby Light Center and who had supported the creation of the new College.
Katherine Ninos has been with Southwestern College since its first year, and now serves as Executive Vice-President and Director of The New Earth Institute of Southwestern College…   Read Bio
About the Moderator