My Dog, Teresa de Avila, and Jesus Have a Lot in Common:
Lessons for Graduate Students in Counseling & Art Therapy in Nine Chapters.
Chapter One. I have a wall full of degrees, certificates and honors, a collection that outstrips by a mile anything Barney has to show for what would be the equivalent of 84 years on the planet. He has no publications, no invited lectures, and though he does have his own Facebook page, he has nothing on Linked-In, let alone Google Plus Business pages. I mean, c'mon. I am a leg up by all metrics.  What can he have to teach me? He's a dog. OK, a Wire-Haired Fox Terrier, which, I admit, is on the continuum between dog and human. But I own him. He's my dog. Isn't he?
Chapter Two: So when I look to great beings I have admired through history, I think of those who lived in joy, those who loved openly, unapologetically, and unconditionally, at least as much as was humanly possible. I think of those who aligned with their own inner truth and vision, and spent their time following their own heart. There aren't a million of 'em, you know. Teresa of Avila, the Nazarene, the guy under the Bodhi tree, the Mahatma, Julian of Norwich, Mother T, the usual list. Not a politician in the bunch. Maybe among Psychologists, Carl Rogers would get a vote or two. He was a Bodhisattva, or close…
Chapter Three: Light Bulb. As I think of the above criteria for Light Figures, I know that Barney surely is one. That may sound crazy, but… He is the single most heart-aligned sentient being, the purest soul, I have ever known. Bar none. No joke. His capacity for love is untouchable. His capacity for joy, unbounded. He is aging rapidly, and the poise, integrity and hope that constitute his character, diminish not one bit… the class with which he carries his Elder status, is Ram Das squared. I do not understand much of any of it. I am observing, I am just be-ing in his presence. I am a young soul.
Chapter Four: Barney cannot see the bright green tennis ball much anymore, but he leaps toward it, misses almost invariably, occasionally fumtumbles arse over heels, and then wheels back up, unabashed, un-traumatized, unembarrassed, no shame, and asks for more play. It embarrasses me to see his large-ness, his largesse, vis-à-vis my own sometimes petty humanity–but more importantly, he calls me to raise myself up to a higher level. That is the main point. He doesn't see much, he doesn't hear the UPS doorbell anymore, he recently lost seven teeth, he falls on his butt, he makes funny old man noises, he can't escape over the fence anymore, and his response to all of that is to ask to be loved, and to love back, and get on with a day of finding the sunspots on the floor, and playing ball whenever offered….I don't think the Nazarene or Julian or any of those can touch this.  
Chapter Five: I carry Barney/Bobo up and down the stairs a lot these days. Not that he cannot do it himself, but I just want to. I want him to save what  energy he has left for joy. I am patronizing him, probably, I know. I just love the guy. It feels like I am carrying Baby Jesus across a creek. That is my issue, I guess.
Chapter Six: I DO lift him on to the bed, because although he dismounts the bed with youthful athleticism, he no longer can leap onto it…it kind of breaks my heart, then again, kind of not…it is what it is…He still takes a stab at getting on the bed, knowing that I will catch him and get him up there. We have a story we tell together that he does 95% of the work, and my little 5% actually gets him the final few inches so that he can get up there. This narrative Barney and I have going is not true, and all three of us know it, but we have an unspoken agreement not to say so.
Chapter Seven: Sometimes Bobo stops playing ball right in the middle of things. He looks into the sky, he sniffs, he lets the ball roll down to the mail boxes…He is hearing voices from the Other Side. We both know it. I let him be. He will not be on this side for much longer. I hear the voices, but not in sound, only in light, and the light comes through Barney's opaque eyes, as he looks at me, and says, "I can stay a little longer, Pa, but not forever. You understand…."  And I do.
Chapter Eight: It is late night…I am blogging…it is mid-winter, the fireplace is ablaze, Barney is on the over-fluffed pillow to my left, his own left eye aware of my every twitch, waiting for me to get up, do something interesting….he is quiet, and all pretzeled up, the way he does that. I am a Psychologist, and the President of a graduate institution in Counseling and Art Therapy/Counseling. When I started writing this piece, that felt very important; now it does not. Love seems like the most important thing.
Southwestern College in Santa Fe does an incredible job of awakening students to their own inner truth…It is the best school at doing what it does, and it is Accredited by the Higher Learning Commission and the American Art Therapy Association.
Chapter Nine: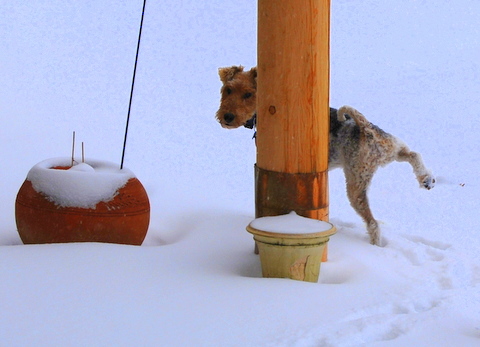 Barney is not accredited by anybody, except me. He is a Luminous Being. I think the College would benefit if he taught a class, but that is not his way. He just be's in the world, and we all have to be conscious enough to see beings like him. You may have your own Barney. Maybe it is your kid. Your cat. I don't know. I just wanted to tell his story. He is pretty much asleep now. If you do not have a Barney in your life, find one. That is about the best advice I have, tonight, sitting in Santa Fe, New Mexico, watching the dark night drift on toward a distant dawn… Everything is good. Om, Shanti.      drjamesmichaelnolan.com
About the Moderator