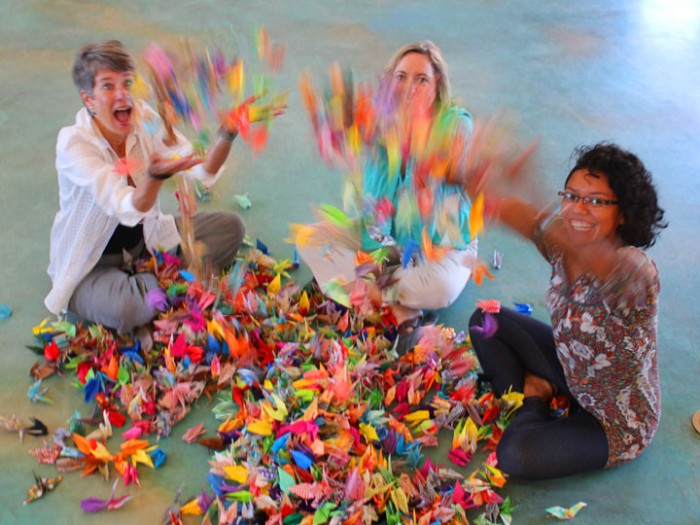 Origami Cranes For Tokyo Art Center
An SWC alumna, Mutsumi Shoji came to us in spring 2011 and asked SWC to help raise funds for an art center in Tokyo that is serving the tsunami survivors. She had a great idea to make "1000 cranes" and asked students and staff to join in with this endeavor. On April 13th Mutsumi taught Origami crane-making at an open studio hosted by SWC. Then on May 20th SWC hosted a movie night fundraiser to benefit the art center in Japan.
"I guess I needed some remedial help because it took a bit of time for my crane making to take off so to speak. Finally… I made 10 and set a goal for 25…and then another goal of 100…and not too long after that I found myself in a maniacal frenzy of making 1000. I just could not stop. I knew the story of the origin of crane-making and was very moved by it. It was when I made about 300 cranes that I really understood the capacity for healing for others and of one's self with this origami project.  There is so much healing energy that is generated with the crane-making and I am incredibly humbled by the experience.
There were a number of people who participated and so we will be sending many many origami cranes to Tokyo along with some money. Thanks to Mutsumi Shoji, Peg Helmholz, Desiree Beltran, Deb Schroder, Deb John, and everyone else who participated in this! Months later…the Japanese are still on our minds and in our hearts!
About the Moderator