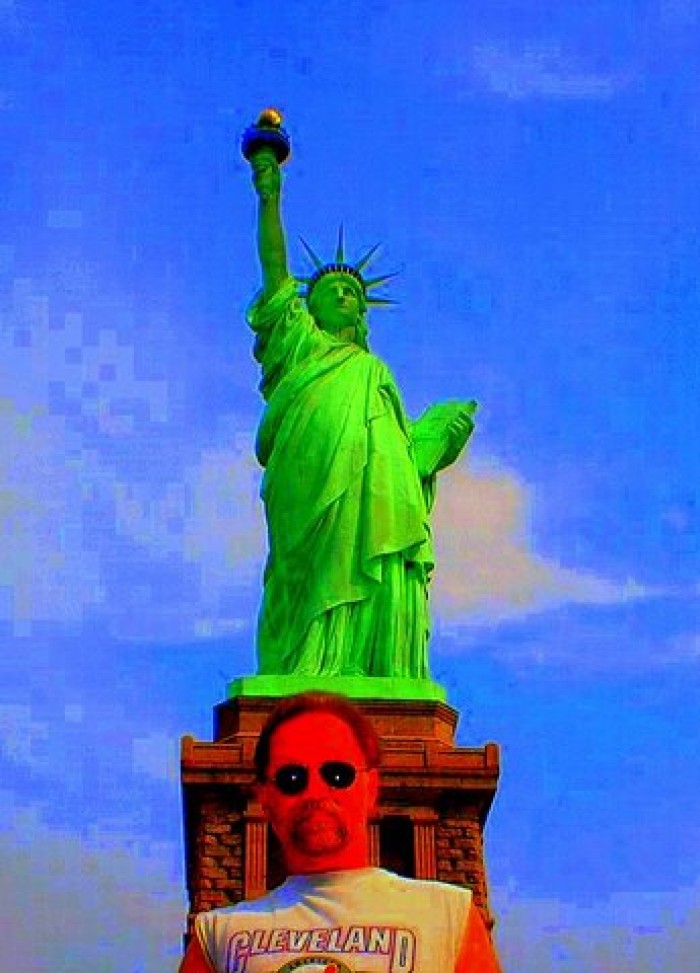 Piranhas, Hijackers, Brawlers, Shunners and Consciousness…
Authentic communications are not so easy to come by these days, and you kind of wish they were, maybe especially during the holiday season. I thought a lot about whether I wanted to submit this post,  and had a long discussion with myself, finally deciding that even if it only heightens my own awareness of how I treat other people, it will have been worth it.
Lately, I have been painfully aware of some unsettling communication patterns in my field (usually in groups.) I'd be lying if I said I was wild about any of these. But I wanted to shine a light on the subject, invite each of us to examine our own communicational styles, and help all of us to become more aware of how we move in the world…
So, anyway, one of the patterns I've been seeing seems to go something like this:
A bunch of people sit around yakking, and eventually a worthy topic rises to the surface. The piranhas move in with enormous, attacking, and unspeakable speed, and proceed to demonstrate how much they know, how what they know is way better than anything you ever knew in your life, and how what you know is wrong anyway, and on and on, until the original topic is but the bare bones of a bedraggled thing, floating to the bottom of a blood-red sea. The person who originally brought the topic forth probably wishes he or she had never left the bed this morning, or that he or she had been born in Tibet. The participants flex for themselves in their imaginary mirror, and await another topic, and BAM!, it's on again.
Another one goes something like this:
Somebody leads with a story, an observation, an anecdote, an experience, and quicker than you can begin to fathom, somebody else swoops through and hijacks the story and the stage, and everything suddenly is about them, or their more harrowing (more totally amazing and fascinating, more epic, more spiritual, more funny, more shocking) experience, and the first guy is left there, woefully abandoned, like wow, what the hell just happened? You just got dusted, my friend. Creamed. Smithereenees. It's hard to watch.
Here's a third one, a Facebook special. Somebody posts something, anything. Somebody who happens to be online and feeling ornery seizes the opportunity to take umbrage, to start an argument, or indeed a street brawl, or to make the first guy look like an ass to all the world, or to grandstand about their current or most favorite gripe, or to demonstrate their own staggering evolution and knowledge base, or to drag a red herring into the thread, whereby the original comment wanes to a mere shadow of its original potency and relevance, barely a wisp of a shadow of a ghost of a memory of a sorry old post.
My gripe here goes something like this: "I don't mind if you want to argue or grandstand about this issue, but why don't you start your OWN post about it on YOUR wall? Why is it you didn't have the inspiration to say squat about this topic until somebody else posted it tonight, and now you are all militant about it, like it is, and indeed always has been, the one burning issue of your existence?" Harrummphh.
One final variation—the guy who cuts people out of his life, shuns them, in effect, for imagined wrongs (and the overwhelming consensus is clearly that the wrongs are imagined or multiplied by ten thousand), and bases it on "spiritual teachings." Yikes. Psychologically primitive, but not altogether uncommon. (I think some of the really bad things in the history of the world have happened based on this kind of thinking/behavior.) And this one is always bathed in unmitigated Righteousness, which makes the perpetrator altogether unavailable for an actual discussion, which in turn keeps him or her safe from further "victimization" at the hands of a world that simply is not capable of appreciating his or her sheer greatness. The interpersonal, albeit uni-directional war rages on.
Oh, wait–there is a corellate to this one–where somebody gets shunned for something they do, because it is annoying, but nobody ever tells the person that what they are doing is annoying, they just keep talking about it behind the other one's back, avoiding them or maybe even shunning them, leaving the first somebody none the wiser, just confused and trying to make sense out of erratic and painful behaviors on the part of other people. Can somebody just TELL them, please?
There are probably a million others. Reminds me of "Games People Play", from back in the Transactional Analysis and "I'm OK, You're OK" days.
Maybe I'm asking too much. I'd like us to listen to each other, and for a while suspend the certainty we seem to harbor that our response to what is being offered will be infinitely more brilliant, and right, and entertaining, than the drivel we are suffering, so please hurry up with your story so I can share my wondrousness with the world…
With these and other communicational patterns running rampant, I see couples and families falling apart that do not need to be falling apart. I see work places wracked by pitched ego-battles, and I see people not really giving a damn about the other Human Being(s) enough to listen longer, respect what is being offered, and remain authentically in one's own truth without the need to adamantly fury and rail against the other guy's truth.
I can see this so readily these days in those around me, and I have to ask myself if I might have big old blind spots where I perhaps do not walk my own high-minded  talk,  where I can't hear myself being "That Guy."
I give you permission—if you see me doing this stuff, or some other pattern that seems outside my awareness, and which seems inconsistent with The Guy I am wanting to be, please come talk to me. Don't post it on my Facebook wall, or launch grenades at a meeting, or write anonymous letters to the Board. Well, you can if you want. (You won't be the first..) But I would rather we find new ways to be kind, and give each other a chance to cowboy up to a new awareness. It sounds deceptively simple. It is probably one of the hardest things to do in the world.
Maybe there would end up being more conversations that really seem worth having than I tend to be finding lately. (Then again, if I plug in a Law of Attraction widget here, I have to ask what I am doing to effectively draw this energy and these conversations into my own field.
Man, I hate when I have to ask that question.)
But ultimately, you can't avoid that question (What part am I playing in all of this?) without losing all hope that your Higher Self will ever get to drive the bus.
A New Year is almost upon us. I invite myself, and you, to reflect on how we be with other people. It is all about Consciousness, after all. Always was, always will be.
Jim
About the Moderator