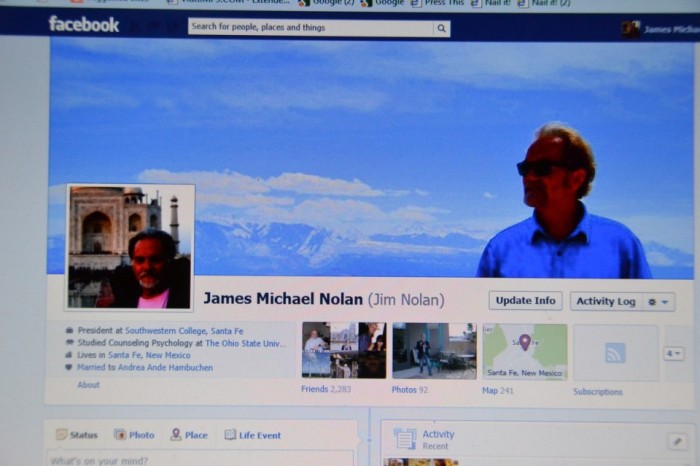 Southwestern College's (Santa Fe) Social Media Initiative:
What YOU can to do help…
I was given some feedback the other day by a valued colleague at the College, who will go un-named here. She said, more or less: "Jim you have read everything in the world on Social Media, and when you talk about it, people get intimidated, overwhelmed, and they beat themselves up for not knowing what they think you think they should know. Just tell us some simple stuff that we can do to support the Southwestern College Social Media initiative."
OK, I get it. I have almost no boundaries between work and not-work, because I love my job and I am genuinely fascinated by the stuff I have to study to do my job better. On paper, I would probably flunk Altruism. (for you non SWC-ers, that wonderful course is largely about "self-care".) I also NEVER have an intention or an interest in contributing to another person's desire to beat themselves up or do a "shame attack". If my pace at which I be in the world is dizzying, that is not about you…I am just made that way…I do not expect the same of anyone else…
So here are some things you can do—EASY things you can do, that sound almost pointless, unless you are a student of Social Media, in which case you would already know how they help Southwestern College a LOT over time.
Facebook has "Like", "Comment", and "Share" options. If you are on Facebook, you know this. To really help Southwestern College, please use at least one of these options on every SWC post or SWC-related post you see. "Like" is nice, "Comment" is more powerful, and "Share" is the best (unless you are like really famous, in which case COMMENT is the best, assuming it is a GOOD comment…) Google's search engine's interpret these actions as meaning: "This is really important material, and an important issue or topic, and Southwestern College must be the Harvard of southern Santa Fe." Or something like that. (Hey, every other private school I have ever heard of considers itself "the Harvard of Blank" —the South, the Midwest, the Great Lakes Region, you name it. It's a funny thing. No reason we can't be the Harvard of southern Santa Fe, or the Harvard of Art Therapy…)
Anyway, when other people search for anything related to SWC, or Art Therapy, or what have you, the more people Like, Share, and Comment, the higher we come up in the search rankings. Simple. Great for recruitment…
• OK, parallel to the above notes: If you are a Twitter person, please consider Re-Tweeting SWC's Tweets.
• If you are on Google Plus, "+1" our posts, and share them.
• If you are on Stumbleupon, list our posts and blogs.
• When you read our Blogs, Like, Comment, Share. Oh, and Subscribe. (SHARING blogs is really powerful. Blogs allow us to potentially be seen as what is called in social media "Thought Leaders", and it is very important these days…)
• If you watch us on You Tube, Like, Comment, Share. Oh, and Subscribe.
• If you are on Linked In, join the Southwestern College Group
• If you are on Pinterest, Follow our Boards, and Re-Pin our pins. And ask to be a Guest Pinner, if you think you are up to snuff, and then actually PIN! Oh, and put SWC links (if only swc.edu on each Pin…)
• If you are on Manteresting, then you are probably a social media addict and need Process Addiction Treatment.
• If you are on Klout, list us as an Influencer
• If you read Huffington Post, "Fan" me at Huffington Post, where I am an invited blogger as a College President. (That one is huge…..a significant "Authority Site" coup.) http://www.huffingtonpost.com/dr-james-michael-nolan/
Join Counselors de Santa Fe Collaborative on Facebook.
See? Simple. Like, Comment, Share. Like, Comment, Share.
And here is MY commitment: I ask for this from others, but could be better at EXTENDING the same action to others' Boards, Walls, and Posts. From now on I will try harder. For our Board of Advisors, for example. I have been doing more of this lately, and a few of you may have noticed this already.
Oh, and one better—You might have read Michelle DiNapoli's blog, or Allegra Borghese's blog, or Sara Beth Patrick's blog, or Meryll Davis's blog, or Amy Hautman Bates's blog, or Laura Lansrud-Lopez's Blog, or Amy Krok's, or Claudia Escareno-Clark's , or, or or….
Blogging for SWC is a HUGE contribution…I am happy to help cultivate your creative writing side…"Why I chose Southwestern Collge", or "How Southwestern College Transformed My Life", or anything else that awakens the writer within you would be great. It might sound funny to ask for such dramatic topics, except that I hear these stories from students and alumni all the time, and I know I am not pushing or stretching writers when I suggest them…We heard twenty of them at the recent Alumni Event…
Thanks. You get this. No point in shaming yourself, or beating yourself up, or beating ME up, or any of that stuff, just because you are not yet going a million miles an hour on social media. Some of us do, some of us don't. As I watch the rapid shift in world power and communications and commerce and recruitment move toward social media, I am excited to be part of it…
So………there is a whole continuum of stuff you can do to help the College, even if you are broke, and even if you do not have much spare time. I am asking you to do it…..I hope this helps.
Anyway, I am heading back to my little social media coffee klatch group. About one or two billion of us get together every day to gab… Kind of nice….
jim
Southwestern College has a very high social media presence…Thanks to all who contribute…
About the Moderator