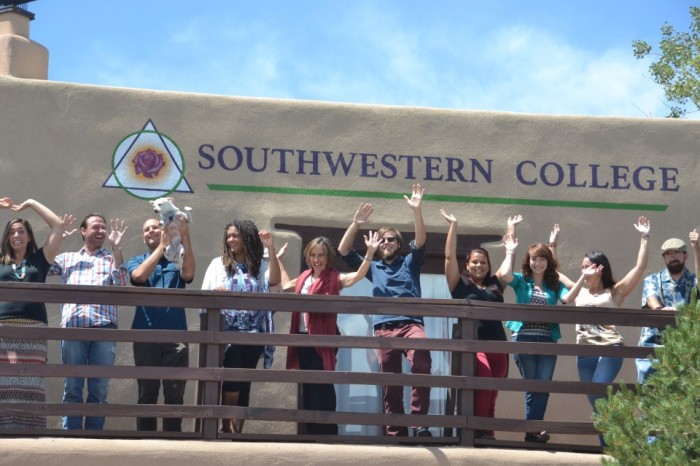 Inspiring Statistics & Info about Students and Graduates of Southwestern College!
People who are thinking of coming to Southwestern College ask several predictable questions. They are predictable because they are good questions, exactly the ones they should be asking.
We have been surveying our alumni, and here are our answers, based on those who have responded.
"I have heard that at many schools, the graduation rate in graduate programs is not very good—like 50-60%. What is the graduation rate at Southwestern College?"
Within 3 years of starting, 86-87% of our students graduate with a Master's Degree (those are the last two years's rates)
"Do Southwestern College graduates get jobs?"
93% of SWC graduates are employed, or have been employed in Counseling, Art Therapy, or related kinds of positions. Currently, 80% are employed in the field (some retired, some are doing something else). For a closer look at what KIND of jobs our alumni get, check our Linked In page and our "Where Do SWC Grads Work?"  blog.
"Do Southwestern College graduates pass licensing exams?"
Of those who took licensing exams, 98.6% passed the exam. We are very proud of that one…
"Do Southwestern College graduates have Private Practices?"
Of course, this always depends on the professional goals of each therapist, but yes, about 53% have, or have had a private practice
"Is the student body at Southwestern College diverse?"
Complicated question. According to the way the Feds define diversity (only along racial/ethnic lines), yes, we are significantly above the national average. But there is a lot more to diversity than that. The Feds do not ask about LGBTQI, nor do they take into account learning disabilities, socio-economic status, or age (our students range from 23 to 72). What about men who are minorities in a largely female environment, or culture? Does being Jewish "count"? What about "Daughter of Greek and Italian Immigrants"? That's got to be an unusual upraising. Bi-cultural and invisible minorities almost always get missed in the diversity discussion. And how about being adopted? That is a significant, and a minority, status, for sure. And does being half Jewish count? Or half Lakota? Or 1/16th Cherokee? Oh, and 75% of our students come from outside New Mexico. Yes, let's just say there is a lot of diversity at Southwestern College.
"Anything else I should know?"
A high percentage of our graduates end up in directorships, leadership, supervisory and managerial positions all over New Mexico and in many other areas of the country. The deeply reflective curriculum cultivates sophisticated clinical perspectives and leadership skills and potentials. Many of the agencies in New Mexico are run and managed by our alumni.
We hope that helps give you a clearer picture of the clinical strengths of our programs.
We are really, really good.
About the Moderator