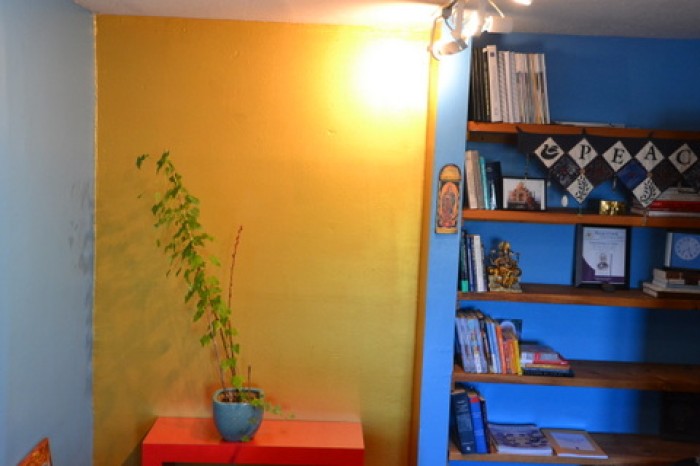 Southwestern College in Transformation…
Southwestern College's physical campus has been undergoing a great transformation over the past three years. What has become clear to me is the reciprocal interaction between outward form and inner states, and then again from more inspired inner states to enhanced physical form. OK, what does that look like on San Felipe Road, Santa Fe?
At Quimby/Southwestern College, we are all about Consciousness, clearing energy, internal alignment with a higher calling, with our destiny path, all in a commitment to helping others to create meaning and beauty and connection in their lives.
This ongoing internal journey (of students, faculty, staff), this expression of spirit and creation of beauty, leads naturally to a desire to see these processes outpictured in form, in the physical environment. The striking and colorful Art Therapy Building was a bold and symbolic demonstration of Southwestern College's readiness to show ourselves to the world back in 2010.
Then we landscaped the area between the Art Therapy Building and the Art Therapy Studio, in what can only be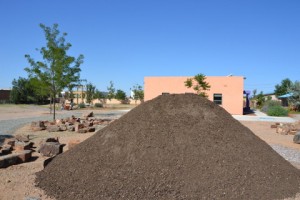 called an audacious and inspired fashion, with the help of the appropriately named "Tobi Wilde, Earth Sculptress". The College's own awareness that it was "coming out" was palpable, and the pride was evident in our staff, faculty and students. (The inner experience was rendered in outer form, which in turn influenced the inner experience of self and connection with a community…We could all feel it…)
This year the energy flowed again, into the manifestation of 4.39 acres of land next door, and into the widespread beautification efforts both in the interior of the campus and the exterior.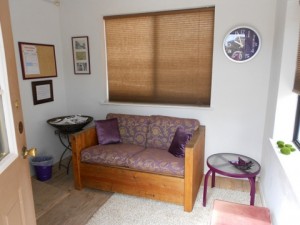 Painting, upholstering, re-furnishing, professionalizing, landscaping, not just for beauty (that too), but for function. The students and staff are inspired and amazed that so much can happen so quickly when the inner growth of an organization explodes into form, right before your eyes…
It is exciting to watch, to feel, to experience the dance of energy from spirit to form, form to spirit, in an entrancing tide, with the waves rolling back into the depths of spirit, only to come forward again and deposit new treasures in form, in the light of day…
Consciousness bringing Quimby/Southwestern College into beautiful, prosperity-infused form, and the forms themselves inspiring us to yet higher callings…
Cool stuff…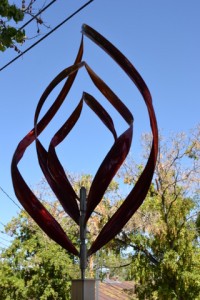 About the Moderator