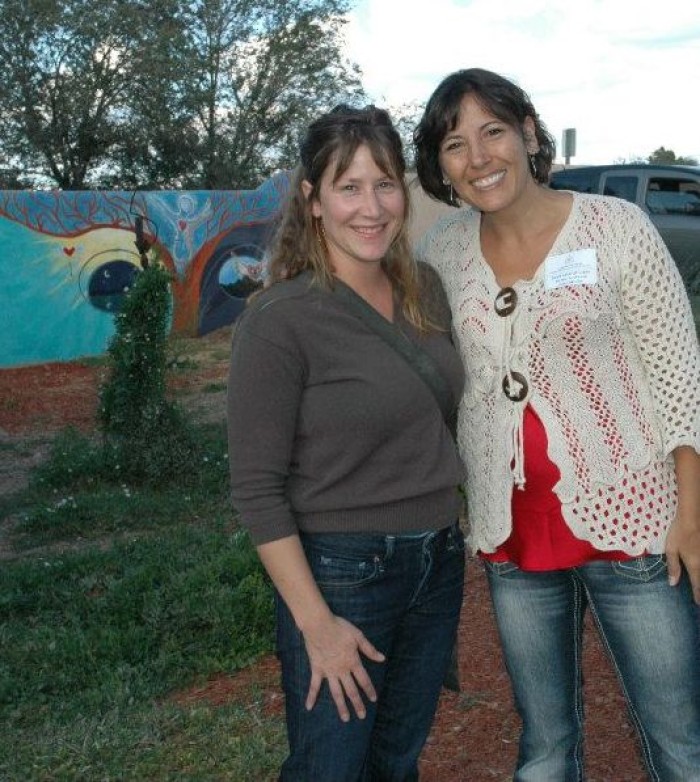 By Laura L. Lansrud-López
How many Southwestern College graduates does it take to create a strand of prayer flags illustrating our vision of facilitating positive change in the world?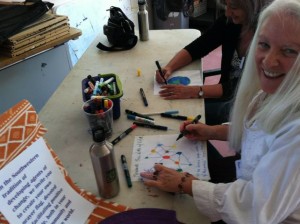 I don't know, but there sure were a lot of us working on it this past Sunday at Southwestern College's Alumni Event – a "Homecoming," I've come to call it.
As an adjunct faculty member and Trustee of the College, I find myself on campus regularly for meetings and classes. I also live nearby and thus frequently wander onto campus to catch a quick moment with Deb Schroder amid the books and papers towering over her desk (followed by a trip to the Koi pond to count the fish), or a visit to Quimby library for some needed reference book and a quick hello to James or Leslie (and, of course, to play with the bubbles), or to interrupt Dianne and Peg from their busy day to consult about scheduling space for a Counselors de Santa Fe event (and to play with Peg's stuffed animals — Luciana really likes the tiny yellow bear).
With Southwestern College such a prominent part of my daily life, I was pleasantly surprised by how much the Alumni Event indeed felt like a Homecoming. It was a warm "Welcome back!" with space to reconnect and reflect from a new place the journey we've been on. We've come a long way.
I was inspired by stories of what others have done in their lives and in their communities since graduating – stories about creating innovative programs, connecting with underserved populations, developing novel ways to integrate different modalities in therapeutic work, writing books, publishing articles, teaching, being active with professional organizations, manifesting dreams, braving challenges, and growing from loss.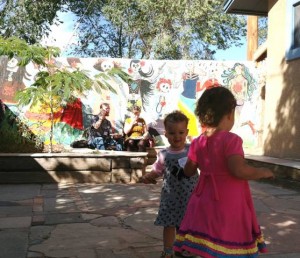 Some of these stories were told in a large group gathering facilitated by President Nolan, others were told in personal conversations amid the sound of the wind through prayer flags and the sometimes piercing sound of children's laughter.
If you've known any graduates from Southwestern College, then you know we're serious about being change agents and leaders in the world. We leave our mark. We make a difference.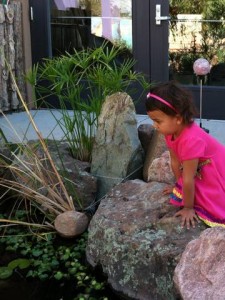 But for me, the heart of this event was meeting the children, partners, and friends of Southwestern alumni. These are folks we're unlikely to meet at the annual Transformation and Healing Conference or a community lecture by Robert Waterman, but who are nonetheless part of the Southwestern College community.
Laura L. Lansrud-López, M.S., M.A., LPCC, LPAT, ATR-BC
Laura is an art therapist in private practice in Santa Fe, New Mexico. With a background in liberal arts and forensic science, it's not surprising that she has a passion for integrating creative arts and cognitive behavioral approaches. She has recently fallen in love with Sandplay therapy and Interpersonal Neruobiology. Laura is also an alumna, adjunct faculty member, and Trustee of Southwestern College, and the founder of Counselors de Santa Fe Collaborative, a local networking group for local professionals
About the Moderator