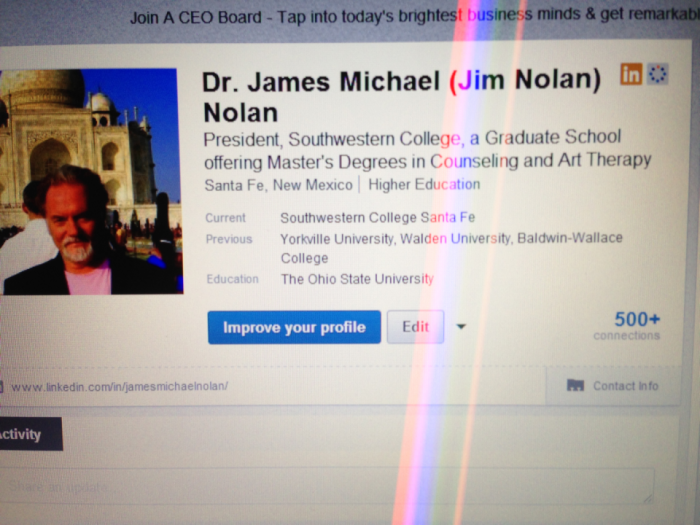 Free Linked In Workshop Being Offered on December 5th
As part of Southwestern College's Entrepreneurship Initiative, Jim Nolan, Ande Hambuchen, and Laura Lansrud-Lopez will be offering a two hour training on Linked In, from 12-2 on Thursday, December 5th.
Southwestern College students, alumni, staff and faculty are invited.
Linked In is the most powerful business-oriented (business here includes the mental health business) social media forum on the planet earth, with close to 300 million users. It is already an enormously important tool for connecting and networking, and it only promises to become more so in the future (especially as nobody is really challenging their niche in the marketplace.)
Our workshop is aimed at moving you ahead from where you are with Linked In to a more complete profile and understanding of how you might use it professionally.
For that to happen, we need to have a sense of how much you already know.
So if you will please RSVP that you are coming (to Docwahoo@yahoo.com) and indicate if you are a One, a Two or a Three:
1) I am a total beginner—I know nothing or almost nothing
2) I have an account, and I can get around Linked In a little bit, but do not really know what I am doing or what the possibilities are
3) I actively use Linked In and am looking for some more sophisticated features or tips to enhance my profile and the effectiveness of my profile.
We look forward to hearing from you soon, and to helping you increase your facility with Linked In.
Warmly, Jim, Ande, and Laura
Southwestern College Entrepreneurial Initiative
About the Moderator