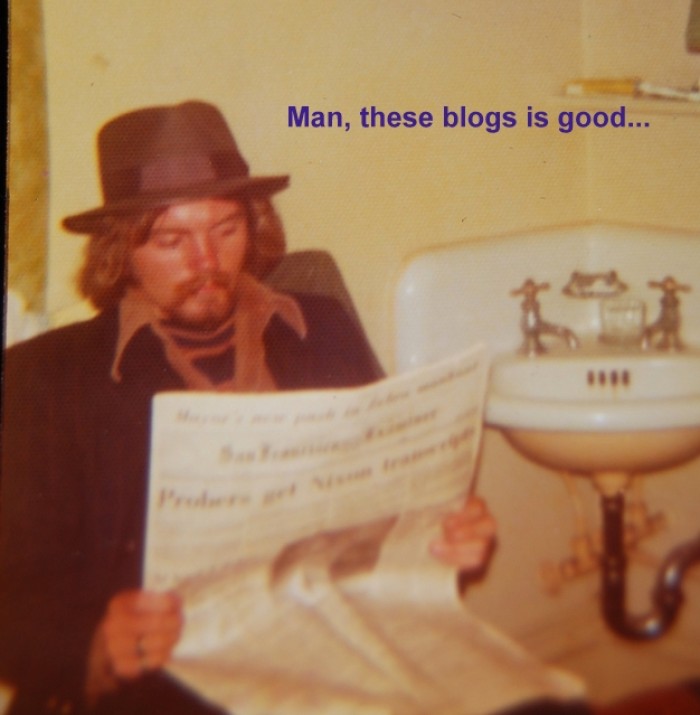 Southwestern College's  Invitation to Blog: Students, Alumni, Faculty, Friends…
Southwestern College's Blog Page, as of, well, right this minute, has had 27,162 "Views" since its inception on November 2nd, 2011.
That is a pretty fair number.
Some of you love to write, or just want to share your experience with others, or are trying to build a practice, or want to build your web presence for a FUTURE practice. Those are all great reasons to blog.
Here is a piece you might not know. When Google search engine spiders do your Google Search for you, they value some sites more heavily than others. The kinds of sites they value MOST are called "Authority Sites." Those are known to be reputable, to publish good stuff, and they have greater prestige.
SWC.edu is just such an Authority Site. All ".edu" sites are. What this means is that if you are trying to get your name and work out into the world, and are blogging on your own page, you probably WILL get found by the spiders, but not as quickly, nor with as much power and Google Juice as you would if you published on Southwestern College's Blog Site.
So I want you to consider writing something for our Blog Page. I have made this offer to a few students whose writing I admired in class, or to faculty who I know can write well, and a few submitted something, but most did not.
The biggest obstacle seems to be "I am not sure what to write—I don't quite know how to do this…"   Well, let me help you. Below you will find some ideas to get the old juices going. They are fairly simple and straightforward, and I am open to looking at lots of other topics too. Huffington Post tells me that the ideal length is 500-800 words. I offer that as a guideline too.
I think when you write in your own natural voice, you have a better chance of connecting with people. I tend to write conversationally, because that is how I think when I write. I feel like I am talking DIRECTLY TO you. That is not everybody's style. I use humor too, because that just comes naturally.  A three-legged dog walks into a bar…
I will also reserve the right to not publish a piece if it is somehow out of line, in a way I totally do not anticipate. I have  no pre-conceived notion what that might look like, but I figure I will know it when I see it, and just thought I better hold onto the reins a bit.
So here are some simple ideas for different groups of people:
Students Who Will Start SWC in the Fall:
What made you decide this was the school for you? What do you anticipate will be the most important part of your experience at Southwestern College? What are you most excited about?
Current Students:
What has been the most satisfying, meaningful, surprising, growthful part of your first year experience (or your practicum, or your internship, or your Vision Quest, or…..…) at Southwestern College?
What has been your biggest insight into the profession of Counseling or Art Therapy so far, and why is it important to you, how has it changed you or your perspective in an important way?
Graduates of SWC:
As a graduate of Southwestern College, working out in the world, what do you see as the most valuable experiences or teachings from Southwestern that are serving you professionally and/or personally?
Is there a clinical issue or population or therapeutic modality you use that you would like to write about, share with your peers?
Is there advice you would offer to current or prospective students about how they approach their training for being a Counselor or Art Therapist?  Something you wish someone had told you?
Faculty:
How has teaching at Southwestern College been different from other teaching experiences you have had in your career?
What area of clinical work or what modality or theoretical orientation has captured YOUR imagination and passion these days?
Friends of the College:
What do you find inspiring about Southwestern College? Why do you believe our high-minded mission of "Transforming Consciousness through Education" is important and relevant in today's world?
   So there is your invitation. If you send me your piece, you have effectively given me the right to publish it. Send a photo if you have one seems to go along with the piece. If you do not, I will supply one myself. Either way is fine. Send a brief bio with it—a few sentences will probably do. If you send me your web URL, I can also build a link in from your blog on SWC's site to your web page. That helps you too… And some of you already have blogs on your own web page—I would encourage you to consider re-purposing any writings you may have done that you especially like a lot. Others might like them too.
So that is that. I hope to hear from a few of you, anyway…
Send writings and photos to Docwahoo@yahoo.com
Early Monday morning, and a little crescent moon is gracing the new day…Seems auspicious, somehow…
Jim Nolan
About the Moderator