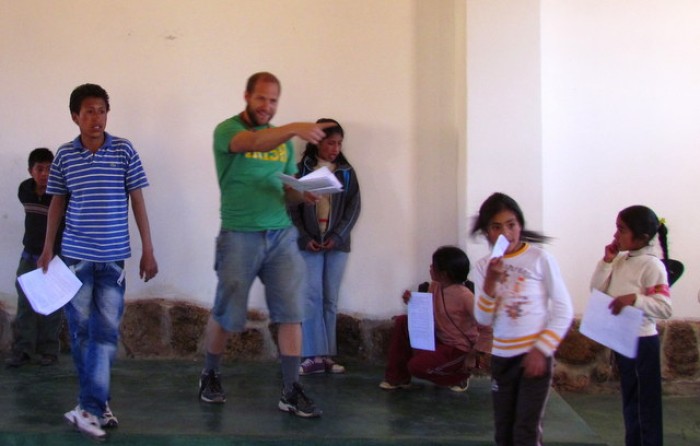 Craig Tomas McAdams, Internship in Maras, Peru: Theatre Begins
            First, I wanted to give you all an amazing update on "Steve" from the last blog:  the Andean Research Institute has graciously put up the funds to get Steve treatment at a clinic here in Peru.  Apparently, we are heading to a clinic in Curahuasi, Peru this Wednesday to see a group of German doctors who give a lot of their time to treat children in impoverished communities.  Curahuasi roughly translates to "House of Shamans" and this could not be more appropriate for this journey and experience.  In other news about Steve, he got up to the letter "L" when I realized that the traditional way of learning to read may not be the most suitable way for Steve.  Through the help of my friend and future Peru intern, Cindy Livingston, I started using new techniques that sort of skip the bread of learning letters and go straight to the meat of learning words.  This strategy is called "key words" and is accomplished by having Steve identify words that he uses, write the word on one side of the paper and make a drawing on the other side that is related to the word.  Over time this gives me a base to teach from and a collection of words that become a kind of flash card bundle.  Steve's first words he chose to work with were "Mama", "Papa", "Pachamama", "Agua", "Escuela", and ""Profe Tomas".  For whatever reason, seeing the letters in action and learning them this way has helped Steve grasp them more quickly and I will continue with this form. 
            This week we started the chess tournament or torneo de ajedrez and the kids love it.  It is amazing to witness the contrast between the occasional encouraged chaos the kids love to engage in and the quiet creativity in thought filling the room when a tournament match is taking place.  At the same time, we started rehearsals for the theatre performance coming up on Saturday, August 11th.  We quickly found our groove learning songs, learning lines, learning places and the rules of theatre.  This is absolutely my favorite time with the kids as I love directing and putting the vision of this local tale on stage.  The show is already sad, funny, exciting and depthful.  Speaking of emotions, the rehearsals have brought me an excellent opportunity for teaching emotional regulation through identification.  For the kids (and anyone, really) I find that the first and most important step of emotional regulation is to be able to identify and express emotions.  With the emotional qualities of the show I have ample opportunities to guide the kids in finding, identifying and expressing the spectrum of emotions.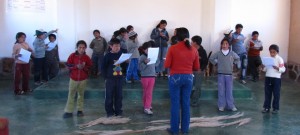 However, in the beginning it was apparent that all, almost all of the children have stage fright. J  I do not know if this is because none of them are experienced in theatre or speaking/singing in front of a group, but I quickly had to find a way to help them over this obstacle.  The magic was in the group, as these kids seem to have more of a collective mentality than the kids I have worked with in the States.  Thus, having all the kids speak and sing together first assuaged the fear of the individual.  For example, on the first day of rehearsals, a young boy stood in front of the group frozen for almost five minutes while he tried to muster the ability to sing.  Instead, we all learned the song and practiced together for ten to fifteen minutes and then the boy had no problem performing in front of the group.  After rehearsal, we spend our time with the chess matches and I give the kids the option of playing volleyball, futbal or dodgeball while some of the kids prefer to draw, do puzzles with letters, numbers, colors, shapes and words, or build with Legos.
I have to give a huge thank you to Elizabeth and Yurico.  Elizabeth has been coming from Cusco to teach the children the lines in the show.  The entire play is in Quechua, and without her assistance, a lot of the words would be meaningless to us all.  Therefore, she teaches the kids the meaning of the words and helps them memorize and then I come in and direct where they should be, how they should act, etc.  It is a great system and a ton of fun.  I have a chant with clapping that gets the kids all riled up right before performing a scene and they love it.  To see them smile and hear them laugh is the fuel I get every day to keep moving forward.  Yurico is the art director for this enterprise, and he comes on Saturdays to help the kids make masks for the show, ranging from Condors to Venados to Pumas and the kids enjoy this very much.  Yurico will also be helping the kids make the scenery to put on the walls for the show.  Most of all, I really appreciate the spirituality of the show as it teaches the basics of Andean Spiritual Cosmology, an ancient practice that is being lost (much like the language of Quechua) in the new generation of kids who out of necessity need to make it to the bigger cities and find work.  This cosmology, I feel, has a lot to teach, not only to the kids, but to the rest of the world.  The lessons of reciprocity (Ayni) with the Earth and each other are immeasurably essential to our lives and the future of our people.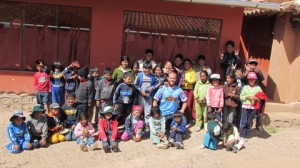 On a personal note, this has been a very difficult time for me as my Grandfather, Martin Eugene McAdams, has passed unexpectedly and my father, Craig Eugene McAdams had his second heart attack at age 52.  My father is recovering alright, but to be so far from family and friends during this time has been trying.  I know both of them want me to finish this service and learning experience.  I am thankful for the ability to connect through email and Facebook at this time.  I am thankful for my communities back home and their support.  I am thankful for the love the kids and families here show me.  I am thankful for the mountains and their invitation to do ceremony during this time.  Thank you. <3
Quotes from the children and other community members:
"No problem, I can memorize this by next Thursday."
"Profe Tomas! I'm ready! Let's study!"
"Thank you for helping my son.  This means a great deal to my family."
"But Profe!  I am not a Puma!  I am a Condor! I am an Apu!"
"Profe!  Pachamama is Mother to all!"
"We feed the bulls this part of the harvest.  For all their work."
"I will be sad when you return to the United States."
For anyone interested, the play is below (First in English, then in Quechua).  It will be recorded on August 11th  for the Andean Research Institute and Southwestern College to use, and if anyone is good at making videos/movies, I would love some help with  making subtitles and credits when I get back to the States.  I will take a picture of each of the children and I want to run the credits in a slide show format.  (Craig McAdams on Facebook or cmcadams.swfgc@gmail.com).  Thank you.
The Man Who Learned the Lesson of Life
ACT I
(The show opens with Gabriella center stage as the NARRATOR.  On stage left MATEO and JOSE are working hard with the VENADOS.  On stage right NICASIO is laying down and being lazy while PICAFLORS and PUMAS are hanging around him)
NARRATOR: "One day in Maras, there was a family of a mother, father and three sons.  The oldest son, Mateo and the youngest son, Jose, worked hard every day in the fields, with the animals and with the crops.
(NARRATOR gestures towards MATEO AND JOSE.  The VENADOS begin singing while MATEO AND JOSE are working and happy.)
VENADOS:
 "Pachamama mu ray a ku mu pai sitai kai ya a ai. . .
   Si sai pun tai ma ri ri. . .
   Kai ai pun tai ma ri ri"
NARRATOR: "Then there was the other son, Nicasio.  Nicasio was lazy and did not like work.  Nicasio just laid in the field all day, and when he did move, he complained."
(NICASIO gets up and begins singing and touching his head with his hand in despair.)
NICASIO: 
"Uma Nanai. . .
  Munai Nanai. . .
  Siki Nanai"
(The PIKAFLORS AND PUMAS begin to circle around NICASIO, repeating his singing back to him)
PIKAFLORS and PUMAS:
"Uma Nanai. . .
  Munai Nanai. . .
  Siki Nanai"
NARRATOR: "Nicasio's mother came to him one day, very angry and upset with him."
(NICASIO'S MOTHER comes from off stage right.)
NICASIO'S MOTHER: "Nicasio!  You are the only one of this family that never does any work and I am tired of it!  If you don't do work, then you are not my son!"
NARRATOR:  "Nicasio was very hurt by this and planned to leave his home forever.  He told his brothers goodnight and then left without telling anyone."
NICASIO:
"wayqenkunamanta  despedikuran  chaymanta  pasapuran."
(NICASIO is seen saying goodbye to his brothers and walking off stage left.)
ACT II
(In the opening of ACT II, the NARRATOR is seen on stage left and NICASIO is seen on center stage.  Then, NICASIO collapses to the floor in exhaustion.)
NARRATOR:  "After many weeks of traveling the hillsides looking for food, Nicasio has finally fallen ill.  No family would feed him because Nicasio would not work for the food.  After Nicasio passed out, an Apu named Ausangate saw him and thought he was a delicious meal."
(APU AUSANGATE enters from stage left and sees NICASIO)
APU AUSANGATE:  "Friends! We have a delicious feast!"
(APU SALKANTAY, MACHUPICCHU, APU PITUSIRAY, APU WANAKAURI, APU PACHATUSAN, APU CHICON, and APU MAMA SIMONA enter from stage left.  All of the APUS are upstage, behind NICASIO, and they kneel down to him as if about to eat him.  Then, APU MAMA SIMONA turns to the others before they can eat.)
APU MAMA SIMONA: "You know, I am tired of how the people do not do ceremony for us or Pacha mama anymore!"
(All the APUS shake their heads in agreement, and APU AUSANGATE, who is in the center, stands up to speak.)
APU AUSANGATE: " You are right,  Mama Simona, the people never thank us or Pacha Mama anymore.  We give them everything.  We give them nurturance and abundance, but they never thank us for the Coca leaves or the Chicha we give them!"
ALL THE APUS:
"Coca  k´intucha  hoja  redonda (bis) 
Qansi  yachanki  noqaq  vidayta  chiripi  wayrapi  waqallasqayta 
Qansi  yachanki  noqaq  vidayta  chiripi  wayrapi  llakillasqayta"
(Then APU SALKANTAY stands up.)
APU SALKANTAY: "That is true, APU AUSANGATE.  The people have become very bad.  They only care about themselves and not each other.  They certainly do not care about us or Pacha Mama.  They never think to tell us if they are thirsty or hungry."
(APU MACHUPICCHU stands up)
APU MACHUPICCHU: "That is true, APU SALKANTAY.  We see the people destroy Ayni every day.  We should no longer help them have abundance.  They even kill animals for fun and not necessity!"
(APU PITUSIRAY stands up.)
APU PITUSIRAY:  "You are right, my brother MACHUPICCHU!  They do not deserve our help.  For example, beyond the community of QESWARMARKA, the people there are suffering.  They are fighting over water, animals and plants.  However, because they do not thank us, we do not help them find the water that is nearby.  The water is on the hillside, hidden under sticks and brush, but they are too lazy to find it.  All they would have to do is work , thank Pacha Mama, and give her love and they would find the water."
(APU WANAKAURI stands up)
APU WANAKAURI:  That is right, my brother PITUSIRAY!  And if they do not find the water, that community will disappear.  If they do not practice Ayni!"
(APU PACHATUSAN stands up)
APU PACHATUSAN: "That is true, APU WANAKAURI.  And the water that was meant for them will be used by the plants and animals."
(APU CHICON looks up impatiently)
APU CHICON:  "Let's eat now!"
NARRATOR: "Nicasio has heard all of this.  He is scared and wants to leave immediately."
(NICASIO stands up screams and runs off stage left.)
ACT III
(ACT III opens with all the people of QESWARMARKA in chaos.  They are all yelling at each other, fighting over water.  NICASIO is seen off stage left, watching the mess.  The GOVERNOR OF QESWARMARKA is on center stage looking upset.  The NARRATOR is off stage right.)
GOVERNOR OF QESWARMARKA:  "We have no water! Help!"
(NICASIO enters stage left.)
NICASIO: "GOVERNOR!  I know where the water is. . ."
NARRATOR:  "NICASIO suddenly remembers how hungry he is. . ."
NICASIO:  " I only ask for a hot meal and. . . to marry the prettiest woman of QESWARMARKA!"
(NICASIO laughs thinking the GOVERNOR would know the part about marrying was just a joke.  However, the Governor takes him seriously.)
GOVERNOR of QESWARMARKA:  "Here is some bread, young man, now please tell us where the water is!"
(All of the people of QESWARMARKA stop fighting and pay attention to NICASIO.)
NICASIO:  "First, you must practice Ayni and thank Pacha Mama and the APUS."
GOVERNOR OF QESWARMARKA: "Why would we thank them, we have no water?"
NICASIO: "Pacha mama and the APUS will provide all the water you need, they only want a relationship with you.  Now here, please thank them with this offering and your prayers."
(NICASIO gives all the people of QESWARMARKA Coca Leaves and Maiz and shows them how to give thanks to Pacha Mama and the APUS.  Next, the 8 APUS watch this event from stage left and stage right, 4 APUS on each side, unseen by the people.  The APUS are very happy.)
NICASIO: "Now we must work for our water.  Help me clear all these sticks and brush."
(NICASIO and all the people of QESWARMARKA help clear the sticks and brush and they find that there is a lot of water. All of the people of QESWARMARKA gasp when they see this.)
GOVERNOR OF QESWARMARKA:  "Thank you, NICASIO!   We are grateful to you and to Pacha Mama and to the APUS.  The people of QESWARMARKA will now forever practice AYNI with PACHA MAMA and the APUS.  Also, my daughter, SIRENKINTI, saw how you saved our people and wished to marry you."
(SIRENKINTI, comes to center stage and holds NICASIO's hand.  NICASIO looks out at the audience with a face of embarrassment.)
SIRENKINTI: I have seen this man learn the lesson of life and I share my heart, my love with him.
(All of the characters come onto to stage and sing.)
ALL: 
Song in Quechua, English translation below:
"MUST MEET THE MOTHER EARTH
ONLY FROM YOUR HEART IS CRYING BLOOD
NEED TO KNOW THE MOTHER EARTH
ONLY FROM YOUR HEART IS CRYING BLOOD
MOTHER EARTH BEAUTIFUL WOMAN, AND THE BIG DAY IS COMING
MOTHER EARTH HEART OF GOLD, YOUR CHILDREN CAN HAVE A RETURN TO THE HEART OF GOLD"
THE END
RUNA  YACHAN  IMAYNA  KAUSAY  KASQANTA
ACTO I
WILLAQ:   Hoq  p´unchay   Maraspi , kasqa  hoq  ayllu,  mantayoq,  taytayoq chaymanta  kinsa  wawayoq.  Kuraq   qhari  wawaq  sutin  kasqa  Mateo, sullk´a wawa  kasqa  Jose, sapa  p´unchay   nishuta  llank´asqaku chaqrapi,  chaymanta  uywakunata  michispa.
Qentekuna  chaymanta  Pumakuna takinqaku: 
"Pachamama mu ray a  ku mu pai sitai kai ya a  ai
Si sai pun tai ma ri ri. . .
   Kai ai pun tai ma ri ri"
WILLAQ:  chaymanta  kasqa   hoq  wawanku  , Nicasio  sutiyoq,   Nicasio   kasqa  nishu  qella,  manas  llank´ayta  munaqchu.
Nicasio: 
"Uma Nanai. . .
  Munai Nanai. . .
  Siki Nanai"
PIKAFLORS and PUMAS:
"Uma Nanai. . .
  Munai Nanai. . .
Willaq:  Hoq  P´unchay   mantan  llakikuspa  chaymanta  renegaspa  paywan ( chay  qella  kasqanmanta)
Nicasio   Mantan: Nicasio  qanmi  kanki chay  ayllunchispa   mana   llank´ayta  munankichu ,  nan  sayk´usqana  kani   chaywan,  sichus  qan  mana  llank´anki ,  manan  qanqa  wawaychu  kanki. 
WILLAQ:  Nicasio wasinmanta lloqsinampaq nihu sasa  karan, pay turankunawan  rimaran chaymanta  lloqsipuran wasinmanta.
Nicasio     wayqenkunamanta  despedikuran  chaymanta  pasapuran.
TAKIY:
Llaqtay  orqo  rikhurinchus  mana (bis)
Ripurnayri  yachakunchus  mana(bis)
ACTO II
WILLAQ: Asqha  p´unchay   ripusqanmanta  Nicasio hoq  p´unchay  haqay  karu  orqopataman  risqa  puñuq,  manataq  pay  llank´ ayta  munaqchu, chaysi  chay  p´unchayqa  k´alata  p´achanta  ch´utirukuspa  kunparayasqa,  chaypi  puñurapusqa  wañusqa  hina. Chayllamansi  Apu  Ausangateqa  rihurirusqa , chayqa  nisqa  ima  sumaq  mikhuna  kasasqa, amalla  sapallaychu  mikhurusaq,  aswan  wahasaq  hoqkunata.
APU AUSANGATE:  wayqeñañaykuna  hamuychis,  chaypi  kashan  allin  mikhuna.
APU MAMA SIMONA:  qankuna  yachankichis , noqa  renegasqa  kani runakunapq,  mana  hayk´aq  imallatapas  haywariwanchischu .
APU  AUSANGATE:   cheqaqmi chayqa  mama  Simona, mana  hayk´aq  runa  niwanchischu  añanchay nispa  nitaq  pachamamatapas.  Noqanchis  qonchis  imallaptapas.  Paykunaman  qonchis   kaysayta  chaymanta  asqha  mikhuyta, ichaqa  manan hayk´ aq  paykuna  niwanchischu  añanchay  chay  coca  k´intullawanpas  nitaq  ahawanpas.
TAKIY: TODO LOS CONDORES
Coca  k´intucha  hoja  redonda (bis) 
Qansi  yachanki  noqaq  vidayta  chiripi  wayrapi  waqallasqayta 
Qansi  yachanki  noqaq  vidayta  chiripi  wayrapi  llakillasqayta
——————–APU  SALKANTAY: Chayqa  cheqaqmi, Apu  Ausangate. Runaqa  nishu  millaymanmi  tukunku. Paykuna  puralla   yuyanchakunku  mana  hoqkunata  yuyankuchu.chayqa  cheqaqmi,  manan  noqanchistaqa  qawariwanchischu nitaq  pachamamatapas.manan  paykunaqa  yachankuchu  sichus  noqanchis  kusisqachus  icha  khuyay qasqanchista.
APU  MACHUPICHU:  CHAYQA  CHEQAQMI  Apu  Salqantay. Noqanchis  qawasqanchisma  hina   runakunaqa  chinkachishanku  aynita. Noqanchis  yanapayta  atisunmanmi  nishu  unaypaq. Paykuna  wañuchinku  uywakunata kusikunankupaq , mana  kaysanankupaqchu.
APU  PITUSIRAY:  Turay  Machupicchu chayqa cheqaqmi chay  nisqaykiqa.  Manan  paykunataqa  yanapananchischu.  Imarayku,   haqay   Qéswarka  llaqtapi,  runakuna  nishuta  llakipi  kashanku. Paykuna  ñak´arishanku  unumanta, kaqllataq  uywakunapas, sachakunapas.  Imarayku  mana  yanapanchischu,  manataq  paykuna   noqanchista  yuyawanchischu,  noqanchis  manan   yanapananchischu   unu  tariyta. Ichaqa  unuqa  haqay  orqo patallapi  kashan,  uhullatan  t´oqonanku  kashan.  Ichaqa  paykunaqa  qellataq  kanku  chaymi mana  tarinqakuchu.  Paykunaqa  llank´anallanku,  chaymanta   añanchananku  pachamamata   unuta  tarispanku. (allimmi  paykuna kanqaku)
APU  WANAKAURI: Chayqa  cheqaqmi, ñañay  Pitusiray  nisqa,  sichus  mana  unuta  tarinqaku  chayqa , chay  llaqtaqa  chinkapunqa. Manataq  aynita  ruwankuchu  chayqa.
APU  PACHATUSAN:  Chayqa cheqaqmi, chay unuqa  qanqa  uywakunapaq  chaymanta  sach´akunA  (wiñananpaq)  ima.
APU CHICON:  Apuraychis  mikhuna
WILLAQ:  Nicasio  uyarisqa  chayta  llipinta, chaysi  condorkuna  mikhunanku kasaqtin  k´aparispa  ayqekusqa.
ACTO  III
———–GOVERNADOR  : Manan  unuyku kanchu  yanapaywaychis
NICASIO: Kuraq  tayta. Noqa  yachani maypi  unu  kasqanta.
WILLAQ:  Nicasio  yuyarin  rayqaymanta  kasqanta.
—————-GOVERNADOR :  Chayqa  chay t´anta wayna,  kunanqa   willawayku  maypi  unu  kashan.
NICASIO:  Qallarinapaqqa,  kankunaqa  aynita  yuyarinaykichis, chaymanta  pachamamata, apukunatawan.
—————GOVERNADOR:Imarayku  noqayku  yuyarinayku,  noqayku  mana  unuyuqma  kashayku.
NICASIO: Pachamama  chaymanta  Apukuna  unuta  qosonkichis ,  paykuna  munanku qankunawan kausayta. Kunan ckaypi,  ama  hina  kaychischu   chaykunawan  haywarikusun .
——————GOBERNADOR: Añanchayki  Nicasio, noqayku  añanchaykiku chaymanta  pachamamata,  apukunatawan,chaymanta  ususiypas, añanchasunki  imaynata  llaqtaykuta  kausarichisqaykimanta, ichaqa  pay  munay  kasarakuyta  qanwan.
NICASIO:  Noqa  sinchi  kusisqa  kani, kunanqa  yachani  ayllupi  llank´ayta  chaymanta  yanapayta. Añanchami chay  sumaq  urpita, sonqompi  noqata  hap´iwan.
—————NUST´A:   Noqapas  kusiqa  kani chay  qhari   ruwasqanwan   chaymanta  chay  kausayta  imaynata  pay  yacharan. 
TAKIY:  "PACHA MAMA
PACHAMAMATAS REQSIKUNA
HAY QUE CONOCE A LA MADRE TIERRA
SONQOLLANMANTAS YAWAR WAKASHAN
SOLAMENTE DESDE SU CORAZON ESTA LLORANDO SANGRE
PACHAMAMATAS REQSIKUNA
HAY QUE CONOCER A LA MADRE TIERRA
SONQOLLANMANTAS YAWAR WAKASHAN
SOLAMENTE DESDE SU CORAZON ESTA LLORANDO SANGRE
PACHAMAMA SUMAQ WARMI, HATUN P'UNCHAYSI CHAYAMUSHANNA
MADRE TIERRA MUJER HERMOSA, YA ESTA LLEGANDO EL GRAN DIA
PACHAMAMA QORI SONQO, WAWAYKIKUNAS KAYMAN KUTINQHA
MADRE TIERRA CORAZON DE ORO, TUS HIJOS CAN A VOLVER A TENER CORAZON DE ORO
About the Moderator