Sudha will be teaching the Holistic, Integrative Development of Health for the Children's Mental Health Certificate program. It will be great to get the multicultural perspective she will bring as an MD/Psychiatrist, a PhD in Neuroscience, and an Ayurvedic practitioner. Southwestern College (and its students) need this kind of diversity, and I am so pleased that Sudha will be offering this weekend course for us!
March 7 @ 6:00 pm – March 9 @ 6:00 pm
Southwestern College Campus
,  3960 San Felipe Rd., Santa Fe, NM 87507 United States   To sign up: https://www.swc.edu/applying-to-certificate-specialty-programs/childrens-mental-health-certificate/applying-to-cmh/
This course explores the bio-dynamic development of mental health and emotional expression as an extension of our biological system, and in connection with the world around us. From the perspectives of Ayurveda, holistic medicine, psychology and neuroscience, we will investigate the sensate connection between body, mind, and spirit. We will develop a deeper understanding of a variety of safe and effective options in diagnosis and treatment, including basic education for lifestyle changes, self-care, and complementary approaches for children and families.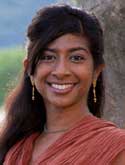 Sudha Rani Kailas, M.D., Ph.D., is an integrative, holistic physician specializing in the mental and emotional health and wellness of children and families. She brings an engaging perspective through the principles of bio-individuality and the healing power of love. Learn more about Sudha here:  http://www.vedicpsychiatry.com/
About the Moderator