It's always interesting to catch yourself doing the things for which you beleaguer other people.
All through history, there has been the doubter (yeah, That Guy) who dismisses and poor mouths new developments, especially technological ones, as dumber'n hell, completely unnecessary, and as sure signs that the world is going swirling down the pot at an unprecedented rate.
Telegraph, television, radio. Dumber'n  hell times three.
Then personal computers, cell phones and the like. Totally unnecessary. Addictive. Whatever happened to letter writing? Visiting at each other's homes?! "These kids don't know how to have a REAL relationship." Blah, Blah, Blah. Era-centrism and fear. "These kids better start living the way we did back in the 50's, or the world is going to suck." Give it a rest.
I have always been able to congratulate myself heartily on being open to all of these kinds of developments. Pretty smart guy, huh? You betcha. While the other, clearly less evolved guy is mumbling in against-ness, I have been the enthusiastic digital immigrant, embracing the next thing with an open mind and heart.
Then Social Media. Oh, I was a little slow, I admit. Antonio had to cajole me into Facebook. I really didn't know what it was, but that did not prevent my Inner Knower from knowing that I did not need it, and that it was probably stupid. Then Facebook got smarter, and eventually I jumped in and of course became a believer. What a great invention! I embraced it. I have seventeen million friends, and created the Southwestern College site, which is a booming success. What an evolved and youthful fellow! This technology stuff is the cat's PJ's, man.
I knew for fact that Twitter was dumber'n hell—140 characters. Give me a break. People Tweeting "Hey, I'm at Whole Foods—they have organic collard greens! Sweeet…" "Rouge Cat meowy 2nite" "OMG, I h8 writing papers! Esp. B4 the wknd! Grrrrr."
Yeah, I'm 58. Like I need that crap. Then I read a few books about Twitter, and was like, "Ohhh. So THAT is what people who are not stupid use it for?!!! Oh, NOW I get it…OK…I still think it is primitive and that somebody is going to blow their doors off with an alternative product that is actually, well, good, but OK…I'm hip."
Linked In, same thing. Blah Blah Blah, Yada Yada Yada. Then I read the books, and I "got it." I'm a believer. I have 350 connections. Over three million if you count to level three. Low five, bro.
Look at me. Johnny Social Media.
But wait. Now I am being called out by my friends and my wife. See, despite the fact that forty billion people use Text Messaging and "Apps", I am one of very few people left who know the truth. It's not surprising—I'm a College President and a Psychologist. I mean, I SHOULD know a little more than the average bear, yes?
And the truth is that Texting and Apps actually are dumber'n hell.
"What, the thought you are having this red hot minute is SOOOoooooo staggeringly important that you can't wait?! It MUST be Texted to the world right this second? Driving down Cerrillos in heavy morning traffic? Oh, pulllleeease. Spare me, Shakespeare." Where's a cop when you need her?
And in case you didn't notice it, that little box you are texting on IS A TELEPHONE!  You can call her, dude!
And Apps. "Hey, I have an App that can tell me what song is playing in a restaurant—I just hold it in the air and it says "Que Sera, Sera" and I can buy it immediately!!"  Hey, guess how much I care?  And guess how many times you are going to actually use it after the first day you have it? Like—Never.
"Man Alive, I have a new App that you can talk to and tell it your problems and it does therapy on you! It can even do a diagnosis!" Really??  No, really? Do you have time for me to tell you how much that App sucks? Do you have, like, a week and a half?"
OMG, man. You gotta be kiddin' me.
But now I am not LOL, let alone ROTFL or LMFAO.
Now I am being told that I am That Guy. That I cannot diss the people who diss Social Media if I am going to turn around and do the exact same thing in relation to Text Messaging and Apps.
I can't believe I am in this position.  I Googled "Texting is dumber'n hell", but I didn't get anything. Probably got the order of the words wrong. Or maybe Google is down today, because I know there is some research or something to support me. I looked for "Studies show that Apps are worthless and people who use them are less satisfied with their lives than those who don't", but again came up dry. Temporarily, anyway.
I am not giving up.
My wife just Texted me. She says "There is probably an App that would help you find that research you're looking for."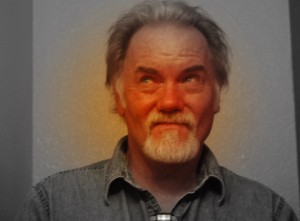 Oh, that's just hilarious…..
I am going to go start a Facebook Group for People that don't use Apps. And a Google Plus Circle. It'll be huge.
About the Moderator