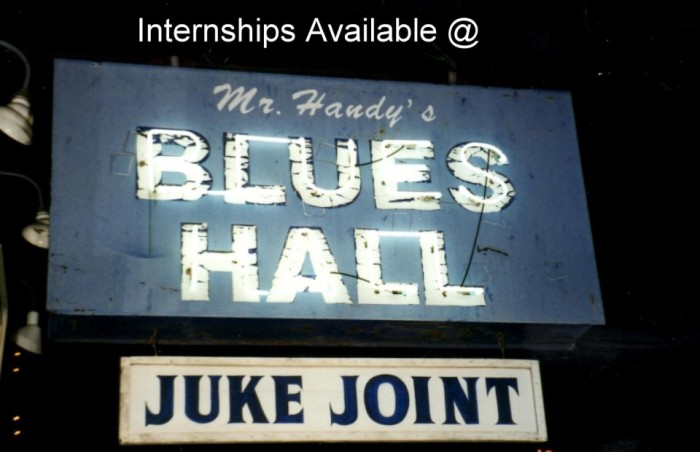 Ten Things About Internship, by Jim Nolan
For many students at Southwestern College, there is a lot of not knowing in regard to internship, and for many, not knowing can translate all too readily into worry or anxiety. For some, worry or anxiety translate readily enough into appropriate, goal-directed behavior. For others, it spirals into amplified worry or anxiety, into unproductive behavior (Jack Daniels, bonding with others around how awful it is, blaming people we think should fix this thing that should be other than the way it is, and so on). Yet others will be paralyzed, and do nothing.
You may have guessed already that I am not going to vote for paralysis, negativity, or blaming. Not that they're not tempting, and not that I've never done them, because I have, plenty of times.
So instead here are some tips for moving toward and into Internship, and some of the tips have merit beyond internship, in job-seeking, and maybe even in life in general…
Realize and take ownership of the fact that finding or creating an internship is your responsibility. The school can, and does, help, as do your advisor, your professors, your department chair, your clinical supervisor, other students, and alumni. But this one is ultimately yours. On our bad days, we may not like hearing this, but what is it, if not "Empowerment"? It's what you tell your clients. It is good medicine…It's your bus—drive it. And ask for all the help you can get.
You can't lose on Internship. Which internship is the "right one"? There are thirty seven right answers to that question, maybe more. You just have to find one of those. This is not your last training opportunity, it's your first. (OK, second maybe.) There will be many more. There HAVE to be many more—you will be getting Continuing Education Credits/Units your whole professional life. You will learn what you need to learn on your internship—you can't NOT learn on internship. There is no wrong choice. That does not mean you will love your internship, but maybe you will. But there is this tendency to think this is the Capstone Event that will define my career. If it is, great , and if not, that is OK too. Every teacher you've ever had cannot be the greatest one you ever had. But you learned from all of them, even if you learned that you would never teach the curriculum the way they did.
How do I find an internship? Well, there are lists circulating (we are working on an updated one now, in October of 2014), there are stories and anecdotes circulating among students about their experiences, or the scuttlebutt they heard about so and so, or such and such place. Listen to all of those, and do not assume any of them are exactly true, or the way your experience would go if you interned there. Then there is your old buddy Google. Google internships, mental health agencies, behavioral health agencies, alcohol recovery centers, counseling centers, psychiatric hospitals, VA hospitals and so on in the town or area where you want to do an internship. Look at the interesting ones, and find out what they do, and who you might contact. It goes without saying that at this stage in your career, you should have a decently developed Linked-In account profile. Go find employees of the interesting agencies on Linked In and connect with them, if possible. Do your homework. Get information.
This is not time to indulge your Introversion (I am a huge Introvert on the Myers-Briggs, by the way.) When somebody interests you, introduce yourself, in person, on Linked In, however you can. The whole trajectory of your career can shift depending on your willingness to take risks (like you ask your clients to do) and connect with other professionals. Networking is everything in this business. Go to trainings, lectures, certificate classes, conferences, join ACA, AATA, NMATA, and so on. Use those opportunities to network. Don't get stuck with limiting beliefs like "Networking is awful—I hate going around sucking up to people, hoping I will get a job or whatever". I hear that all the time. In my most selfish moments I think "Good, I hope I am competing with you for jobs the rest of my life." But I only had that thought once in my life. OK, maybe twice.
Focus on what kind of work you think you would like to do. That may change over time, but so what—what are your feelings now? Kids, substance abuse, families, incarcerated folks, old folks, Native Americans, LGBTQ, whatever. Find out what agencies do that work (see #2 above).
Even if places do not advertise internship opportunities, or have never had one, you can still ask to create one. Bring ideas (based on your homework), solutions, identify the value you can bring them, the value of a relationship with Southwestern College, and do on. It is not at all uncommon for someone to create an internship where none existed previously.
Internship is, ideally, a "vertical" training experience. (I made that term up. It's a metaphor, but it makes sense to me.) Horizontal would be "doing more of what I have already done in the past and getting credit for the hours as internship hours", and "Vertical" would be "doing and learning new stuff that I have not done or been exposed to before." Growth. Moving forward. Avoid the temptation to work completely in an area you already know really well. And if you do internship somewhere you already work, ask for experiences that will expand your base of knowledge. Most agencies will appreciate your initiative.
Are you going to get paid on internship? Maybe yes, maybe no. Depends. Be prepared emotionally and financially to do an unpaid internship, especially if it is exactly what you want to be doing, and if you will learn exactly what you were hoping to learn. Yeah, I know, that sucks, in a way, but just know it is a distinct possibility. I would say that way more than 50% of internships are unpaid.
How to be a good supervisee. Ask for what you want in supervision. When I was first supervised I thought I was a tough guy, and said "I don't really need to be coddled, just tell me where I need to make improvements, stuff I am not doing well." That lasted about two supervision sessions before I said "Fran, that was a mistake—I need to know if I am doing anything well." And she said "Oh, you do LOTS of things really well—I figured you knew since you told me not to focus on those." I thought I knew too, but I was a new counselor, and I NEEDED and wanted to hear what I was doing well. Know what you need and want and ask for it. That is your right. You may not get it, but keep asking. A supervisor owes you good supervision—seriously. It is part of the "Pass it Forward" ethic in this business.
Here is the deal with hours, in both Prac and Internship. A WHOLE BUNCH of people think they are not going to get their Direct Hours. Things are slow, clients no-show, whatever. You will ALWAYS end up getting your hours. You will never not get your hours. Everybody gets their hours. When it is abundantly clear that you will NOT get your hours, you will get your hours. Nobody ever didn't graduate because they could not get enough hours. It may take a while. It may take an extra quarter of internship. Know that you will get them, and you will move on with your career. Don't let yourself get caught on stuff like that—wasted energy. I have seen some of the brightest people I know get caught up in this one. And you know what they ended up getting? Exactly. Their hours.
I hope that is helpful…there is probably more to say, and if I think of it, I will add it to this blog or do a Part 2. Good luck, ask for help, and it is all going to work out. I am certain of it…
Jim Nolan
PS: I used to the Training Director for the School of Psychology at Walden University, and it was my job to oversee the practicum and internships of scores of students all over the United States and in Canada. I've seen some stuff…
About the Moderator