The Best Art Therapy Program in the Country. Why? Because…
(Most Art Therapy programs only prepare you to sit for licensure as an Art Therapist, and possibly as a Counselor. At Southwestern College, you graduate with eligibility to sit for a license in Art Therapy, in Counseling (and NOT as a related discipline, but as someone who has completed all the requirements for the Counseling profession), and, with 3 additional classes, for the LADAC (Alcohol and Drug Abuse) license in New Mexico. Tremendous advantage to the student. AND–at SWC, you make A LOT of art!!)
• Southwestern College offers a holistic, integrative, soul-based curriculum and approach to Art Therapy. We teach powerful clinical skills, and honor and feed your heart, your soul, and your spirit in an experiential learning environment. No, really. That is NOT a marketing line. You can ask our students…
• Our Art Therapy students actually MAKE a lot of art. A lot. In addition to a requirement that they engage in some therapy with an Art Therapist. And did I mention our students make a lot of art? OK, I guess I did. I only say that because in a lot of Art Therapy master's degree programs, they do not. That is a source of great puzzlement to me…
• The Higher Learning Commission was so convinced that our Art Therapy students also completed all the requirements of the Counseling profession, that they granted our program the designation "Master's of Art Therapy/Counseling". What does that mean? It means that when you graduate you are eligible to be licensed in two professions. (One of my mentors, Sandy Shullman, a leader in the field of Psychology, once told me "Earn as many degrees, credentials or certificates as you can, and hang them on the wall, and don't let them lapse." Some folks feel differently, but I don't. Two licenses are better than one in my book, and one Counseling License in states that do not license Art Therapists is gold, compared to being eligible for no license at all.)
• Santa Fe is the 2nd largest art market in the United States. In a recent Hotwire.com article honoring the "Top Ten Art and Architecture Cities in the World", Santa Fe was 7th. There were only two American cities on the list.
• Georgia O'Keeffe and many others found the "magic hour" of light in New Mexico, well, magical. It is, actually.
• You get personally stretched here. You just do. Those who are not sure they want "personal growth" with their professional growth should maybe look at other schools, or better yet, another field…
• This is the College Position Statement, co-created by about thirty students, staff, faculty, board members, community members, and the leaders of the school, with all having an equal voice in the matter:
"Southwestern College is a soul-based graduate school in Santa Fe, New Mexico, offering Masters Degrees in Counseling and Art Therapy/Counseling leading to licensure; we also offer specialty certificates for ongoing professional Development.
Our innovative curriculum integrates personal growth, consciousness, and holistic professional training in intimate experiential classrooms. Our faculty members are reflective practitioners and respected agents of change in their communities.
Together, we facilitate a transformational process of self-reflection and increased awareness preparing our students for meaningful and sustainable careers."
Those are some of the reasons that I firmly believe that Southwestern College is the best choice for Art Therapy in the country.
Dr. James Michael Nolan, Ph.D.
President, Southwestern College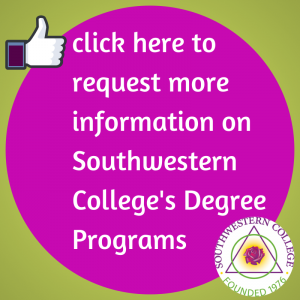 About the Moderator