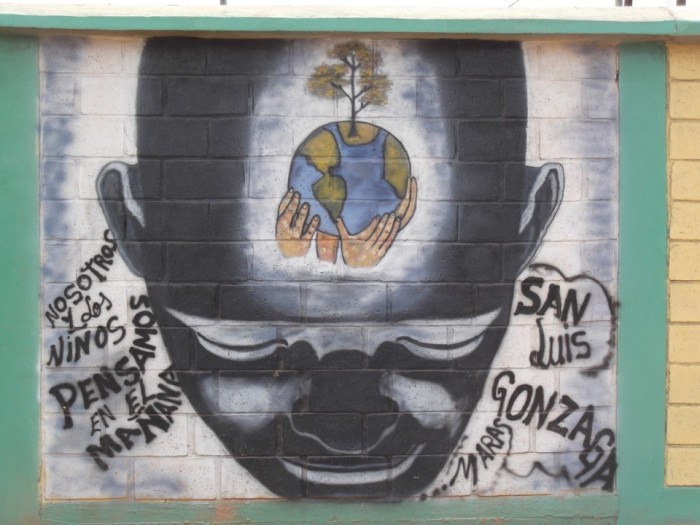 Southwestern College (Santa Fe) Interns and the Children's Museum in Maras
San Luis Gonzaga primary school goes largely unnoticed to the Western passing by. Its two-story main building serves 111 students and seven teachers. Heat comes from the blaring Andean sun streaming through the windows. Among a class of fifteen students, there might be three pencils. The "library" consists of single, mostly-empty shelves in each classroom.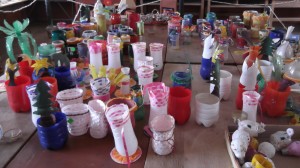 Sometimes it is difficult not to focus on the lack here. But talk to Neptali, the school director and fourth-grade teacher, and his gentle optimism will offer another perspective. From the pride in the school gardens to the majestic mountainous landscape, there is much to take in. Children's laughter and singing during the morning warm-up (literally to warm up for the day), is beyond infectious. And tucked away to the side of the school is a small building affectionately called El Museo de Los Ninos (the Children's Museum). Inside, hundreds of crafts and artistic creations line each wall.
What is unique and inspiring about the work of these children is that their creations are made from recycled materials. Discarded bottles and plastic bags are stored in bins until some project calls to come into fruition. Baskets, picture frames, toys, mosaics, wind chimes—all made from items commonly mistaken for trash. 
The teachers in Maras know how to be resourceful in a community of highland farmers. Their ingenuity has inspired the work we are doing, both in the school and with the after-school program. From collecting snail shells in the fields for necklaces to reusing soda bottles for bowling pins, Cindy and I are staying busy building on what this school and community are working towards: a cleaner, greener future for the children of Maras and a deeper connection with Pachamama.
  Becky Brandon is a graduate student at Southwestern College, Santa Fe; she is doing an internship in Peru. 
About the Moderator