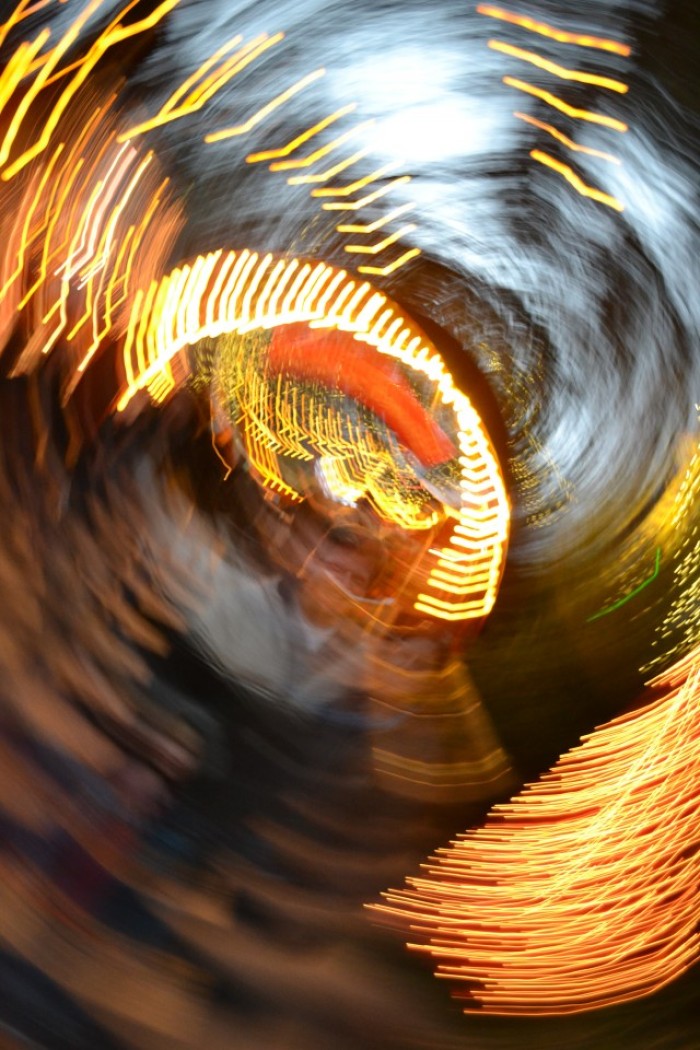 President James Michael Nolan Muses on the Nature of, well, just about everything, as it relates to your experience at Southwestern College.
In addition to teaching mainstream Psychology and Art Therapy practice, this is the kind of conversation some of us get into at Southwestern College. My brothers tend to think I am not serious, that I am grandstanding, that nobody has conversations about this stuff.
Actually, we do. A bunch of us anyway. In November of 2009, our mission statement became "Transforming Consciousness through Education." That wasn't an accident….
So, on with the conversation….
Rudolf Steiner and Ken Wilber, among countless other philosophically minded thinkers throughout time, posit that human experience over the millennia goes something like this:
We started off as an Undifferentiated Unity of formless energy, a great spiritual presence, unaware of itself, just "being", the way, perhaps, an individual sleeping newborn just be's.
Over time, the more etheric energy developed into increasingly denser and denser and more differentiated entities, eventually transitioning to "Form"—trees, rocks, morning glories, water, humans, rutabagas, wire-haired fox terriers, and so on.
As we each became, to the mundane gaze, anyway, "Differentiated Form", we "forgot" that we all came from the same Unified Life Field, or energy field. Again, Wilber and Steiner might suggest that the trajectory of our experience is from Unconscious Unity to Conscious Unity. We are here to experience the differentness that I call "Jim Nolan", but to evolve back up the ladder to a profoundly felt realization that in my distinctiveness, I am also part of the Unified Whole. Conscious Unity. I am a white cap, but a white cap on, and of, the ocean.
(I know—this is a lot, covered at breakneck speed…)
It is interesting, as a friend of mine pointed out to me (because a friend of hers pointed it out to her), that one could say the history of art went from large, largely undifferentiated sculptures or obelisks or markings (kind of "unconscious unity"), toward an increasing focus on, and valuing of, detail (Byzantine art, for example), only to be broken up by Picasso into identifiable but disparate and unsettlingly abutting parts. He was on to something. Then into the further dis-integration found in Kandinsky, Mondrian, Pollock and so on—away from form, toward undifferentiated images, toward conscious unity, one could suggest. Interesting thoughts…The universe is undifferentiated stuff, and we trick our eyes and mind into seeing it in terms of discrete units, entities, beings, things. But these guys broke their own "form trances" and cultivated their capacity to see once again the undifferentiated, formlessness in the universe…Conscious unity…Hmmm…
So then we could say that music went from primal sounds and utterances toward the use of primitive instruments, to scales, to classical music, which is of course a tour de force of elegance and detail and structure. Then it found its way to American jazz, which might be called the Picasso of music, often broken up into crazy wailings with, to many ears, only a vague semblance of form holding it together, odd off-chords banging into unexpected roaming notes. Then on into ambient and space music, even more formless, consciously, intentionally, evolving into a cosmic hum of sorts…
Literature went from early cave and stone writings, toward increasingly detailed poems, to the thousand page, painstakingly detailed 19th century novels of Dickens and his ilk, then moved back toward conscious unity with Jack Kerouac's "spontaneous prose", James Joyce's "stream of consciousness" and the interior monologues found in Faulkner's "Sound and the Fury" and Virginia Woolf's "To the Lighthouse."
So detail, form, structure, rules, all brought a kind of beauty, an aesthetic of detail, and directed our attention to the thing-ness of things.
But eventually, in literature, Joyce realized that internal consciousness does not have punctuation, or even linearity—the way we write is not the way it is—and so we have Molly Bloom's thirty page soliloquy (with only two punctuation marks, and what used to be literature's longest sentence at 4,391 words), which powers us square into Molly's consciousness, where we recognize that, yes, this is more like it, yes.
And what people criticized as undisciplined, rambling, loosely associated and undifferentiated drivel was actually what Jack Kerouac felt was a closer approximation of consciousness, which he called "Spontaneous Prose." Paralleling Picasso and Mondrian, paralleling later Coltrane and Mingus.
The visible world is differentiated and yet it is not. A "mountain" is not really a mountain, but part of a complex wholeness of undifferentiated geological ramblings—like where does the mountain begin and end? It doesn't do either. Is the "sky" a thing? Probably not. We attribute form to it, but ultimately that too is a convenience which allows us to imagine we understand somehow the overarching, ineffably staggering vastness that is there when we look up. Am I completely differentiated from you? Much as this answer befuddles some, and riles others, it seems not.
So, anyway…At Southwestern College, we are aware of these multi-millennial progression paradigms. We believe the world is moving toward greater consciousness, and still has a long way to go. If the world truly "got" the Unity thing, then it would realize that the USA being at war with Iraq is like your Achilles Heel declaring war on your Trapezius. It simply would not make sense. The only way for your Achilles to declare war on your Traps would be to remain totally un-conscious of the fact that it is part of the same undifferentiated Body Entity as your Traps. "But I'm 'Lower Body' and he's 'Upper Body', and we never did see eye to eye" would be idiotic.
But "Jim" versus "The Guy Who Cut Me Off", Republicans versus Democrats, Humanity versus the Rain Forests—these are all versions of the great Achilles V. Traps War. They just are.
We are still moving forward. Ultimately, Joyce ended the Penelope chapter, Kerouac submitted a manuscript for publication, Coltrane put out a record, and Kandinsky sold his paintings. They were sensing, feeling, pointing toward the Unity, the One-ness in the universe, but knew that we were not there yet.
We bring this kind of consciousness to our fully accredited curriculum. (Perhaps not in so esoteric and wide-ranging a manner as this late night blog post, but…) We think that Integrative Mental Health and Conscious Unity are worthy paradigms, worthy goals for sentient beings to consider. We are all in this together. It is where we are heading anyway—the question is–will humanity go willingly, or kicking and squirming the whole way?
I am voting for the former, and I am pretty sure that Southwestern College has my back on this one…
You should stop by for some of these conversations….Really…We're in Santa Fe…In the process, you just might get a meaningful and sustainable career in Counseling or Art Therapy…
Jim Nolan
About the Moderator