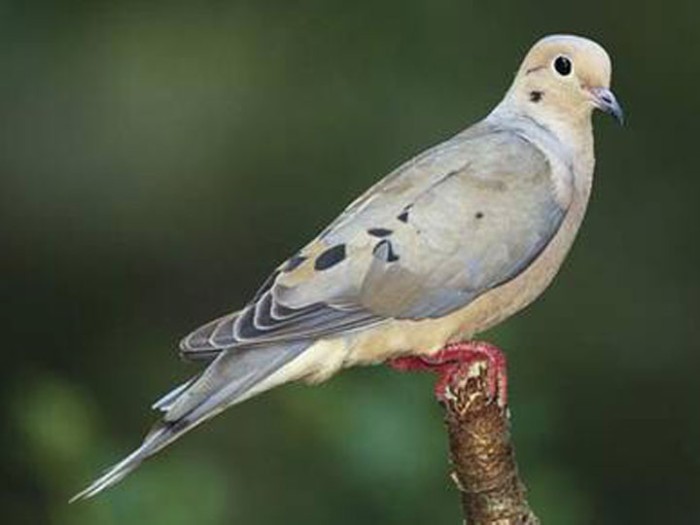 The Mourning Dove was first brought to my attention when I was nine years old by my father who heard the cooing one evening and announced, "There's a Mourning Dove." This comment was totally out of character for my father and I sensed that he felt a special connection to the Mourning Dove. Mourning Doves were not so common back then but whenever I heard that soft cooing, I would search the trees for a glimpse of the songster. It was several weeks later that I spotted my first Mourning Dove, not in a tree but on a power line.
I began my Southwestern College (SWC) experience with a Wilderness Fast in the mountains west of Soccoro, New Mexico. The Mourning Dove was among the many animals that came to visit me on that mountain. On the second morning of my Wilderness Fast, I was awakened by a familiar voice. But, rather than the five-note song that I knew so well, the Mourning Dove sang only the first two notes. I listened intently for a response from another dove. Hearing none, I wondered if it could have been an owl instead. Again I heard the first two notes. It was a Mourning Dove. I realized there was significance in its visit. Following the third call, I silently asked the Mourning Dove (with a bit of sarcasm), "Did you forget your song?" Instantly, I knew what the Mourning Dove wanted and I added, "or do you want me to finish it for you?" I would have sung back had there been a fourth call. There wasn't one. I thanked the Mourning Dove for bringing the message. I realized that this iconic symbol of love and connection was asking me to take ownership, and sing out, the Dove that is within me.
As an addiction counselor working with adolescents, I had allowed my clients to see me this way, but I didn't sing about it. In fact, I was very careful about not reporting it because many in the therapeutic community consider it "bad boundaries" to speak of loving your clients; it is also considered fodder for burnout. Even Carl Rogers had to couch the word with "unconditional positive regard." Dr. Waterman at Southwestern was the first person I had met who understood this relationship. He described it this way, "Techniques are not what is important. When you sit down with a client, and you come from a place of loving, things just start to happen." Several internship opportunities had fallen through when family circumstances necessitated a hiatus from school. I set aside my list of other possibilities which included my former employer. Six months later, a Mourning Dove landed in the tree above me and called out two notes "Ooh-oot…" "Oo-oo-oo" I answered. Again it called, again I answered. I knew why it had come. We sang together this way for about two to three minutes when I tired and thanked the Mourning Dove. The next day, I called my former place of employment (a place that I truly loved) and set up my internship. My welcome back by the staff, and the few clients that remained from before, was the most loving experience I have ever had.
Last week, I had an occasion to visit with a graduate student in Early Childhood Development. She told me the well-known story of a person who discovered a child floating down a river. And, after pulling the child out, noticed a second child, and a third. For this person, it made more sense to go upstream and discover how these children were getting thrown into the river rather than continuing to pull them out. I shared with her how my path had lead me back downstream to pull out adolescents who had not been caught (one of the themes that emerged in my mandala at SWC), while occasionally helping an adolescent mother to not throw her baby into the river. We spoke of the lessons of The Red Path and how The Red Path always welcomes one back. Later, when I reflected on that conversation and the loving connection that I had felt, I realized that I had again sung with a Dove.
Early this week, I had a brief initial session with a very difficult, and violent client who lives with visual and auditory hallucinations. That morning, she had assaulted an escort and put a police car out of commission. I averted her argumentative bait and listened for the song of her heart. When I heard it, "Ooh-oot," I answered, "oo-oo-oo." I did not know her whole repertoire, but I did know the song of the heart. I still remember the look in her eyes when she realized that I knew her song.
Yesterday, I spent an hour singing with that client. From the heart, she was able to talk about her pain, her anger, her isolation, and the hallucinations. With hearts open, we identified her fear of being afraid, and fear of living.
"ooh-oot…" Your turn.
About the Moderator