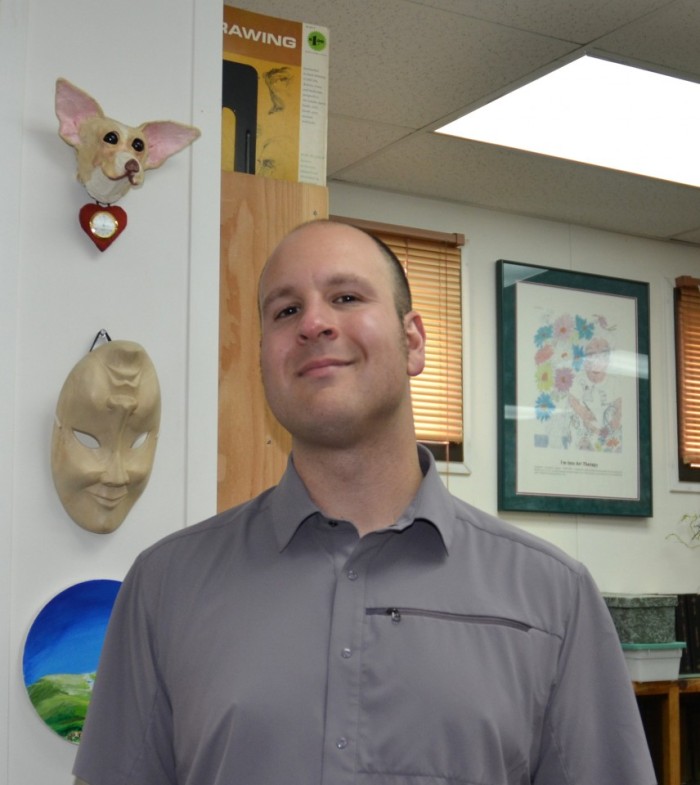 Thriving with learning differences (disabilities) at Southwestern College through experiential learning.
By – Sylvan Schneider
Did you know that Southwestern College does not have any tests? Yes, this means you can officially say good bye to the dreaded scan-trons while studying here and don't need to take the GRE test to get in. Furthermore Southwestern College does not teach in the boring lecture format of sitting quietly for hours on your hands without interacting, while taking notes to be tested on. Southwestern college offers a uniquely cutting edge style of what is termed "experiential learning".  As a student with learning disabilities (or how I like to refer to them, as learning differences), I've been able to truly thrive in this learning format.
What is special about experiential learning is that this method focuses on a myriad of learning formats such as in-class exercises, practicing counseling in small groups, making art in class, group discussions, sharing of personal insight alongside personal stories, expressive in-class performances, and much much more. This school truly focuses on bringing concepts to life in the classroom in addition to honoring each student's individual intuitive ways of acquiring wisdom. I struggled to learn in my undergrad program as well as in high school, I just couldn't concentrate in class (good old ADD). Due to also having a written language difference (Dysgraphia),  I could hardly take legible notes that I could rely on for passing tests. I had to take six, yes 6, remedial math classes in community college just to be able to get into a State University's basic required pre-algebra class in order to graduate due to having what's called Dyscalculia. What made matters worse is that I had to do everything through the office of disabilities. This involved me handing each teacher a form stating that I was disabled, being treated differently than other students, taking tests in a "quiet room", being questioned by students why I did not take tests with them, and the teacher asking the class if anyone could volunteer taking notes for me. This led to me again being treated differently and resulted in my own personal anxiety in school. At Southwestern College I've happily said good-bye to this dreadful rigmarole.
After undergrad I searched for four years, yes 4 years, to find this gem of a school (I'm now in my second year) and as I said above, I've truly been able to thrive here! From doing the readings, participating in class discussions, writing papers, and ultimately showing up, being present, and doing the work, I've earned straight A's. In fact I feel that my learning differences magically disappear while I'm in class and doing my school work at home,  thanks to experiential learning. In the past I was intimated by the thought of graduate school because I was pretty much a solid C- student (yes that's a minus sign) in undergrad. I felt I just could not learn in the highly rigid standardized and ultimately boring format of sitting silently through lectures, and scan-tron testing. I was also bored in undergrad due to not being able to be creative in my writing and presentations, and could not incorporate my own personal interests into class projects.
Don't get me wrong,  the work at Southwestern College is rigors, clinically grounded, fully accredited, and requires a lot of reading as well as writing papers, thus I've put in all my effort to get high grades here. However, what I'm trying to emphasize is in other learning formats before I was at Southwestern College, I felt that no matter how hard I tired I couldn't hardly succeed and rarely got B's or A's.
What's different at Southwestern College and why have I and countless other students with learning differences been able to thrive here? For one this is not a stressed out school–in fact many classes start off by practicing mindfulness and light meditation. The classes are small consisting of roughly 8-20 students per class and the teachers here really work with us. Teachers here are passionate about what they do, and let us students incorporate our interests and passions into writing, presentations, and projects. Another huge benefit is the variety of interesting books assigned, talking about what we read in class, and writing personal reflection papers on the reading that are centered around what the student felt, thought, and experienced from the reading. There is no memorizing facts, dates, or names from boring text books and regurgitating information onto standardized tests here. Southwestern also offers a 2 and a half year option (called option 3) where student's are full time and take about 3 to 4 classes per quarter while still receiving the maximum amount of student loans. I call this option the French work week–I'm full time but not stressed out and have a lot of time to process what I've learned, get my work done, and do the readings. Option 3 has been a godsend because it allows me the time I need to complete the readings and writing, and in addition I don't feel overwhelmed or that there is too much on my academic plate.
Overall,  experiential learning has opened up my mind and ushered me into an environment where I can actually succeed, concentrate, and thrive in a way where I retain and incorporate the lessons and wisdom from school into my work, thinking, and day to day life.
About the Moderator