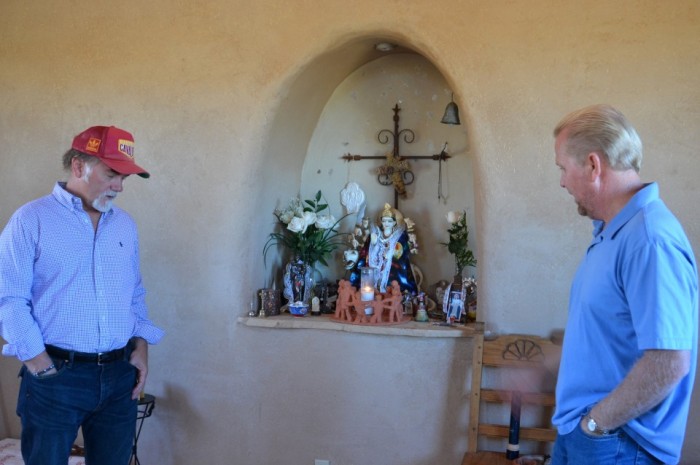 Changing Form to Change Spirit: Losing Weight as a Transformational Journey
So….there is a line of thinking that holds that we should feel good about ourselves, no matter what. Being in shape or not, having advanced degrees or not, whether we are handsome or not, beautiful or not, full plumaged or bald, whether we drink more than we should or not—no matter what–we should find a way to embrace and love the beauty that is Us, the beauty that comes from inside. Do not judge.
I get that. I do not disagree with it. It is a cool idea. I support it, in fact.
I think. For the most part. Though probably not as it applies to myself.
It gets complicated for Me. Maybe not for you. I am just sharing, but you might want to stop reading now if you think this is going in the wrong direction from where you need it to go to protect your status quo.
So, what contributes to my own Self Image? Good question. A lot of things. For starters, what I have done with my life career-wise, my achieved level of education, my job history, how well I do my current job. My relationships, my marriage, the way I treat Barney (my wire haired fox terrier), the efforts I make to stay connected to my siblings (mixed results), the way I try to connect with family in Germany with whom I may not share a common language (mixed results, but not bad, under the circumstances), how well I mentor or coach younger colleagues, my artistic talents (to the extent that they can be called that), such as taking pictures and playing the guitar. The extent to which I feel I have integrity, am loyal, am persistent, those kinds of things. My level of independence. (OK, that is an American thing.)
A lot of stuff, in other words.
Including how my body looks and feels. It gets touchy. I am in my 60th year, and it has been my observation that a lot of people in my age cohort have put on a fair amount of weight since I first knew them back in the day. Nothing too unusual about that. Whatever. We all more or less agree not to mention it, though I have ten bucks that says almost all of us do NOTICE it.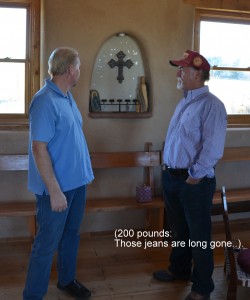 But I put on about……hate to even say it….over forty pounds since high school. I am 5'9". That is a lot on even a big 5'9" frame. I have always been athletic, always gone to the gym, always been active, and yet there it was, inching up, little by little, 155 in high school……………then somewhere, somehow….172, 174, 179, 181, 184, 185, 188, 190, 193, 195, 199, 200, 202. 
202? What the hell? I mean, really—what the hell? How did that happen? When did that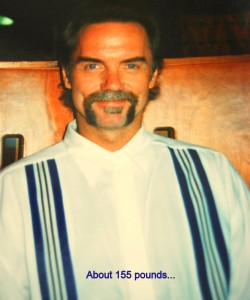 happen? I have been active all along—going to the gym, skiing, tennis?!? So you are telling me I can pick up a twenty pound dumbbell in each hand at Chavez Center, and THAT is how much more weight I am carrying than when I left high school? You gotta be kidding me??!
"You carry weight well, Honey." This from my wife, who I think really meant it, but still, I was not buying what she was selling. I saw photographs of myself (from our recent visit wth Ted), except that I could hardly see them as me–it was some guy who looked really unimpressive overall, but ESPECIALLY from the side. I am not being funny here—it felt really bad. I was a little embarrassed, discouraged, a little pissed off at myself for "letting myself go." And you catch those little quick reflections in windows and think Jesus, man…what the hell are you doing?
And the thing is, it went deeper for me. I don't know how it is for you. I ALWAYS had that sense that I could easily take control of my life, make good choices, and lose 5 pounds by tomorrow if I had to or wanted to. After all, wrestlers do that all the time. I had clear and inviolable sense of self-efficacy. "I am the kind of guy who can, and will, gets things done." Except that for several years I had been telling myself "Man, you gotta turn this weight thing around one of these days—just decide to do it, then do it." Simple Tony Robbins stuff.
And then I didn't do it. I began to lose that sense that I can do anything, that I am driving this bus called "my body." It was scary. It was disappointing. I didn't really believe that I could not do it, but, well, maybe I couldn't. Proof's in the pudd'n. All that stuff.
I was losing part of my sense of who I was in significant way. Either I COULD not do it, or I had become a guy who was not WILLING to do it, not willing to do the work, not willing to make choices that would result in a healthier body, and one that looked a lot better. Not willing to do it for myself, not willing, evidently, to do it for my wife. So it seemed.
I just did not do it. I became the Anti-Nike.
In this one respect, I felt like I did not really know this guy. And I did not admire him much, to tell you the truth. Yeah. The rest of my life was going great, and my wife and I were manifesting all kinds of crazy and wonderful experiences and prosperity, but this one area was the albatross around the neck of my self-image.
"OK, Jim—is it that time in your life where you just let go of the idea that you are in charge of your life? Where you come to believe that metabolism and thyroid and sedentary work all make this trend, in effect, irreversible, or, inevitable, or at least too much work to turn around?"
Well, at some point in November, 2012, Ande and I did a weekend cleanse. It was pretty unremarkable, to tell you the truth. The Dr. Oz thing, with cabbage soup that ended up being awful, and some other stuff that was kind of blah with the exception of the sauerkraut and apples. But something DID kind of shift that weekend. This was not expected.
On Monday, apples tasted kind of like kit-kats. I had heard that cleanses could "re-boot" your sweet tooth and some other stuff, and believed that was total baloney. They said that when I quit smoking many years ago, food would taste better. It did not. They told me that when I started eating meat again after twenty some years of vegetarianism that I would have a hard time digesting meat. I did not. They tell you a lot of stuff that ain't so.
But meanwhile, we had also decided to do red wine instead of margaritas. (I read an article that listed 15 "Superfoods", and red wine was one of them.) We read about juicing and decided to buy a juicer at the outlet mall. We started researching the healthiest foods on earth and I realized that I loved almost all of them. Not as much as pasta, potatoes, corn and ice cream, but what the hell. I really DID love them. I could do broccoli, salads, spaghetti squash, salads, eggs, asparagus, nuts (not whole big fifty pound bags of pistachios, but…) and so on. So we just started drifting in that direction. No real plan.
We were clear. "We are not on a diet." We just started juicing every morning (man, is that good stuff), and eating differently. Not less, not "in smaller portions" (I hate the "smaller portions" thing), but differently.
Since that time, we have had pasta, ice cream, cake, Thanksgiving dinner, all kinds of stuff. Not lots of it, but they are not off limits. We have not given up carbs. We have not "given up" ANYTHING. We're just eating differently. And I find myself more regularly at the gym. That helps.
So anyway, on September 30th of 2012 I weighed in at 202. My German friend, Rainer, who has a unique relationship with the English language, once called this being an "Overpounder." That's it–on September 30th, I was an Overpounder. On February 1, after a trip to the gym, I weighed in at 171.6.
I went back to the outlet mall, to Polo, and bought pants that were 5-6 waist sizes smaller. (THAT was a freaking party, dude.) I could not believe it, and I was their happiest customer of the week. I bought skin tight pants in Europe (you know, the way the Euros wear them) and loved them. I bounce up stairs, two at a time. My sideways view is flat. My face is slimmer. My body and I are much better friends. Spiritually, my consciousness about a lot of things has undergone a tremendous transformation.
And at the everyday level, I admire the guy who did this. It is a very nice feeling. You would think that being a psychologist, and being 59 years old, you would not need stuff like that to feel better about yourself and your life.
Wrong-a-rooni.
At least for me. I feel like a new man. Actually, the outward appearances of my life are all the same. And I probably DO carry weight well, because virtually nobody has mentioned the weight loss, except in Europe, where EVERYBODY did. Go figure. But inwardly, I know what I always knew. I am in charge of my life, and I am driving my body bus, and I am the kind of guy who can get stuff done, even if at times it takes a while to get around to it. And I can lose 30 pounds by deciding to do so.
I am heading toward 165. That is light for me. I think my ankles, knees, hips, and heart are throwing parties about this plan. Really. It is all good.
I wanted to share this, though I am clear that it is not because "it is about me." That does not matter. This is about transformation of form leading to transformation of something greater than form. The over-arching point is that WHATEVER it is in your life that is keeping you from admiring yourself as much as you might like, whether that is weight, or using substances too much, or smoking, watching too much TV and never reading the classics, or whatever it is, you might want to think about what it would really be like to make a change. I know we have this sensibility in the helping professions that "being judgmental" is a bad thing, and I have always (well, almost always) been clear that I am truly judgmental almost all day long. That is not the same as unkind, or rigid, or mean-spirited. I just have a clear sense that, for me, some things are better, and some are, well, less better. Some states are preferred, some not. And I do not mind that. I do not mind that I judged myself about gaining that much weight over that period of time. In my mind, I was simply not impressive or admirable in that respect, and demonstrated crummy discipline. That's just the way it was. I see it more as an observation than a judgment, now that I think of it.
And a lot of people really don't give a hoot about their weight, one way or the other, and I think that is great. I am just not one of them. And, for the record, I do not really care about anybody ELSE'S weight. So I have no strong judgment that somebody else should lose, or gain, or re-shape. It's none of my business. But I have my own standards for myself, and they are slightly drill sergeant-y, and that's how it is. The judgment I have about you is that if you have something you feel badly about, the way I felt about my weight, you should really consider doing something about it.
So there you go. On my bathroom mirror is a sign saying "Hit 60 Going 100." Yeah, I think my 60th birthday will be good. I will be moving fast.
That's the plan. Lightness of being. I like it.
James Michael Nolan is the President of Southwestern College, Santa Fe. He is no longer an Overpounder.
About the Moderator