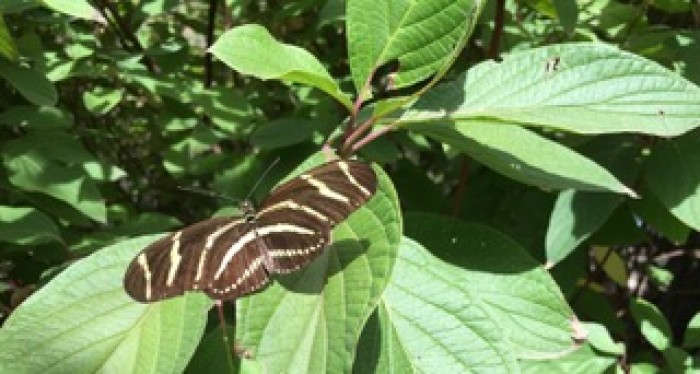 Rene Tricou, a Graduate Assistant and Master's-degree seeking student for the Counseling program, interviewed Ann Filemyr in a discussion to see what courses will be coming up for the Transformation Ecopsychology program at Southwestern College for the 2017-2018 School Year. Exciting things are happening, and new courses are potentially in the works…
What classes are coming up in the Transformational Ecopsychology program for the 2017-2018 school year?
We have our annual Vision Quest in Canyon DeChelly in September. That's one of our core requirements, and we offer it every year.
In October we're going to do a weekend with Dr. Scott Thomas, who was raised in traditional Lakota lifeways. He is a psychotherapist in private practice in town and leads Lakota ceremonial traditions. We'll do a weekend intensive called "Ancient Narratives," which involves the Sweat Lodge or Iniipii ceremony. It's a very old cleansing and rebirth ceremony where we re-enter the womb of Mother Earth, the Sweat Lodge, and also represents the cosmos. He will share his cannupa, his sacred pipe, and the stories and teachings that are part of the ceremony.
The core invitation of both the Vision Quest and the Sweat Lodge is for transformation.
One goes into ceremony and is able through the ceremonial structure to release things and to realize things through personal prayer and through the communal support of prayer. One comes out of the experience with some new insight or having released something that's no longer necessary to carry.
The purpose of ceremony is to maintain health and wellness. These ceremonies are strategies to keep one's inner balance intact.
For example, things happen that throw us off balance. Life happens and we might not be resilient. We might respond with strong emotions, anger or fear, and become dysregulated or ill. We might become inconsolably sad or depressed, heavy with grief or hot with anger or irrational with jealousy or revenge. These strong emotions can pull us out of balance. The purpose of these old traditional ways is to help people restore their balance, to acknowledge the loss and release the sorrow. To forgive the wrong-doing or have the courage to accept what is.
Ceremony is a way through prayer and communal connection to do deep work.
In the winter quarter, probably in February, I want to do a new weekend intensive that has not been done before. We will focus on the role of dreams and visions for health and wellness. We will explore some indigenous frameworks to understand the dream-world, the visionary world, and our ability to access knowledge and wisdom, health and well-being, through our relationship to dreams and visions. I plan to invite Mohawk/Anishinaabekwe Tahnahga Yako to come down from Minnesota. She carries traditional teachings and serves as a pastoral counselor in hospice care. She is one of my spiritual sisters.
Many indigenous knowledge systems place a very high value on the power and purpose of dreams and visions. These are essential to human life like breathing, eating, sleeping, loving. In many indigenous cultures, one's entire life can be guided by a dream or visionary experience.
The meaning and purpose of one

'

s life can be revealed through a dream or visionary experience.
​
Dream states of consciousness are valued in many indigenous cultures. The act of dreaming is important to a life well-lived. To live according to one's dream or vision is considered key to a successful and healthy life. Material wealth was not a sign of success. Dreaming well and living according to the wisdom revealed through the dream is what matters.
We're not really looking at dreaming with a typical psychological lens, Jungian or otherwise. Though Jung himself said he learned a great deal from the indigenous worldview in relationship to the dream state of being, what we are doing in both Ancient Narratives and the dream weekend is accessing oral traditions. Unwritten wisdom has been handed down from teacher to student or Auntie to nephew for thousands of years.
Indigenous cultures place a high value on language as an embodied experience. The verbal, the oral, spoken language, words emerging from an individual human body/human being, this matters more than what is on a piece of paper. Text is not particularly trusted as the source of wisdom or knowledge.
This is significantly different than western traditions, the holy book traditions, that place an extremely high value on the written word. Whether it is the Bible, the Torah, the Qu'ran, the Vedas, the koans, or other religious and cultural traditions based upon text. In these traditions, the knowledge contained and passed down through text is highly valued.
The cultural pattern based on the oral transmission of wisdom and knowledge is a body-based, place-based tradition. As a lineage carrier in an oral transmission or indigenous knowledge system, and as a writer, I am deeply aware of the differences and similarities of the two distinctly different approaches. I'm very interested in bringing this awareness into the Transformational Ecopsychology program. There's tremendous energy in the oral traditions. There are old codes, maps of health and wellness, of how to maintain one's health, of how to maintain community health, of what wellness or well-being is. There are frameworks for well-being and health that are not part of the western tradition. And I am particularly interested in them myself and have been profoundly touched by them.
For the Ecopsychology class we will offer next spring, I'm still trying to decide. Maybe we should vote. I could repeat "The Council of All Beings" that we did in Fall 2016, or I could repeat "Sacred Connections" from Winter 2017. "Sacred Connections" is place-based and invites us to enter nature to see how it mirrors our own psyche, to experience a sacred connection between one's inner world and inner life and the outer natural world.
​
Another class I could do that I haven

'

t done yet, and it has not been done in the program yet, is to do an intensive weekend based on plants.
Our sacred and enduring relationship with these other-than-human medicine people
is part of my training. The focus would be on developing and
deepening our conscious relationship with plants
. We completely depend on plants for food, medicine, clothing, shelter, for our lives, yet we rarely consider them as animate, conscious partners in our lives. My plant weekend would be less about

"

oh you can use chamomile to help you relax

"

and more about

'

when you enter a garden, or create a garden, or when you go into the forest, or when you simply see a dandelion that has broken through the cement in the city, what is your relationship?
We are always in relationship with plants, but most people have been

well-trained

in modern society to ignore plants as living beings.
​
You know, I feel that, the way you're talking about it, you have the Council of All Beings, which is the relationship to other beings, and then you had the Sacred Connections, which is your relationship to the geographical space…it sounds like this would be a third piece to these types of connections, the relationship to plants, specifically.
I like what you are saying! It would be nice to do the plant weekend in the spring as the plant world is reawakening. There's a lot of action. I would want to go out and spend quite a bit of the weekend in the mountains, along the rivers, you know, get out on the paths and sit with the plants. There's an old tradition in which you sit with a particular plant until you hear its voice. You might end up sitting with the plant for three days and three nights before you are capable of receiving its voice. It might take that long or longer to quiet your mind chatter. You might have to shift your entire worldview if you believe that plants have no consciousness You know, you face your training in Western mind and become willing to suspend it. There is a lot of work to do this one thing that sounds so simple, and it can take days. When I work with people in a traditional training way, that's one of the early assignments. Take your sleeping bag and be prepared to spend the night and then the morning and the day and the night… until you are receptive and open enough to hear or sense or feel the voice of a plant. It's probably not like you hear it spoken like you hear my voice. You might hear it in your heart. You might hear it in your bones. Who knows? The point is to develop receptivity to other-than-human beings. This can enhance your ability to be receptive to human beings. Receptivity is the muscle that you're developing.
If I were to put my opinion on it, it sounds like that has a lot of potential. My next question is, what inspired you to offer these courses?
Well, I'm carrying the seeds of an alternative reality. I am one of many seed carriers, people carrying the seeds of a worldview and way of being alive in which people understand themselves situated inside a set of relationships to both human community and the other-than-human community. We are great-grandchildren of the stars. We are the descendants of minerals, of the rock people. As we begin to truly understand our kinship structure accurately, we will change what we value and how we live. We cannot exist without air or water, for example. Wind and water exist prior to humankind. If humankind is no longer, wind and water will still exist. So how we understand that these are our elders, and our existence is completely dependent upon them? How do we live in a way that honors that relationship? How do we really live in right relationship?
Every course in the Transformational Ecopsychology Certificate, every talk, is about restoring right relationships. Part of that must address right relationships between human beings. Because we also fail to honor and respect people upon whom we are dependent, you know? And when we fail to value their service to us, we also undervalue our own sacredness. We devalue ourselves. We can be terribly mean to ourselves. Self-critical, self-judgmental, just as we are judging and criticizing others. We carry wounds of our ancestors, and we wound ourselves. It's really all about healing our relationships to self, to other, to the world.
I am carrying these seeds to give you because I need your help in carrying them. We must help seed a future we may not experience. These seeds of consciousness were given to me by the late Keewaydinoquay from her lineage and her ancestors. This beautifully woven seed basket holds our possibilities for loving connection and peaceful interdependence. As one of the carriers, I do my best to plant these seeds in my life and in the lives around me because I believe in their blessing.
Great! It sounds like other faculty will be contributing next year. Carol Parker and Katherine Ninos co-lead the September Vision Quest. Scott Thomas will lead the fall Sweat Lodge Ceremony with your assistance. You and Tahnahga Yako will be team teaching the workshop on dreams and dreaming next winter. And you are the main teacher for the Spring class. Is there anything else that you would like to add?
Sounds right! Then the Vision Quest will be offered again next summer, 2018. And the circle will be complete.
​
Ann

Filemyr

is currently the Vice President of Academic Affairs and Dean, and the Transformational

Ecopsychology

Certificate Program Director. More information on Ann can be found at
https://www.swc.edu/faculty-2/degree-instructors/ann-filemyr-ph-d/
​
​
Rene

Tricou

is as Graduate Assistant at

Southwetsern

College working towards her Master's degree in Counseling. She is also working toward a certificate in the Transformational

Ecopsychology

program.
​
About the Moderator