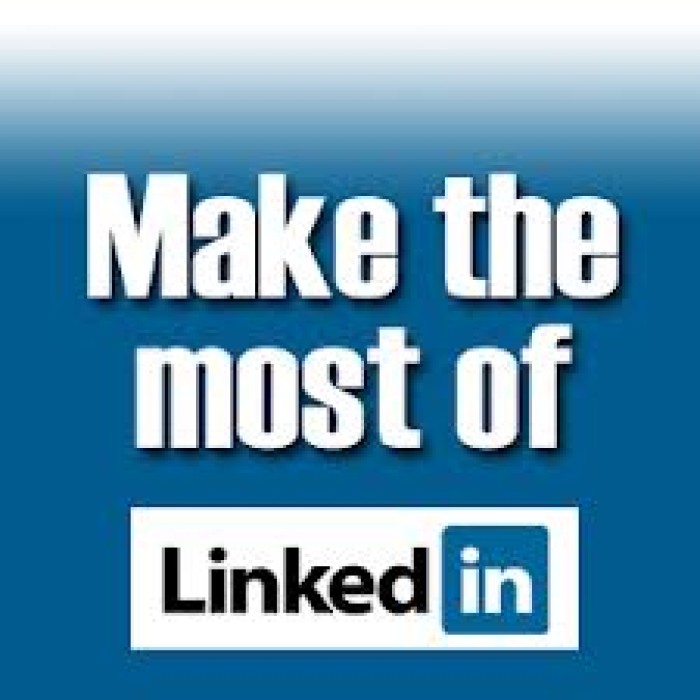 Linked In #2 Updated: Developing Your Profile, by Dr. James Michael Nolan
OK, so Linked In provides you a wheelbarrow full of tools, and my opinion is that you should use as many of them as you possibly can, or at least all those that apply to your profile and situation. In the next four blog posts, I will be discussing a number of them. By the end of that Linked In #5, you should be in pretty good shape, my friend…
Here we go!
Tough Love Caveat: So when you have a Linked In account, and then you post no photo of yourself, list only your current job, and have only 17 connections, serious professionals will wonder why you are even bothering. (Serious social media people have a lot of judgment about those who dabble, act like they don't have time, or simply do not TAKE the time to approach Linked In seriously. I don't know if that is "right" or not, but you should know that it is the case. I do know that I have been witness to many of those conversations. I might even have made one snotty comment, but hey, I can't remember everything that ever happened…) So don't start anything you do not intend to finish. A half-baked Linked In account is worse than none at all. Read that last sentence over, out loud.
Linked In as Your Resume: With Linked in, your profile becomes your 21st century resume, and a great opportunity to share your story and aspirations and skills. And especially if you are 40 years old, or 50, or 60, having a complete profile is evidence of your continued relevance, and commitment to keeping up with the times.
Searchability: Also, remember that EVERYTHING you put in your profile is "searchable" (as in "Google Search", or an internal Linked In search) as a "keyword", so you are most easily and optimally found by anybody who is looking for you, or somebody like you, or somebody with your skills, experience, or connections. So be intentional and conscious about the language you are using to describe yourself, your unique experiences, your skills, your jobs, your aspirations. Consciously choose your words and descriptors. Have a close friend or colleague read your material and ask them if it is too modest, or leaving something important out.
The Google Spiders are more than happy to help you, but you have to help yourself first…They can't find what you do not include.
Sections of your Profile
Your profile has a variety of sections, some of which have changed over time.
The Introduction Box (I don't know if it has a more formal name…) shows your photo (just get one, really), name, and primary identification information. It is important to remember that your basic first introductory field contains up to 120 characters, and you should try to use them. This is not obvious anywhere on the edit page—you just have to know it. This allowed me to go from "Jim Nolan, President, Southwestern College, Santa Fe" to "Dr. James Michael Nolan, President, Southwestern College, Santa Fe: A Graduate School offering Master's Degrees in Counseling and Art Therapy." That is a whole lot more information, right up front, first thing you see. This is not a good time to be in a hurry and just throw in the first thing that comes to mind. If you are getting bored or antsy while editing, leave and take a break from it rather than do a crummy job of it.
So however you want to think about it—as your elevator speech, or those three things you REALLY want me to know about you right up front. That's what you want in that introductory box or field. Remember, you may only have this single opportunity to get me interested—use it. And I will repeat once again, it is searchable. That is really important.
Under "Profile", you can click "Edit Profile", and all editing is done by clicking on the PENCIL icon next to each component or section. (Now that I SEE the pencil, I see it, but at first, it was not really obvious to me that that was a pencil and that that was where I needed to go to edit…you get used to it.) You can, for example, put your former names, nicknames, or variations on your name (even common misspellings) by clicking the pencil icon next to your name, and putting the information in "Former Name."
Clicking on "Edit Contact Info" (little grey box in the bottom right hand corner of that section), you can add three web sites, your Twitter account, social media URLs, phone number, address, etc. Make sure this is complete, and be thoughtful and intentional about which web sites to include here. What would you want a prospective employer or client to see? Your You Tube video of you playing a Johnny Cash song in a beer joint, of a clip of your presentation at a conference? (I don't know the answer to that one, but you sure better know!)
Photograph:   Get a good one. This is not Facebook. Facebook is blue jeans and a causal shirt; Linked In is a blue blazer and gray trousers. How do you want to present to would be employers, collaborators, etc. You know your own industry, so you should know what kind of picture would be appropriate. Funky IT Millennial type companies may NOT want to see the blue blazer. Use your good sense. This is not the time and place to be "off the wall." I use a photo taken in front of the Taj Mahal, because I think it is cool, because I plan to spend time in India, and it starts conversations in that direction. I can't tell you how many connections and conversations I have on Linked In that are related to India or take place with people from India.
THE EXPERIENCE SECTION
In the Experience section, you can list every job you ever had. You should take your time to do so, and get it right. Remember that everything you add is "searchable" and will help people find you, including people who knew you at former jobs, and people you knew from College. You never know what kinds of connections might be useful, so it is not advisable to take the attitude "Oh, God, I don't want to hear from any of those people!"—this is about connecting, networking, and finding your way to the life you really want to create. You may be surprised by who knows whom, and if that kid from your fraternity is still a jackass, you don't have to "connect" with him. You are in control of the relationships and connections on Linked In.
For each job, share the highlights, and remember, you learned something on every job you ever had. (I even have to follow my own advice, because I still do not have a lot of jobs on my profile—factory jobs, warehouse jobs, truck dock jobs, my job at Asbestos Products (no kidding). People may think, "Oh, a president of a graduate school knows nothing about the REAL world and the REAL jobs people do?", but I would line up my museum of crappy jobs against anybody I ever knew, and it would be good for that to be reflected in my Linked In profile. And I learned something from all of those experiences. When you learn what you don't want, you know a lot more about what you do want…)
Searching for a Job: If you are looking for a job, this is also a good place to clearly state that you are looking for a job, the kinds of positions you are seeking, and so on. You may have had jobs that are relevant to the kind of work you are seeking, so describe them in such a way as to make that obvious. Especially if you do NOT have experience in the field in which you are seeking work, you will want to focus on personal characteristics that would make you a great candidate for being a quick study and a future star in that field.
When you click on "Edit Profile" you will find, off to the right, "Volunteering and Causes" (as well as "publications" and "certifications")—that is another place to show what kind of person you are, and what kind of experiences you have had, even if they were not paid, professional positions.
So What's Next?
In my next blog post, we will discuss the Summary Section and the Education Section of Linked In.
In the 4th blog post, we will cover "Recommendations" and other miscellaneous, but important features.
Then finally, in blog post #5, we will talk about searching for people, how to do job searches, and related stuff…Thanks for joining me…I hope this is helpful, and welcome feedback…
Linkedly,
Jim Nolan, President, Southwestern College, Santa Fe
About the Moderator