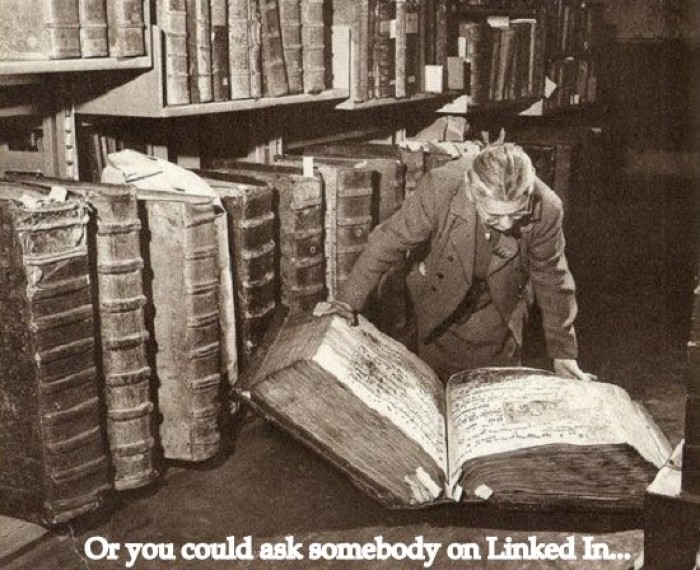 Updated Linked In Tutorial #1
by James Michael Nolan
Much has changed since I first blogged about Linked In. It is time for some updates. And it will always be to your advantage to buy and read Wayne Breitbarth's book on Linked In. Really—he is the man, as far as I am concerned. He brings great depth to all of these points. I am giving some basic tips and guidelines, but much more detail is available…
So here we go…
LinkedIn is the most powerful business-based social media site in the known universe. So I'm not selling it. If you are still in the camp of "but I'm not sure social media would really do me or my company any good ", you just may not be ready for this. (People kind of challenge me to convince them to be active in Linked In, or on Facebook—but I'm not in that business…)
Okay, now on to those of you who actually live and participate in this digital age and economy, and who don't have that blah blah old need to argue about the value of social media.
So here are a couple of amazing and important stats:
• 74% of LinkedIn users are college graduates or post grads
• 28% are senior- level executives, and
• 28% make $100,000 or more
Lots of movers, shakers, big decision makers. (And people in a position to hire you or help you get hired…) It has been my impression that clinical (Psychology, Counseling, Social Work, Social Service) people and agencies have NOT been early adopters of social media technology. They are usually anxious about confidentiality, professional image, security of information and so on. Nothing wrong with that, if that is how you are made, or if your budget does not allow for it, period. But it is also increasingly common for behavioral/mental health organizations and individuals to get into Linked In Facebook, Twitter and so on. Art Therapy, oddly enough, has a tremendous social media presence, and Counseling is growing, but nowhere near as vibrant, in my estimation. Perhaps Art Therapy has more to prove, more territory to make up…
A lot of students and alumni have asked me about how best to use LinkedIn. We will be doing a workshop on campus soon (and periodically), but for all of those who can't come to such a workshop, I wanted to publish a series of blogs on the topic. This is the first one. Over maybe four or five blog postings, I'm going to address a lot of the key questions related to LinkedIn. This will be enormously helpful for you, if you are willing to put in a little work. That's the key–many people are not willing to put in the time, but you are not your average bear – you are you. I think you will put in the effort.
So here is one the most common questions I get:
"I get these invitations to connect, and I am not sure what I should be doing…With whom should I connect (or attempt to connect)??"
There are differing opinions on this one. I am in favor of connecting with as many people in your field (or related fields) as you can. That's just me. It's how you expand your network exponentially. More is better (there is probably a limit, but I don't know what it would be.)
Personally, I am most interested in people who 1) have photos, 2) have a lot of connections (25 is not a lot), 3) are in relevant groups that interest me, and 4) are "influencers" in those groups.
I want them to be serious about Linked In, and even if they are friends or acquaintances, I do not want to waste time if they have no photo and 17 connections (unless they just started their profile yesterday, but I DO expect a photo by the weekend…)
Do you have to know them personally? Some recommend that. I do not. You will restrict your network unnecessarily. Plus I've gotten to know, and in many cases meet, people I first met on social media. Even Wayne, who recommends that you should know and trust your first degree connections, kind of relaxes that recommendation in later chapters…
What is a "first-degree connection, anyway?"
I ask you to connect, you agree, and so we become first-degree connections to each other. In addition, you are now second-degree connection with all of my thousand connections, and I am second-degree with yours. This linking extends out to third-degree as well.
How do "second-degree connections" help me?
So, say, I'm looking to get a job in San Francisco because I want to move there, and you have three first-degree connections who are in higher education in the Bay Area. I can now ask you for a Linked In "introduction" to them. If you know me well, and like me and my work, then you will probably not only agree to make an introduction, but give me a nice recommendation. "I know this really successful guy in Santa Fe–he's a college president. And he is looking to move to the Bay Area. I think he'd be a great connection for you, and you might be able to give him some job leads, and he might be valuable to you as well." That's cool for me (I get the introduction). And I owe you one. In the cleanest of senses. Really, thanks a lot…I will expect a similar request from you some time in the future…
In short, it is a lot easier for me to meet somebody I do not know if you know them and will introduce me to them. Beats cold calling.
As you are probably sensing, this "connecting" business takes time and research. If you are serious, you'll take the hours (especially at the beginning) it takes to start building your connections. It is absolutely worth it. If you're not going to be somewhat serious about your profile, don't waste your time. Half-baked is probably worse than not being on Linked In at all. That actually goes for all social media, and for blogs as well.
But wait! One more thing–don't start connecting with people if your profile is crummy. That would be the wrong way to start out. It would be like "Hey, ma, look at me!" and then doing a belly-flop.
Don't be that guy!
Build your profile a while before reaching out to make a lot of connections.
Coming next: Building your profile in Linked In
About the Moderator