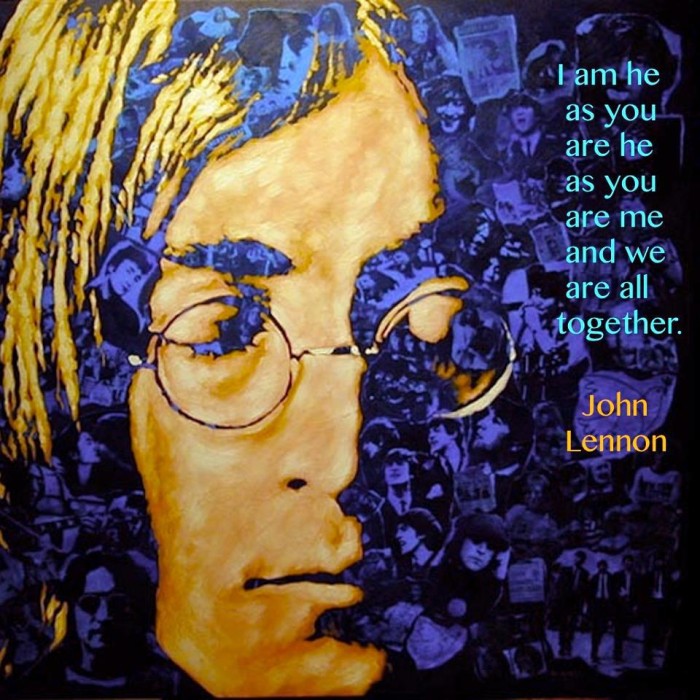 We Are All One…
Here's the thing about that philosophical position.
I don't think you get to pick whom you are one WITH.
We don't get to choose to be one only with Lakota Nation, Mother Teresa, Ram Das, and Gandhiji.
It's way more profound than that. It has to be. It transcends the world of form, and it transcends this lifetime, and our parochial codes of correct behavior.
If we are one, we are one with Josef Stalin, George Bush, Hugo Chavez, and people who perform whatever you perceive to be the most heinous crime there is.
We MUST find a way to come to peace with this for ourselves, or the "We are all one" is just a bunch of horsecrap. It does NOT mean "I am one with the ones with whom I happen to agree or those I happen to admire." That is preposterous, and philosophically untenable.
I need to understand (or stand in accepting awe of) how the sentient psyche holds a space for Hitler, Rush Limbaugh, John Kennedy and Lee Harvey Oswald, OJ Simpson, WEB Dubois, H Rap Brown, Squeaky Fromme, Charles Manson, Nelson Mandela, AROD, and the lady from Texas who killed all her kids. Mao. Jean D'Arc.
Pete Rose.
Jesus, Mary & Joseph.
In my own consciousness, I imagine this is how things work. It is also clear to me that it is all way, way over my head. But then I would never, ever expect the great mysteries of the universe to give themselves up to my very limited, yet over-valued intellect. "Understanding" is not one of my goals. I lost that kind of hubris decades ago.
I am not saying I know how anything is. I have my thoughts on things, and I have my thoughts on stances that do not hold up under scrutiny. You can feel, think, or believe whatever you want, of course. And my humble notes are only meant to encourage you to check yourself. Maybe one can be One With Everything and still be in against-ness with BP, Monsanto and the Republican Party. I just am not smart enough to get how that could possibly work.
…I was just watching the NBA playoffs at Capitol Grill, and realized I was so glad Kobe and the Lakers were not in them this year. I hate that guy.
Om Mani Padme Hum…
About the Moderator